Dear family, friends, teammates, classmates, Blue Devils, Cardinal (trees?), coaches, supporters, future participants, and, well, everyone else:
If you're reading a blog post on ACE's website or from ACE's emails, you probably have some sort of idea what the program is. You may know it's a collaboration between Duke and Stanford and that it was created particularly for student-athletes. You may know about our generous donors, our awesome leaders, our focus on service, and our four locations across the world. If you're interested, or well, caught in the cross-fire of a conversation, maybe some of our participants have (rather excitedly) even told you about some of the crazy adventures, cultural enrichment activities, or fun we had together exploring a new place. But, I'm pretty sure it's impossible to quite understand the full experience without living it. While I could never explain all of it, I can try to give you a window into the experience.
After showing up four hours early to the airport, I boarded my first flight from New York at 1:35AM, and met up with Haley, who had already been traveling for six hours. I had never met her, but she wore a bunch of Duke Athletics gear, and I figured that gave us enough to talk about. She was watching Scandal, and honestly, we didn't talk much for the first two hours. Over the next two, we figured out we shared a lot of the same excitement, concerns, and nervousness about the upcoming experience. When we landed in Hong Kong, we drowsily followed the crowd and figured out we had to go through security yet again, and then met up with Meible, who I had already known from school, and Jacie. We found Mikaela, and waited for the San Fran flight to get in with the rest of our teammates. They landed, and soon after we piled into a booth in a restaurant for some food over which lots of random topics came up. Maybe the most amazing thing I saw on this trip was nine student-athletes, some who knew each other and some who didn't, get together after a long overnight flight and be entirely comfortable with each other.
After two more flights, we had landed with Sam (our fearless on-site leader) in Yunnan Province. We drove through the dark to what we would see the following morning was the CERS campus. We ate some late night noodles, which were delicious, and walked to the dorm-like building behind the main building. I walked up to an open door, where Meible was already putting her stuff down, and she asked if I wanted to room with her for the trip. I walked in, shut the door, and the two of us were soon asleep. Over the next three weeks, Meible and I got much closer from short late night talks and morning chitchat. Veronica was sleeping directly through the wall my bed was against, and we'd talk with her and her roommate Jacie from our beds. Now I know when we get back to campus next month, they'll be some of my closest friends.
Riley and Brandon were separated from the girls, living in the main building. They would come out to where we were staying after dinner and spend the entire evening hanging out with the seven of us. The group never felt together without everyone, and I have never met a group of college students not only willing to be so inclusive, but insistent on being this way together. It was this group unity that made this trip, located about 7,500 miles from my home, feel entirely comfortable.
Every night, the nine of us and Sam got together to talk about a question one of us would offer up. We talked about all the things that are difficult to talk about, including leadership struggles and failure, dreams and goals, relationships, plans, and values. We slowly learned about the people we lived with, in ways that weren't immediately visible to us. And I learned that the 'duck syndrome' that my Stanford teammates talked about and that is so prevalent at Duke, where everyone knows exactly what they want and how to get there. Yeah, that doesn't ever actually happen.
Over the three week program, our group laughed a lot, bickered and argued, and discussed everything from Disney princess stories to teaching stories to our personal opinions on Yak cheese. We fell asleep on each other, saw everyone's food as communal, and did laundry together. We drove for hours in the van, and blasted music like current EDM, early 2000's pop, or classics from the 70's. We had widespread opinions on everything, but truly enjoyed hearing everything anyone had to say.
Saying goodbye was terrible. Well, honestly, it didn't happen because I ran off the second plane to catch my 16 hour flight with a 35 minute layover and still had to clear customs in Hong Kong, but it still was terrible. I guess they [Stanford student-athletes] will just have to come to Duke to say goodbye?
If you want to know anything else, please, please ask anyone at ACE for my email, and don't hesitate. There's just way too much to know, understand, and appreciate about this experience to fit in a blog post. I encourage everyone with the opportunity to put yourself out there for an experience like this, whether it's this one or another ACE program. The people, the place, and the stories are more than worth it.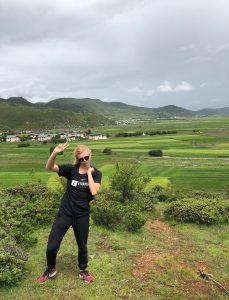 I never thought I would meet a lacrosse player from New Hampshire that shared so many of my interests, likes, and dislikes and who also had an older brother who was a student-athlete at the same school as mine. I didn't think I'd make two new really close friends at my own school (whom I already knew) or possibly find myself a future roommate. I didn't think I'd be opening up my dorm room to four awesome Stanford students any time they want to visit. Surprisingly, I got to know another rower, without immediately putting up a wall of over-competitiveness, and ended up really enjoying talking to her about everything. I wouldn't have guessed that I would have spent time with a swimmer with interests so much greater than mine, or a lacrosse player that played across the country but who lives just a few hours drive away. I was never really one for a big group of friends in high school to go to the football game with or plan Halloween costumes with, but this bunch could really pull off the Hogwarts uniform. I hope this gives just a little insight into the well-rounded, kind group I was lucky enough to get to know this summer and the crazy experiences I brought back.
Sincerely yours,
Our Own Little Breakfast Club