Stepping into the ACE program, I must admit I was uncertain about what awaited me. While I had been well-informed about the opportunity ahead and the destination in Vietnam, the experience turned out to be so much more enriching than I could have imagined. For me, ACE transcended beyond a mere three weeks; it became a deeply rewarding and meaningful chapter, shaping lasting friendships and instilling skills that will stay with me forever.
One of the most striking revelations during my time in Vietnam has been the power of body language and gestures. Initially, I underestimated the impact of the language barrier, and the challenge in connecting on a deeper level with the Vietnamese students. Armed with only a few basic words in Vietnamese, I soon realized the true essence of genuine communication. Beyond the confines of Google Translate, I discovered that respect and love transcend words and can be expressed through the simplest acts like offering high-fives for success in sport or academics, surprising others with little gifts from the nearby canteen, or providing comfort during moments of distress.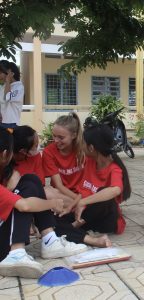 Among the many meaningful connections I forged, one particularly impactful relationship was with Nhã, a grade 9 student. Our daily reunions at the front gates were filled with excitement, and throughout the three weeks we got to know each other well, sharing stories about life, family, and hobbies. This bond epitomized a broader purpose of the trip – mentorship. Beyond imparting knowledge for college and other opportunities, what I love about the ACE teaching program in Vietnam is that it strives to ignite hope and a genuine desire for higher education.
This bond epitomized a broader purpose of the trip – mentorship.

– Nicola Hogg, Stanford Women's Track & Field
Another cherished encounter was with a student's father, Phú. Despite having never met us in-person, his gratitude for our efforts in teaching his son English knew no bounds. He graciously invited us into his home for a heart-warming karaoke session, treating us to a delightful array of local fruits, and even gifting us high-quality Vietnamese rice to take home. One thing I will never forget is the smile that never left Phú's face the entire time we were there.
As I bid farewell to Vietnam, I am filled with gratitude for the invaluable lessons learned and the deep connections formed. The language of empathy and compassion will resonate with me for years to come. Though my time in Vietnam has drawn to a close, the impact of this journey and the lasting relationships will endure. I continue to stay in touch with the other coaches and students and am excited for the peer-lead mentoring program ahead with them.