Today marks one week since we arrived in South Africa.  There are so many stories and many things I could talk about but too many of them are probably inside jokes and references from our group that has grown so close so quickly. Instead, I am going to share something that surprised me and made me think about the community we have been working with.
I was very surprised at the similarities between myself, the other ACE participants, and the campers we have been working with on the summer holiday program. If you are not familiar with what we have been doing in South Africa, we are staying in Gordon's Bay, about 30 minutes from Cape Town and have been helping to run a holiday program focused on sports and health in a local township called Nomzamo. We are working every day with kids from this township helping teach them how to play different sports and how to be a healthier individual.
That being said, I have seen so many similarities between these kids and myself as a kid. I have also interacted with kids at summer camps in the United States and it was surprising to me that there are the same profiles of kids at camp no matter if it is a camp in Durham, North Carolina or Cape Town, South Africa.
"It does not matter their skin color or their financial or religious background or what they are wearing. Kids are kids and they love to have fun just like you and me."
I have seen that shy camper who comes in on the first day and does not know what to expect and is nervous to have fun. I have seen that same camper then blossom on the second day and come out of their shell and be the most excited to play new games. I have seen that kid who is always causing trouble although you know they have a good heart. In this case, it was when they shared what little food they had at lunch with a kid they barely knew and had not eaten yet. I have seen the stand out student who is always listening and is always the best at whatever sport they are playing (and is usually your favorite because they listen!). This list of similarities goes on and on but it still shocks me.
Of course, there are massive differences between us and the kids we are working with. Most notably is the rapid fire talking in Xhosa, which we have struggled mightily to learn (just ask me and Anja), but the similarities have surprised me and made the experience more meaningful to me. These kids are just like you and me. They make the same pop culture references (they love Jay Z), same soccer references (they call our ACE teammate, Roman, "Mohamed Salah" because of his hair), and play the same games as kids (they love duck duck goose). Although they come from a vastly different background, they are still similar to me and this allows us to connect with them and create meaningful relationships.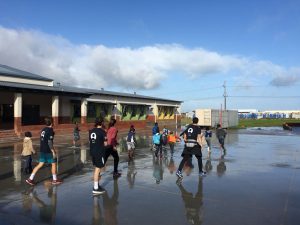 Coming into this program I was a little worried about being able to connect with people that were so different than me and that was what I was excited for. I wanted to learn about a new culture and feel for the first time in my life the experience of being greatly different from the people I was around; however, I found out that no matter where we go, we were all kids once and that all over the world everyone is just like you and me.
It does not matter their skin color or their financial or religious background or what they are wearing. Kids are kids and they love to have fun just like you and me. These kids have already taught me so much about living and how to look at life. I am so excited for 2 more weeks of experiencing what it is like to be different, but also excited to see what else that I have in common with these amazing kids.