Our ACE team here in Cusco, Peru is part of a community development program run by GVI, which is responsible for organizing the program on the ground. About a year ago, GVI teamed up with a local NGO called Bartolomé de Las Casas Center (CBC) to participate in local development projects within Cusco. For over forty years, CBC has recognized and worked with different communities of Andean cultures.
CBC calls itself a social enterprise, which essentially means that it is an organization that uses financial strategies to help achieve social goals, thus maximizing benefits to society and the environment. For example, the hotels run by CBC work as a social enterprise in a few different ways. First, the hotel has three locations in Cusco. During our time in Cusco, we are staying in Hotel CBC Casa Campesina. CBC operates by being both a hotel service to tourists as well as offering travel agency services. The profits made by these two services are put towards two non-profit organizations – the Center for Andean Regional Studies Bartolomé de Las Casas and the Qosqo Maky Association. The profits go towards financing educational projects and research in regards to Andean culture.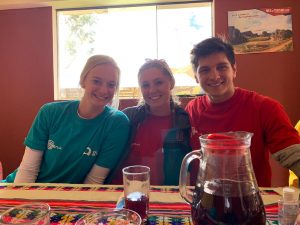 Another important thing that our hotel does to benefit local Peruvians is that the hotel provides a separate space that is available to farmers when they travel to Cusco for personal business. This service is important for rural farmers. Due to the increase of tourism, Cusco has become very expensive. The hotel office has services to help farmers who typically only speak Quechua, the native Inca language. Typically farmers from the rural areas of Cusco come to the city to settle legal matters. With the help of CBC hotels, these farmers have an affordable place to stay.
In addition, our hotel has a small store adjacent to the lobby called "Inkakunaq Ruwaynin," meaning "what the Incas did" in Quechua. It is a Fair Trade Artisanal Textile store – a place where people can purchase textiles made by local artisans.  By purchasing textiles at the store,  customers can know the cost of production, who made the textiles, where they came from, and that the pieces are ethically sourced.
Through an additional NGO, The Nature Conservancy (TNC), GVI is able to support these rural Peruvian communities by working with community leaders on specific environmental sustainability projects. Through this partnership, GVI implements constructive projects with eager volunteers. TNC and CBC provides knowledge, experience, and deep relationships within the communities of Peru.
Our ACE team provides additional hands to the environmental sustainability projects that local community leaders are working to accomplish. In addition, through the work of GVI and CBC, we are able to learn so much about ethical volunteering, how different communities work together to sustain their own environments, and appreciate a unique culture through positive relationships built upon years of shared experiences.