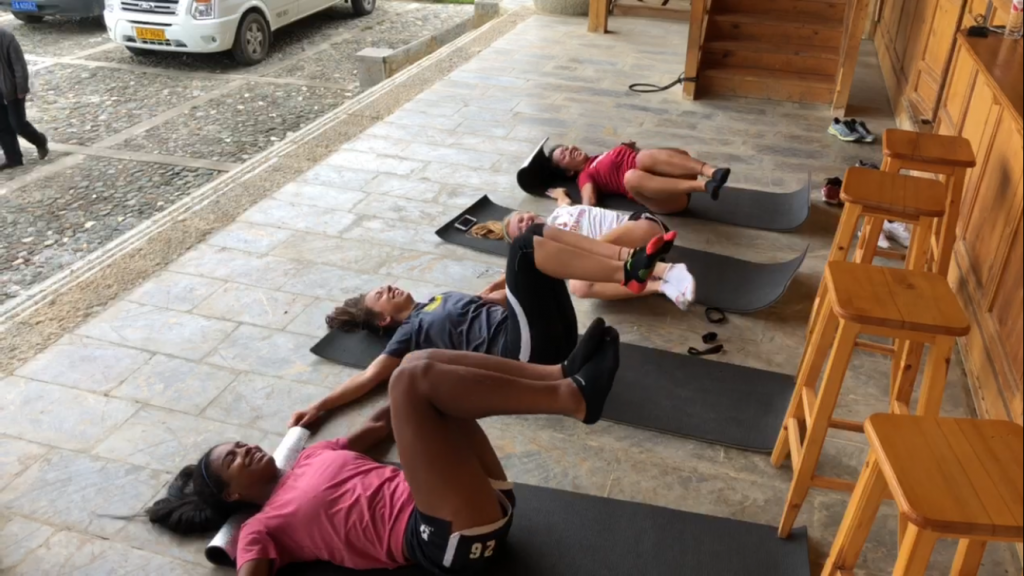 Due to the variety of sports that are represented on this trip, most of us assumed that we would be training on our own for a majority of our time here. To our surprise, this has not been the case at all; we all have been able to work-out together and push each other.
The similarities in some sports have made training together while in China very enjoyable.  For example, Haley on field hockey (Duke) and Jacie and Mikaela on lacrosse (Stanford) normally train together in the afternoons because the conditioning for their sports are so similar.  They enjoy doing sprint work on the main road. Even when they workout solo, they tend to end their workouts with core or bodyweight circuits on the front porch of the CERS center with everyone else.
Almost everyone has gone on a run around the beautiful lake with the distance runner on the trip (Veronica) — even Riley, a swimmer, will join in for the adventure whether it be for one or six miles.  We've also been able to help each other out with PT exercises and teach new routines and workouts, such as the 45 minute ab workout with Lelia, one of the rowers.
Although it is great to train with sports similar to your own, it is most enjoyable on the days we go to the gym.  At the gym, we are all together, confined in one space, working hard together for similar goals. Most of us switch on and off from the treadmill to the weight floor, but we also have two rowers (one from Duke & one Stanford) who urg together in a side room. One of them also led a spin session for everyone one day. The last fifteen minutes of gym time is usually spent with all nine of us doing ab work together in a smaller room within the gym.
We have also had the opportunity to learn so much about each of our different sports. During our meals we often spend time trading stories about our different experiences as Duke and Stanford athletes, and it's remarkable how much we all have in common. Being at 11,000 feet of elevation, it's easy to talk yourself out of doing a workout. Having a group of other motivated student-athletes around you makes getting through that last mile, rep, or repeat that much easier. The training together outside of the work that we have been doing here has helped us all gain a better appreciation for other sports, and it has also allowed us to have another opportunity to get to know each other better and build a community on the other side of the world.