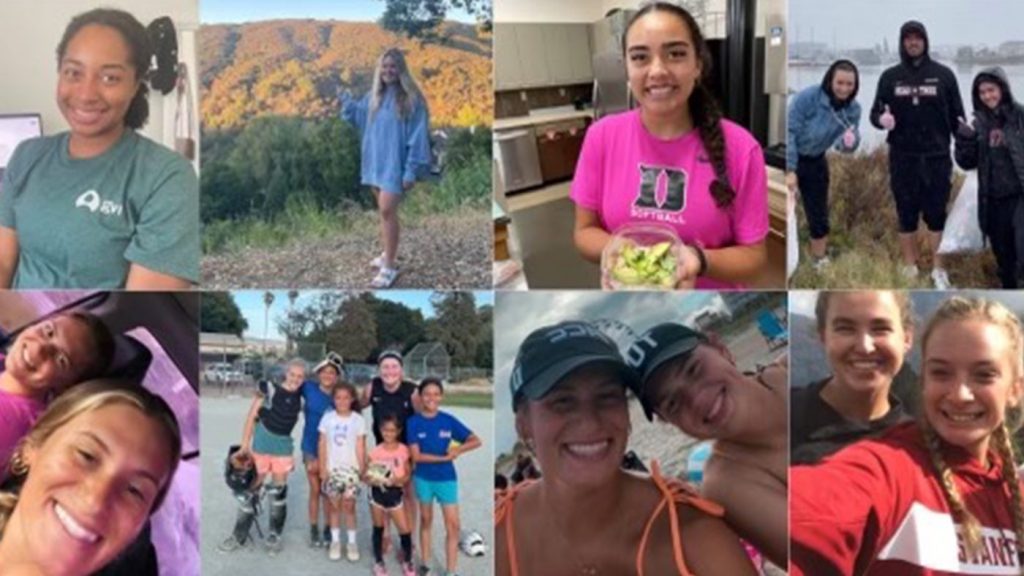 This past weekend, eight ACE alums from both Duke and Stanford met on the softball field during the season opener tournament in Irvine, California. While other Duke and Stanford teams have played each other occasionally over the years, this matchup between the Blue Devils and the Cardinal marks the most ACE alums to compete against one another in a single game in ACE program history.
"Creating such a tight-knit community through the ACE program while still being so welcoming to all student-athletes from Duke and Stanford is incredibly special."

– Alana Vawter, ACE in Place Thailand 2021, Stanford Softball
Given the recent years of virtual programming due to the Covid-19 pandemic, this game allowed ACE alums to meet ACE team members from across the country in-person for the first time. Duke senior and ACE in Place South Africa 2021 participant Deja Davis said, "It is so awesome that ACE can bring student-athletes from campuses across the country together. I've been able to meet some of the Stanford players virtually through ACE in Place and other virtual ACE calls, so it is exciting to be able to meet in-person and play the game we all love on the same field."
In total, eighteen Duke and Stanford softball players have participated in ACE since the program began. Both Duke and Stanford softball are amongst the teams with the highest ACE participation across all sports teams. Since the ACE program began in 2016, seven Duke and eleven Stanford players have participated in ACE summer programs.
"It's so exciting to be able to compete against people that have the same passion for this program that I do!"

– Emily Schultz, ACE in Peru 2019, Stanford Softball
Many of the softball ACE alums have remained committed to ACE beyond the three-week summer program through the ACE Ambassador program. "It's great to see how many softball players at both Stanford and Duke have joined the Ambassador team since 2019," Stanford senior Emily Schultz shared. Schultz participated in the 2019 ACE in Peru program, the last year ACE programs ran in-person due to the Covid-19 pandemic, until this coming summer. "It's so exciting to be able to compete against people that have the same passion for this program that I do!" Schultz has remained involved in the program since 2019 as an ACE Ambassador. The ACE Ambassador role provides ACE alumni with a pathway to continue their commitment to public service and civic engagement by providing leadership, mentorship, and service opportunities that support wider ACE efforts at Duke and Stanford and beyond.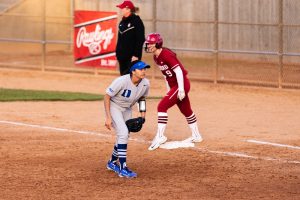 One of the key values of the ACE program is connecting with communities across the world through sports, providing a unique opportunity for student-athletes to develop as global citizens. For Stanford senior Alana Vawter, who participated in ACE in Place Thailand 2021 and is a current ACE Ambassador, ACE is also a unifying, shared experience between student-athletes across the country. "It's really cool that we get to meet and play against people from such different walks of life who still can share such a unique experience like ACE. Creating such a tight-knit community through the ACE program while still being so welcoming to all student-athletes from Duke and Stanford is incredibly special."
Duke Softball ACE Alums
Deja Davis – ACEinPlace South Africa 2021
Julia Boyet – ACEinPlace Vietnam 2022
Gisele Tapia – ACEinPlace Peru 2022
Lillie Walker – ACEinPlace Vietnam 2022
Stanford Softball ACE Alums
Tatum Boyd – ACEinPlace Vietnam 2021
Emily Schultz – ACE in Peru 2019
Sydney Steele – ACEinPlace Vietnam 2021
Alana Vawter – ACEinPlace Thailand 2021
Game images courtesy of Madison Olmo