"Participating in ACE is a once-in-a-lifetime experience that will allow me to serve a community with student-athletes from two of the most prestigious colleges in America. This program will also allow me to develop as a person and improve my communication and leadership skills."
Josh's past experiences with service include volunteering at a soup kitchen and providing free swim lessons to children through the Swim with the Blue Devils initiative. Josh has also served as a summer teaching assistant for a high school Biosciences and Engineering camp.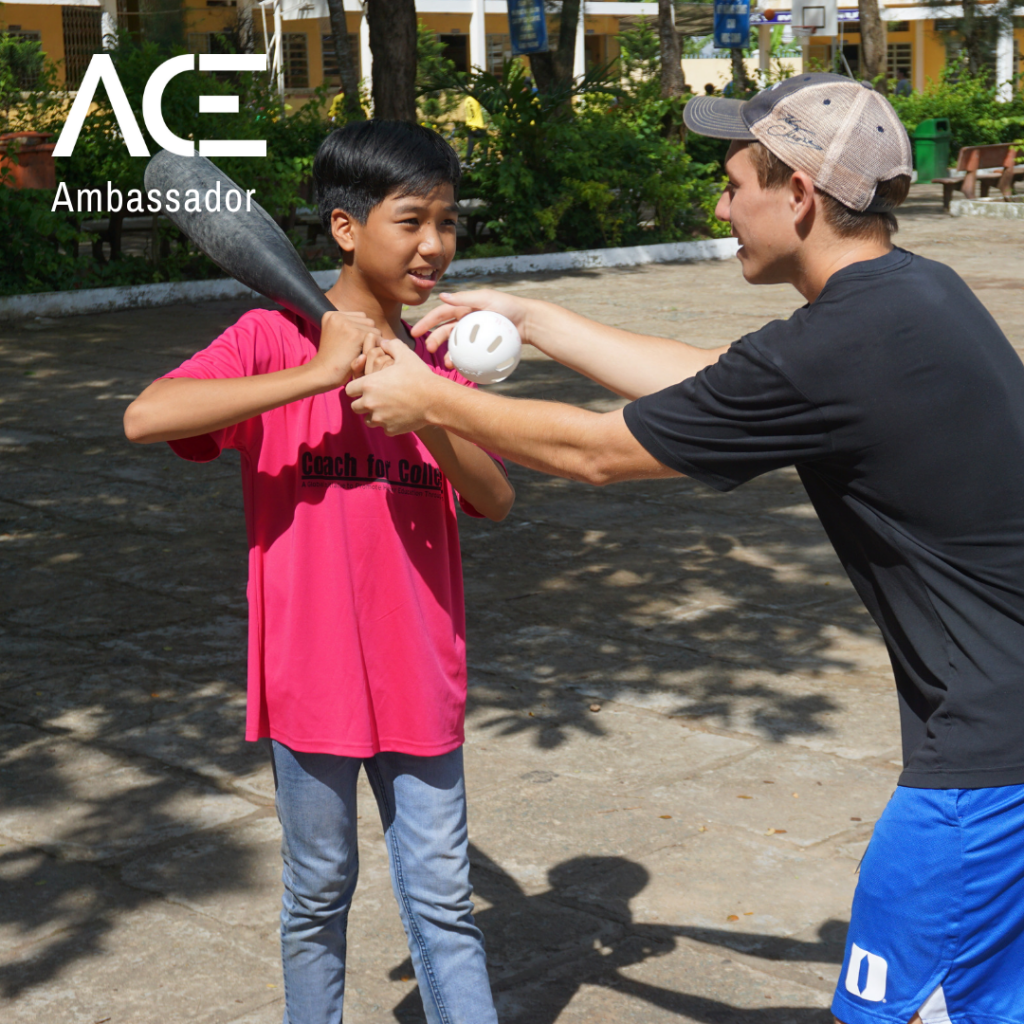 Josh is currently a senior at Duke on the Swimming and Diving team. He is majoring in Electrical and Computer Engineering, as well as Computer Science. While in Vietnam, Josh participated in a program called "Coach for College." This program allows college student-athletes to work alongside Vietnamese college students to teach and coach eighth and ninth grade students in various parts of Vietnam. Josh taught physics and coached baseball. He applied the ACE in Vietnam program as he loves helping others, especially with respect to teaching, and enjoys working with children. In addition, he wanted to become more service-oriented and explore opportunities that come once in a lifetime, such as ACE. The program caused him to learn and grow more than he thought possible in three short weeks, teaching him many valuable life skills including cultural and emotional sensitivity as well as conflict confrontation and resolution. Josh misses Vietnam and hopes to return back one day due to his incredible experience there.
Want to hear more about Josh's ACE experience? Contact Josh.
Dear Future #ACEathletes,
Best advice for learning about ACE: Attend info sessions and ask teammates who have participated about ACE.
Best advice for applying for ACE: Make sure to reflect on how you work with other people, especially with children and teammates.
Best advice for getting started at your program: I got to know my group through simply talking and being energetic. The pre-departure meetings definitely helped with this.
Tips for getting to know your community: I built relationships on my ACE experience by being vulnerable and allowing them to show me the way, as I was in their culture and country.
Tips for training: I balanced training by simply knowing that I would need to either wake up early or stay up late to work out. Working out with other people that I normally do not work out with was a great experience, as we found new ways to motivate and push each other.
Tips for bringing ACE back to your team: I shared my ACE experience with my team by telling them all about ACE when they asked anything remotely about my summer. That was the best part and I wanted to emphasize it.
Reasons for staying involved in ACE: I want to stay involved with the ACE program because it really changed me as a person and how I view the world, and even my simple day-to-day interactions.