"The ACE program provides an opportunity to learn about a different culture, as well as build new relationships with a whole multitude of people, both of which will undoubtedly expand my own worldview. I am excited to grow in this way while being able to spread a love of sports and learning."
Michaela Reinhart's past experience with service includes being a mentor with Launch Lab through Duke's Kenan Institute of Ethics and a volunteer with the Duke Catholic Center. In the past, she has volunteered with Campus Kitchens, a national organization that cooks community meals for low-income neighborhoods. Additionally, she traveled to the Appalachian region of Kentucky twice in the past 3 years on mission trips to perform maintenance on low-income households, as well as to Haiti to build a home during her junior year of high school.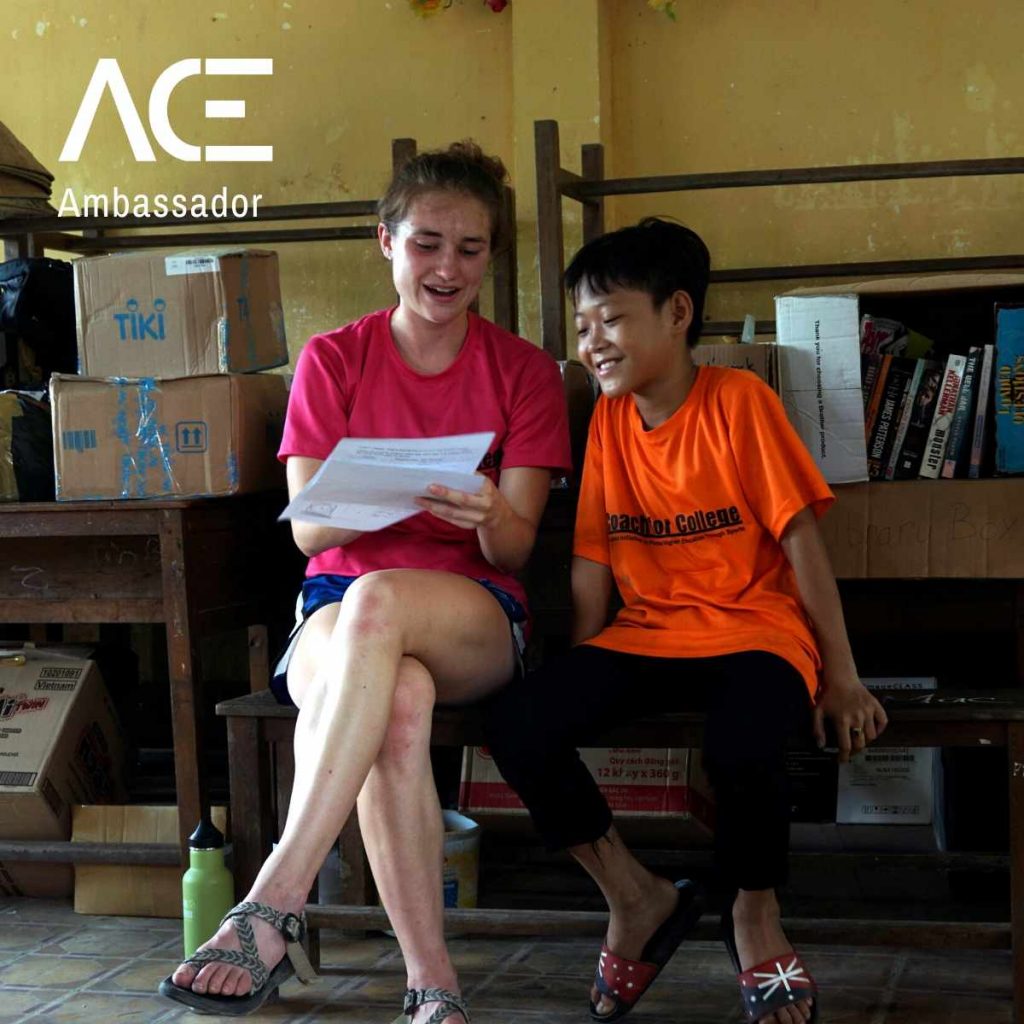 Michaela is a junior on the Cross Country and Track teams at Duke. She is studying Chemistry and Public Policy, and hopes to be a physician someday. She went on the ACE in Vietnam trip (teaching biology and soccer) in 2019 and formed lifetime friends with the Vietnamese coaches, as well as relationships that she will remember forever with the kids there. The trip impacted her a great deal, and she is passionate about sharing this with other students who are considering traveling with ACE. Her experience with education there also sparked an interest in educational policy that she hopes to continue to pursue here at Duke.
Want to hear more about Michaela's ACE experience? Contact Michaela.
Dear Future #ACEathletes,
Best advice for learning about ACE: I talked with teammates who had done ACE, and they motivated me to apply, but I decided on which programs to apply to based off information on the website. As far as the application, I knew they truly wanted to know why you wanted to work with ACE – they did not want to hear that it was a resume builder, which is most certainly was not, this trip is deeper than that – so I just tried to be completely honest about why I wanted to go and used my own voice instead of an academic voice while writing.
Best advice for getting started at your program: The first few days were a whirlwind. Everything was new, but it was important in those first few days to be intentional about getting to know people and spending time talking to them, no matter how tired you are!
Tips for getting to know your community: At least in Vietnam, most of the communication was nonverbal because of the language barrier, so it was astonishing to see how much more effort was required to build relationships, but also how much deeper those relationships could be because of that. I now try to live with a greater appreciation for small cultural differences (because even the way you did simple things, such as shower or eat was very different) and also with a mind geared towards sharing (the Vietnamese we encountered were generous to a fault, and it seemed as if everything there was immediately offered up to be shared).
Tips for training: Training was quite early, but it was worth it to get up every morning and see the beautiful sunrise. I am a cross-country runner, and running is easy to do anywhere, so I was lucky in that sense. The rush of endorphins before starting a day of teaching was also more energizing than you might think!
Tips for bringing ACE back to your team: Most of bringing ACE back has been talking to my teammates and sharing what I took away from the trip with them. Living in Vietnam definitely gave me an appreciation for organized sport, since it is less common there, so it did make me more grateful for the athletic infrastructure here.
Reasons for staying involved in ACE: The trip impacted me more than I thought possible – sometimes, when I think about the trip, I still get miss it so much that I have to tell myself to stop thinking about it. The program stimulated an interest in education policy for me, as well as tutoring and teaching in general (I have joined an education policy project and a program that tutors refugee youth in Durham). The program re-emphasized to me the value of the small things in life and in friendship.