"Participating in the ACE program is not just me 'giving' but me 'receiving' so it is worth it to me in every way; in addition to the relationships that I will form with the kids and other coaches, I think the perspective that this experience will give me will be invaluable to me as a student-athlete. At Stanford, it's easy to think your sport/what you study is the most important thing in the world which then makes it easy to get overwhelmed and/or discouraged…ACE is going to be a daily dose of perspective and I'm excited to grow in my confidence in myself and in my abilities. "
Sophia's past experiences with service include advocating for sustainability and environmental conservation by participating in annual trash bashes and Oyster Hangs with the Galveston Bay Foundation. Sophia also earned a Silver Award in Girl Scouts by implementing a "ban the bottle" campaign that encouraged sailors to use refillable water bottles. Alongside her high school cross country team, Sophia taught aqua jogging to and walked nature trails with a group of adults with disabilities. Finally, Sophia founded an Empty Bowls club at her high school which created unique ceramic bowls and then auctioned the bowls off to raise money for Houston Food Bank.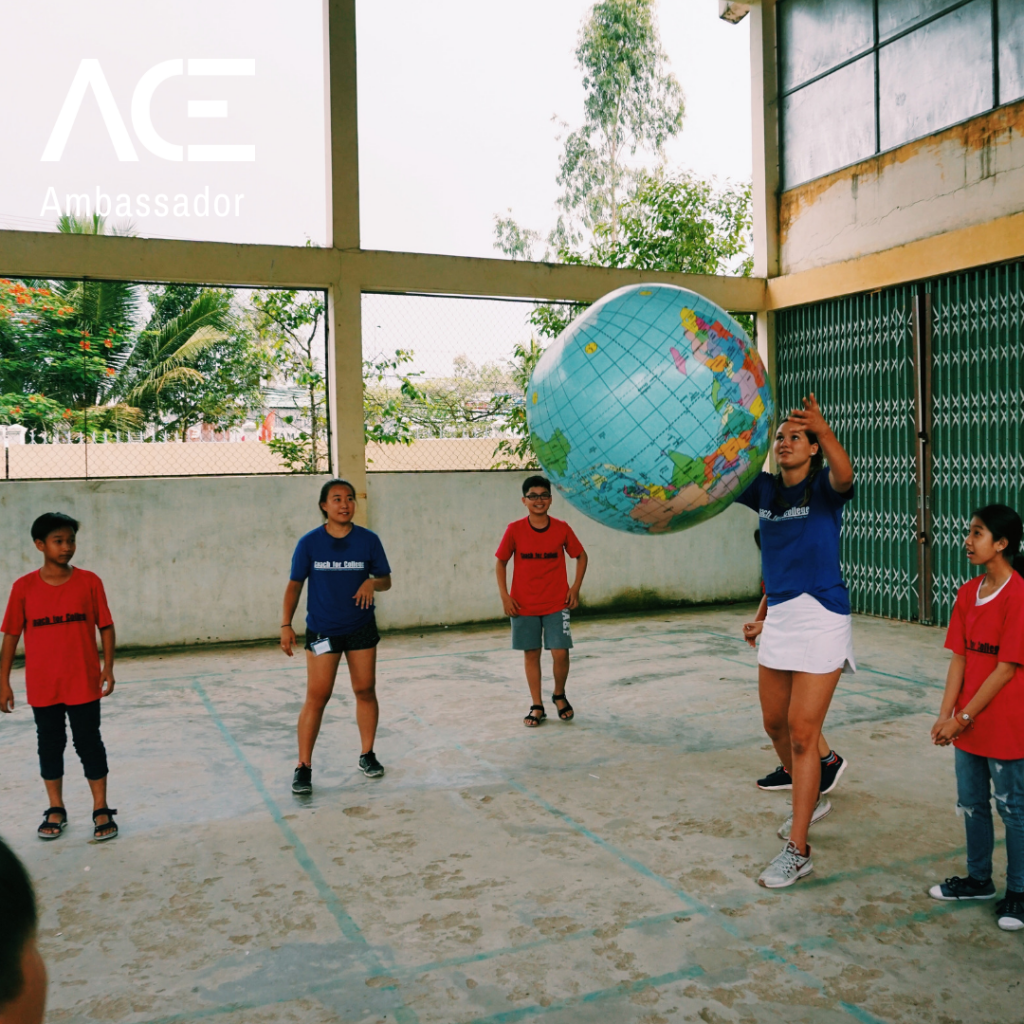 Sophia is a sophomore from Houston, Texas on Stanford's Sailing Team. She is majoring in Management Science and Engineering and enjoys participating in service opportunities, especially as a member of Stanford's Student-Athlete Advisory Committee Community Service Team. While in Vietnam, Sophia taught 8th and 9th graders life skills and math, and coached volleyball. Teaching math and life skills gave her a greater appreciation for all her teachers past and present. Through sailing travel she knows how to immerse herself in a place/culture/people, but due to competition she never had time to do significant volunteer or mission work. Sophia is very grateful for ACE and Coach for College for providing her with the framework to do this.
Want to hear more about Sophia's ACE experience? Contact Sophia.
Dear Future #ACEathletes,
Best advice for learning about ACE: When selecting a program, look through the ACE website and watch all the videos (words alone can't do the experience justice) Talk to any of your teammates who participated in ACE, reach out to previous participants, and ask lots of questions!
Best advice for applying for ACE: Start the application early. Spend a lot of time writing and editing your essays.
Best advice for getting started at your program: When you first get there, it may seem overwhelming and uncomfortable because everything you do is outside of your comfort zone. Lean into the experience, appreciate the little things, look to your teammates for support, and have fun!
Tips for getting to know your community: The language barrier can be intimidating at first, but find ways to interact with people that don't involve speaking (hand signals, games, pictures etc). Be curious and open to new experiences.
Tips for training: Stay accountable by working out in groups. We would do 15 minute core workouts whenever we had time. It was super fun because we would play music and do it together.
Tips for bringing ACE back to your team: I shared how impactful my ACE experience was with my teammates and encouraged many of them to apply. Another girl on my team participated in ACE the year before, and we loved sharing our different ACE experiences.
Reasons for staying involved in ACE: I believe that the good we do is never lost; in other people the good we do lives on forever. I hope I was able to extend the good to the children of Vietnam during ACE. I loved the people on my ACE team, the children we taught, and the community we were able to be a part of. I want to encourage others to participate in ACE and help prepare them for their experience.