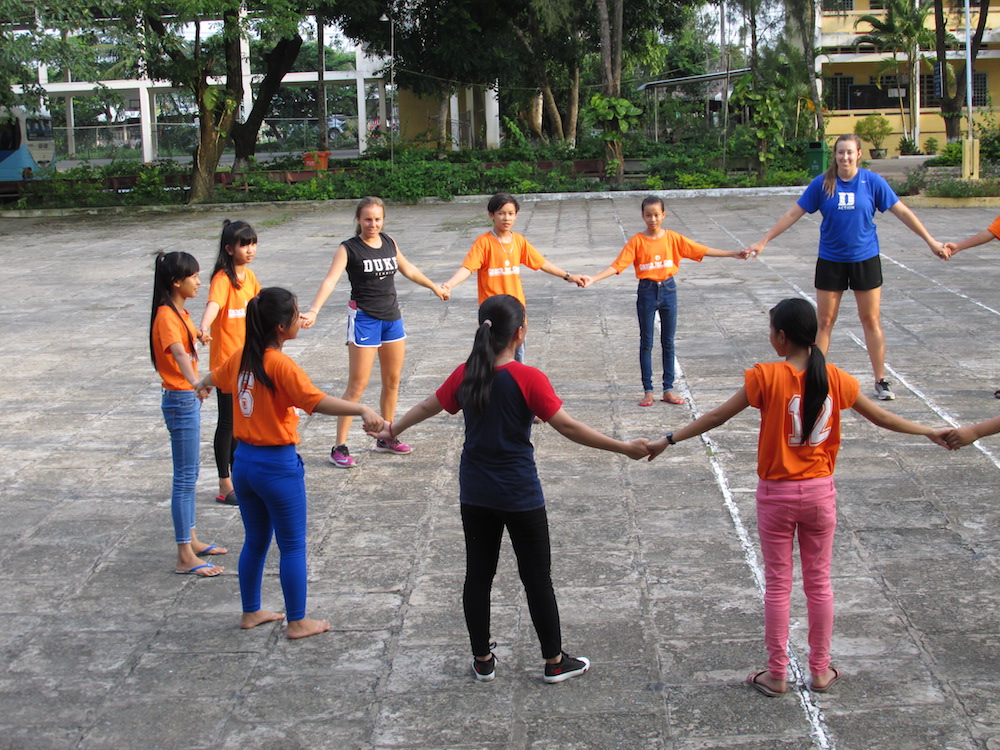 When Parker Goyer ('07) played tennis at Duke, her athletic training schedule made it difficult for her to participate in study abroad and civic engagement programs. An informal survey of other student-athletes told her the problem was widespread, and in true Duke fashion, she decided to do something about it.
She founded Coach for College, an independent organization that allows student-athletes to apply their athletic skills in an international service-learning program. Designed to reduce the drop-out rate of middle school students in Vietnam, the organization gives student-athletes from the United States the opportunity to teach sports, academics and life skills classes to underserved children in Vietnam's rural Mekong river basin.
This summer, the new Rubenstein-Bing Student-Athlete Civic Engagement Program (ACE) linked up with Coach for College to send five student-athletes from Duke and five from Stanford University to the Coach for College site, where they hosted a three-week summer camp in partnership with Vietnamese university students.
"What's neat about the program in Vietnam is that it's really homegrown."

– Emily Durham, Program Director
ACE program director Emily Durham, herself a former student-athlete, said Coach for College's link to Duke made the program particularly meaningful for Duke students. "What's neat about the program in Vietnam is that it's really homegrown," she said.
Not only does the program have its roots at Duke, but Coach for College U.S. program manager Seth Napier, who helped coordinate this summer's camp, is also a Duke alumnus ('03).
Napier, who said he was excited to reconnect with fellow Blue Devils, saw tremendous growth in the university students during their three weeks in Vietnam.
"It was interesting to see the change from when everything was new and unknown when they first stepped off the plane, to where they bargained in markets, negotiated the traffic and in general became familiar with a place that had initially seemed so foreign," he said. "I especially enjoyed seeing real relational bonds form between the college students and the kids."
"The bond they[the kids] created with the college students was very meaningful to them…It was evident that they knew they were someone in the eyes of that college student they looked up to. By the end, we were all one big family."

– Seth Napier '03, Coach for College U.S. Program Director
Napier emphasized that the program is as much about the university students learning from Vietnamese youth, gaining cultural awareness and understanding international service as it is about improving the lives of the kids they mentor. But as those kids donned Duke t-shirts and baseball caps with pride, Napier said, it was clear that they experienced life change, too.
"The bond they created with the college students was very meaningful to them," he said. "It was evident that they knew they were someone in the eyes of that college student they looked up to. By the end, we were all one big family."