At first glance, a summer camp in Vietnam and a 1st grade classroom in Durham might not seem to have much in common. For 2018 ACE in Vietnam alum Mitch Finesilver, however, a local elementary school has been a great place to continue the type of civic engagement he began during his ACE experience. Through tutoring and leading educational activities, he has encouraged students to see their own potential and embrace learning as a rewarding endeavor.
"It is hard sometimes to get kids encouraged about learning, and I believe ACE helped me to spark that interest."
When Mitch returned to campus in the fall of 2018, he looked for ways to continue the type of work he had done during his summer with ACE in Vietnam. He found a service-learning course, Foundations of Education, that partners with Durham Public Schools and a program called Partners For Success to facilitate classroom activities and provide tutoring to K-12 students. Mitch recognized this as a way to build off of his ACE experience and continue instilling kids with a love of learning, and he promptly enrolled for Fall Semester. "In Vietnam we taught classrooms full of kids in specialized topics and life skills, while in my Action plan I am devoted to tutoring and helping individual students in specialized topics."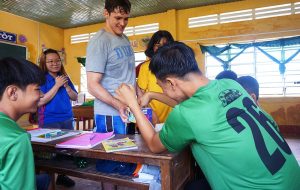 To Mitch, tutoring is about more than just conveying information to his students. His approach centers on creating a positive learning environment that validates his students-particularly those who need extra help in finding their love for learning -and encourages them to develop a personal drive to further their education. "My goal in my Action plan was to connect with students and inspire them to pursue higher education. It is hard sometimes to get kids encouraged about learning, and I believe ACE helped me to spark that interest."
"I think there is a certain camaraderie that is built between people that want to be involved in their communities…"
Though his service learning course has come to an end and his Action Plan has been fulfilled, Mitch's commitment to volunteering is anything but over. "Moving forward, I will always be seeking out ways to be involved in the community. I believe I will always try to volunteer in some way that involves giving back, especially to kids." While finding the time to stay involved has not always been easy, Mitch says that it can be done with commitment and a bit of careful planning.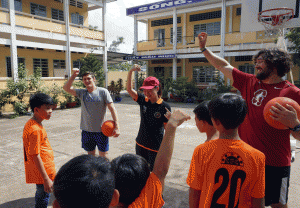 Another key to Mitch's continued service has been the support of other volunteers and community members. "Many times, if you want to get involved, people will help make it possible regardless of the barriers. I think there is a certain camaraderie that is built between people that want to be involved in their communities, and that makes it easier to find specialized opportunities and to make opportunities accessible."
Mitch's advice for others who want to get involved in service is to resolve to find a way to make it happen. "Get creative and don't shy away from certain volunteering projects due to barriers. Commit to it and you can get it done."