This summer I participated in the Duke-in-Greece program as well as ACE in China.  These are two very different programs but are similar in the sense that both bring together a random mesh of students in a foreign country. I was amazed how quickly relationships formed within these groups and even more so, how deep the connections went.  I came back from China days before field hockey pre-season.  As I scanned the locker room, I was taken aback by the realization I had become closer with eight people in a few weeks in the ACE in China program than I was with some girls I compete with every day. One of my teammates who participated in ACE in Vietnam had a similar thought when returning from her program this summer.  Since then, my teammate and I have been discussing the ways a program like ACE has the ability to bring a group of people together so well in simply three weeks.
I learned that "intentional vulnerability" is the primary ingredient needed in an ACE program to create a close-knit group of people.  Reflection was held every night after dinner at 7pm.  Sam, the on-site program leader of the ACE in China program, led the first couple of reflection sessions but then handed the torch to someone new each of the rest of the nights.  At first Sam simply prompted a question that pushed us to reflect on the previous day of camp, but by the end of the trip, the questions ranged from asking about major life events to our deepest passions.  This nightly thirty-minute intentional period allowed us to break down our walls and get to know each other better in a more formal setting.  However, this opened the door of vulnerability to each of our lives that was then explored on our own time and in a more personal way, outside of the allotted reflection time.  I think it's critical to share and express thoughts and feelings in order to reach the depths of someone and connect with them on a deeper level.  This is the foundation of a lasting friendship or any type of relationship. While balancing social life, academics, field hockey, and more at Duke, it's easy to slip into a routine and become unintentional about your thought and action.  Remaining intentional with our teammates and peers is a new goal for me and my teammates in order to form bonds within our team that are stronger than ever before.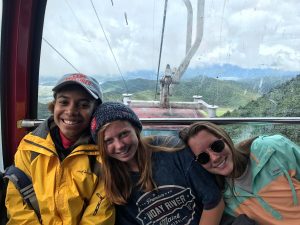 I'm forever grateful for the relationships I made throughout the ACE in China program and especially want to thank the CERS Center for being a wonderful host and constantly motivating us all to learn more about Tibetan culture.  I am looking forward to continuing these relationships throughout my following years at Duke.