Photos Courtesy of Stanford Athletics
Two ACE alums Jacie Lemos, ACE in China 2018, and Brittany McGee, ACE in Vietnam 2016, were featured in a recent Stanford Athletics article highlighting eight student-athletes describing their journeys and why a Stanford degree is especially meaningful to them.
Lemos, a senior on the women's lacrosse team, talked about the adversity she faced being sidelined with injury in her freshman season. "Being an athlete was such a big part of my identity, and having that taken away so early in my collegiate career was extremely difficult. "
Lemos described the support she's received from her father, friends, teammates, and Stanford alumni and the impact they've had on her during her journey at Stanford
"I've been blown away by the amount of people wanting to help. I guess when you're talking about the power of a Stanford degree, it involves the community you find as an undergrad that extends far beyond those four years."
Lemos ended by saying, "I've discovered that the significance of the diploma itself is most meaningful for the people you meet, the things you learn, and the friendships you create."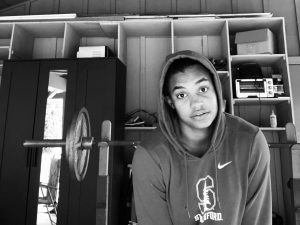 McGee, a fifth-year on the women's track and field team, described a similar story of athletics and serious injury. McGee talked about the difficulty of taking a year off from school and athletics and returning to her home in Florida. There, she used the time to reflect. "During that calm detour, I realized that despite everything, I could count my blessings. I was happy to be alive and breathing." Upon returning to Stanford, McGee embraced her role as a loud and vocal supporter for her teammates
On obtaining her degree from Stanford, McGee said:
 A diploma was so far out of my sight for so long, that being able to do it is rewarding and satisfying in ways I can't describe. I had the odds against me for so long … this feels monumental for me, like the biggest milestone I'll ever reach. I honestly can't believe it.
Next, McGee will be attending the University of South Florida to get her master's in bioinformatics and computational biology.