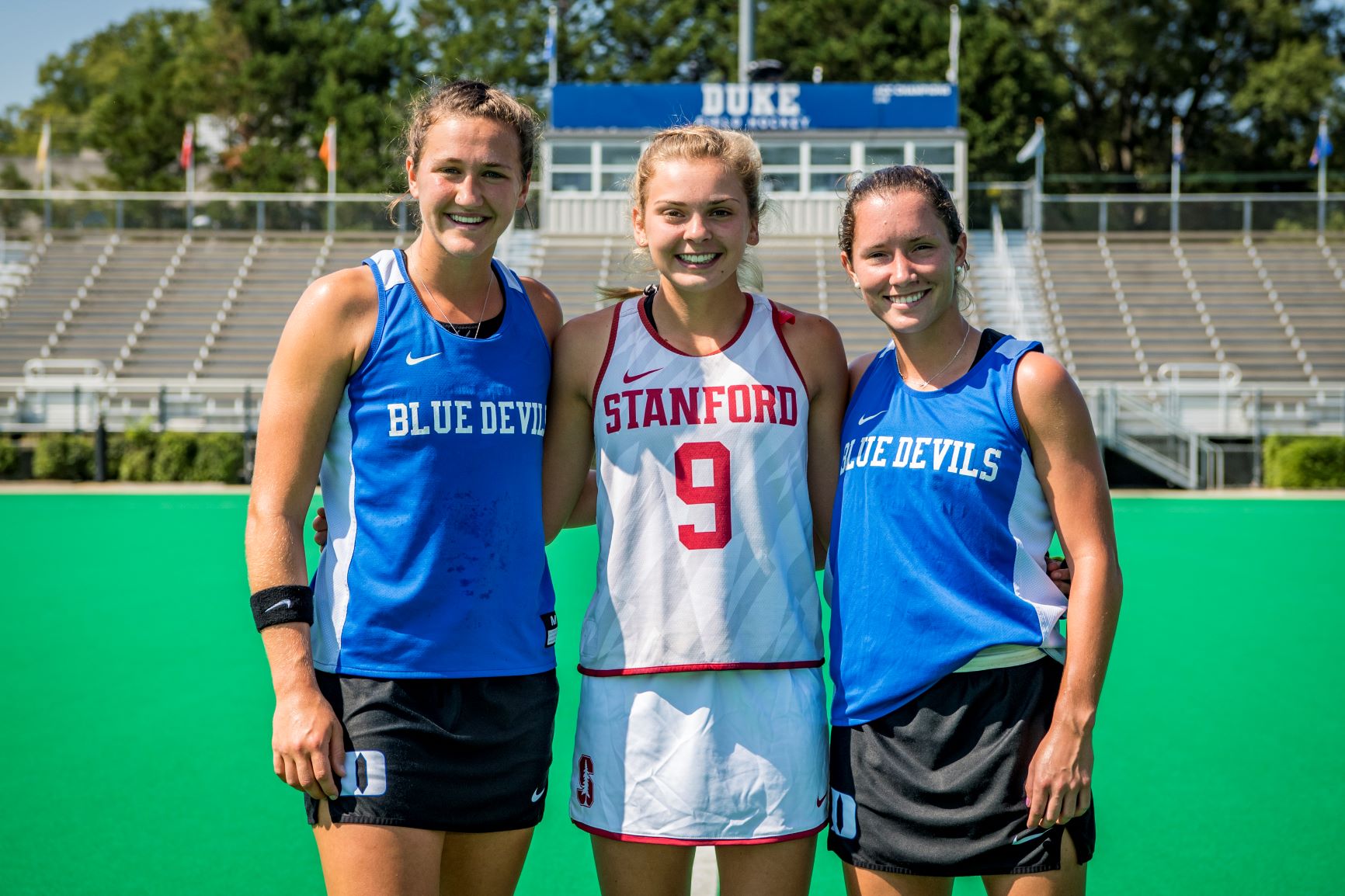 During the fall 2019 field hockey season, Duke and Stanford's teams played each other at Duke which provided a wonderful opportunity to highlight the ACE program.  Pictured here are Jillian Wolgemuth – ACE in Vietnam '18, Haley Schleicher – ACE in China '18, and Isabelle Pilson – ACE in Vietnam '19. Photo courtesy of Duke Athletics.
"What I would simply say to coaches is that there is no downside to the ACE program. Absolutely no downside. Your student-athlete will return fully engaged with added leadership and teamwork skills. They will have such a wider base than they've ever had before. Those are my simple words and they always have been – there's absolutely no downside."

– Jacki Silar, former Senior Associate Director of Athletics and SWA at Duke University and ACE Advisory Board Member
Coaches are and have been important partners to ACE from the program's inception. From asking for input in program design, to communicating throughout the application and selection process, to providing updates on the on-site experience and back-on-campus programming, the ACE program works closely with coaches to develop programs that give student-athletes a unique opportunity to engage with communities abroad while still maintaining peak level performance and fitness.
In addition to working with the coaching staff of each team, we also partner with athletic trainers, nutrition, and sports medicine at both schools to ensure that all participants receive the best possible preparation and care before, during and after their participation in ACE.
FAQs
Questions about the ACE program? We've compiled a list of FAQs which answers many of the common questions coaches ask about the program including details about the on-site experience, training and nutrition resources, and ways to highlight ACE during the recruiting process. These will inform you on how we ensure your student-athlete participants have a safe and transformative experience with ACE and how you, as their coach, can support your ACE student-athlete participants. Learn more.