Why ACE in Place?
Five years ago, ACE launched with the goal of bringing Duke and Stanford student-athletes together to engage in meaningful service experiences. This summer ACE continued to innovate by offering unique programming for our ACE community that built on our values and met the current moment – an unprecedented time of social change and social distancing.
After COVID-19 led to the cancellation of international travel, ACE developed "ACE in Place" – an optional five-week online engagement experience for our 2020 accepted student-athletes. ACE in Place provided participants with the opportunity to join the ACE community and prepare for future engagement experiences.
"ACE in Place prompted me to challenge my own preconceived notions of what it means to serve ethically. Rather than impose one's own culture upon someone else, it is much more productive and beneficial to immerse oneself in another culture and truly listen to what those community members need."

– Dean Stratakos, Stanford Men's Tennis
ACE in Place Participants

34 Duke and Stanford student-athletes who were originally accepted to one of the 4 ACE programs participated in ACE in Place. As a voluntary program, ACE in Place participation will have no impact on ACE 2021 eligibility.
ACE in Place PALs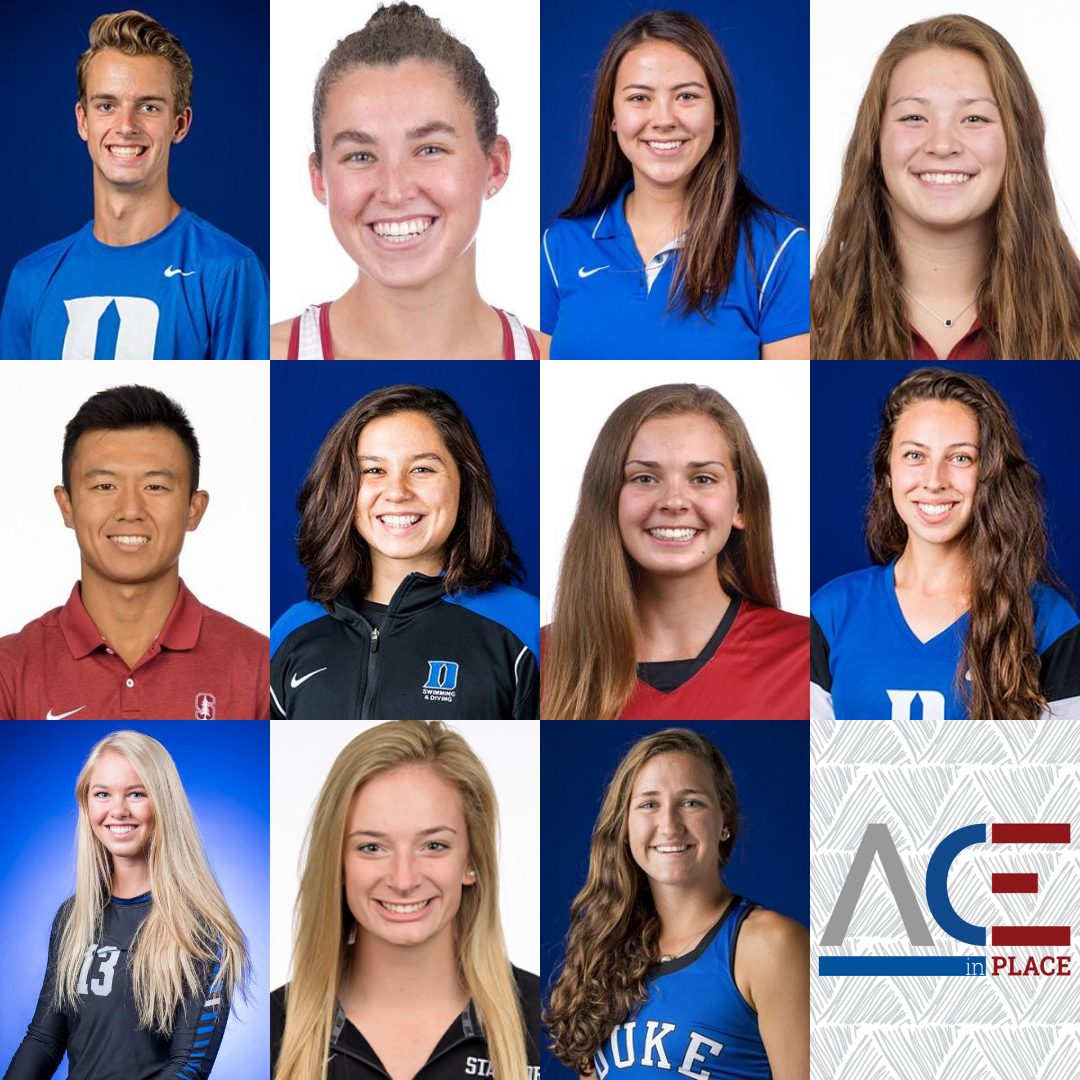 11 ACE Ambassador alums also served as Peer Ambassador Leaders (PALs). ACE launched the PAL mentor opportunity to help the 2020 ACE cohort build strong relationships across the Duke and Stanford student-athlete community, as well as helped them feel connected to the ACE program. PALs co-led and mentored the ACE cohort through weekly discussion and community building activities via Zoom.
ACE in Place Programming
Starting June 23, ACE in Place participants took part in a weekly skills-building Zoom session led by university staff and community partners, as well as a community-building Zoom conversations led by Peer Ambassador Leaders (PALs). Finally, students were also encouraged to engage in self-initiated service opportunities in their own communities or with an organization they've previously supported at Duke or Stanford.
"ACE in Place gave me a community I could lean on in these uncertain times. I am glad ACE was able to bring us together so we could share our experiences and prepare for a unique year ahead."

– Lucy Callard, Duke Women's Swimming & Diving
About Skills Building Sessions
During the skills building sessions, a different theme was explored each week that reflected ACE program values. Topics included the ethics of international service, the impact of COVID and international development work in South Africa, mindfulness and service, and public service careers and post-grad service opportunities.
About Community Building Sessions
During the community building sessions, PALs led small-group conversations where relationships were formed between Duke and Stanford student-athletes, weekly themes were discussed, and reflection occurred around current events.
ACE in Place provided our 2020 participants with a meaningful experience, new friendships, and an opportunity to deepen their community-engagement skills.
Want to know more about the impact of ACE in Place?