"Participating in ACE will help me widen my global perspective and interact in a meaningful way with a part of the world I have never had any experience with. I am excited to learn and grow as a person and hopefully make lasting relationships."
Areta Buness's past experience with service includes completing service work with her team with One Love and Set the Expectation, two organizations focused on raising awareness of sexual assault and relationship violence. She has also worked independently with projects with the Phoenix Zoo, helping to release endangered species back into their habitats.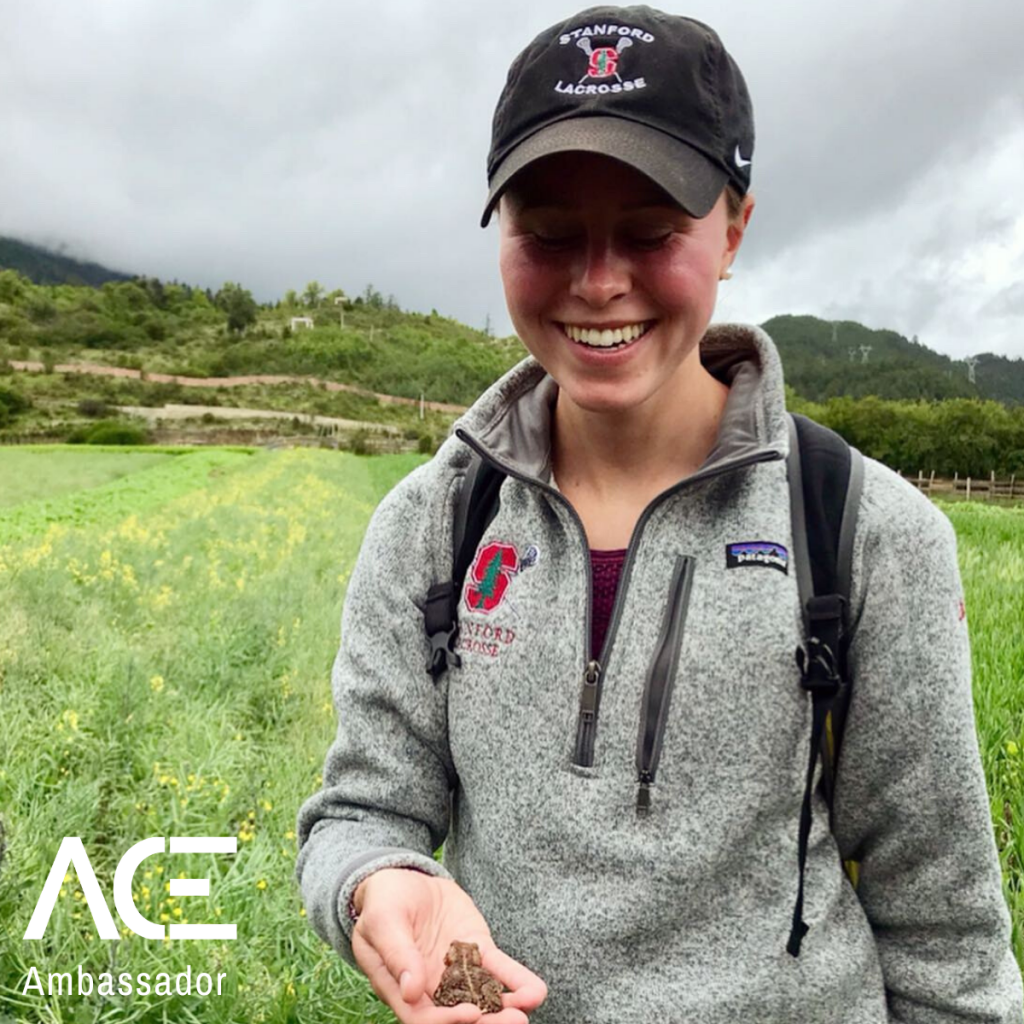 Areta is a coterm Master's student who played on the Stanford Women's Lacrosse team for all 4 years of her undergrad and participated in the ACE in China program in 2019. She majored in General Biology and is getting her Master's in Biology with a focus in environmental microbiology and environmental science. She found that the ACE experience learning about the Tibetan culture and working with the local children was an incredible opportunity for personal growth and relationship development. She is looking forward to seeking out more opportunities to get involved with children and environmental service.
Want to hear more about Areta's ACE experience? Contact Areta.
Dear Future #ACEathletes,
Best advice for learning about ACE: I think thoroughly reading the program descriptions on the ACE website as well as talking to past participants about their experiences was the most beneficial for learning about each program and deciding to apply. I asked my teammates who had participated before for advice on my application.
Best advice for getting started at your program: The first couple days in China were definitely an adjustment but we were all figuring it out together so it was exciting to try all the new things and learn about everything. We spent time getting to know each other over meals and in the bus while driving to different locations for cultural learning and experiences.
Tips for getting to know your community: Talking to the program directors who spoke English was very helpful for learning about the community. The language barrier prevented conversation with many of the community members, but non verbal communication and interaction were helpful in sharing culture and values.
Tips for training: We had plenty of time for training every day and went to the gym in town a couple times a week. It was really fun getting to train with athletes from another school and different sports!
Tips for bringing ACE back to your team: I hope to stay involved with my team and share what I learned from my ACE experience even though I will no longer be playing on my team!
Reasons for staying involved in ACE: I think the ACE program is an amazing and unique opportunity for student-athletes to learn about another part of the world and experience the culture first-hand. I hope to stay involved with the program for as long as possible in order to make this program the best it can be for future participants! The program has inspired me to seek out more service opportunities as well as learn more about the cultures surrounding me everyday.