"Participating in the Vietnam ACE program is worth it to me because it is an opportunity to be challenged and exposed to a different culture. I believe this experience will build more appreciation for the opportunities in my life and provide me with a meaningful experience that can help guide me in the future."
Mitch's past experiences with service include mentoring young student-athletes through ACTION, coaching with the Blue Blood Wrestling Club, volunteering with Kohl's Bull City Fit, and supporting the Fight for 15 movement. Mitch has also participated in Duke SOLE and Duke LEAD. Alongside his wrestling teammates, Mitch has volunteered at a local soup kitchen and participated in a workout gear drive for an inner-city gym. Finally, Mitch has served as a team co-captain of the wrestling team and a representative on the Student-Athlete Advisory Committee.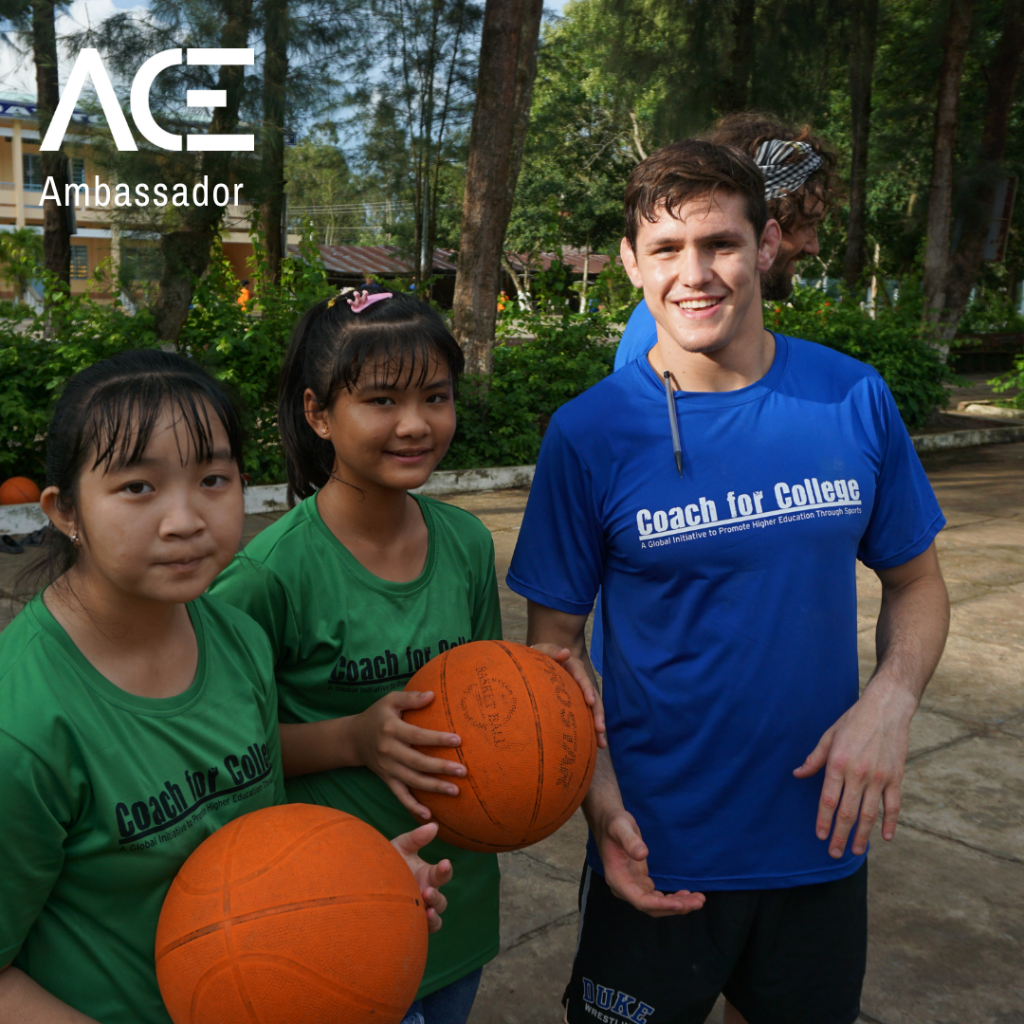 Mitch is a 5th year on the wrestling team at Duke. He is a native of Denver, CO and loves the outdoors. He plans to try and make the 2020 Olympics and then pursue a career in medicine. He plans to become a trauma surgeon and help to save lives. He participated in the 2018 ACE in Vietnam program where he taught biology and basketball to 7th and 8th grade kids. While in Vietnam, Mitch enjoyed the variety of food that was available and made a great deal of memories with his students and other ACE participants. Although this experience was challenging, it was extremely valuable to Mitch in his life. It is something he will always remember. The lessons learned during his time in Vietnam will help carry him throughout his life.
Want to hear more about Mitch's ACE experience? Contact Mitch.
Dear Future #ACEathletes,
Best advice for learning about ACE:  I talked to my teammates who had done ACE in the past and read up about it on the website. The website info was extremely useful.
Best advice for applying for ACE: I made sure to really emphasize what I wanted to get out of the experience and the aspects that I thought I could add to each group.
Best advice for getting started at your program: The first days were a little rough. They don't flow great but you find your groove and the kids really help energize things. Progress was measured by the number of kids who were engaged daily. Getting to know the other ACE participants came naturally.
Tips for getting to know your community: To get to know the community it is important to be open and willing to try new things. The family that ran our hotel was extremely kind and we formed a great relationship with them.
Tips for training: Having other people helped me stay active. I lifted every morning super early and then would run or do band exercises in the afternoon. It wasn't an ideal training situation, but we made do.
Tips for bringing ACE back to your team: I just told them about my experiences and even brought souvenirs. I also have approached my sport with a lot more appreciation. Not everyone gets to do a sport like I do for fun and I am just trying to make the most of the opportunity that I can.
Reasons for staying involved in ACE: The program did so much for me that I think it is necessary to stay involved.