The ACE program is an opportunity to make a positive impact on the lives of people and communities across the world. At the same time, the ACE program grants me an opportunity to grow personally in a way that I otherwise wouldn't have as a student-athlete.
As part of the ACE in South Africa program, participants will assist with basic healthcare initiatives, activity-based education and teaching, light construction, and sports programs in the community of Nomzamo township near Cape Town.
Sean's past experiences with service include involvement in the small bible study group TimeOut; advocating for a more inclusive environment for LGBTQ student-athletes with Athlete Ally; and lifeguarding for Duke Recreation. With his team, he has instructed local youth in swimming through "Swimming with the Blue Devils," befriended a young boy with cancer named, Max, as part of Team Impact, and cooked meals in a local soup kitchen.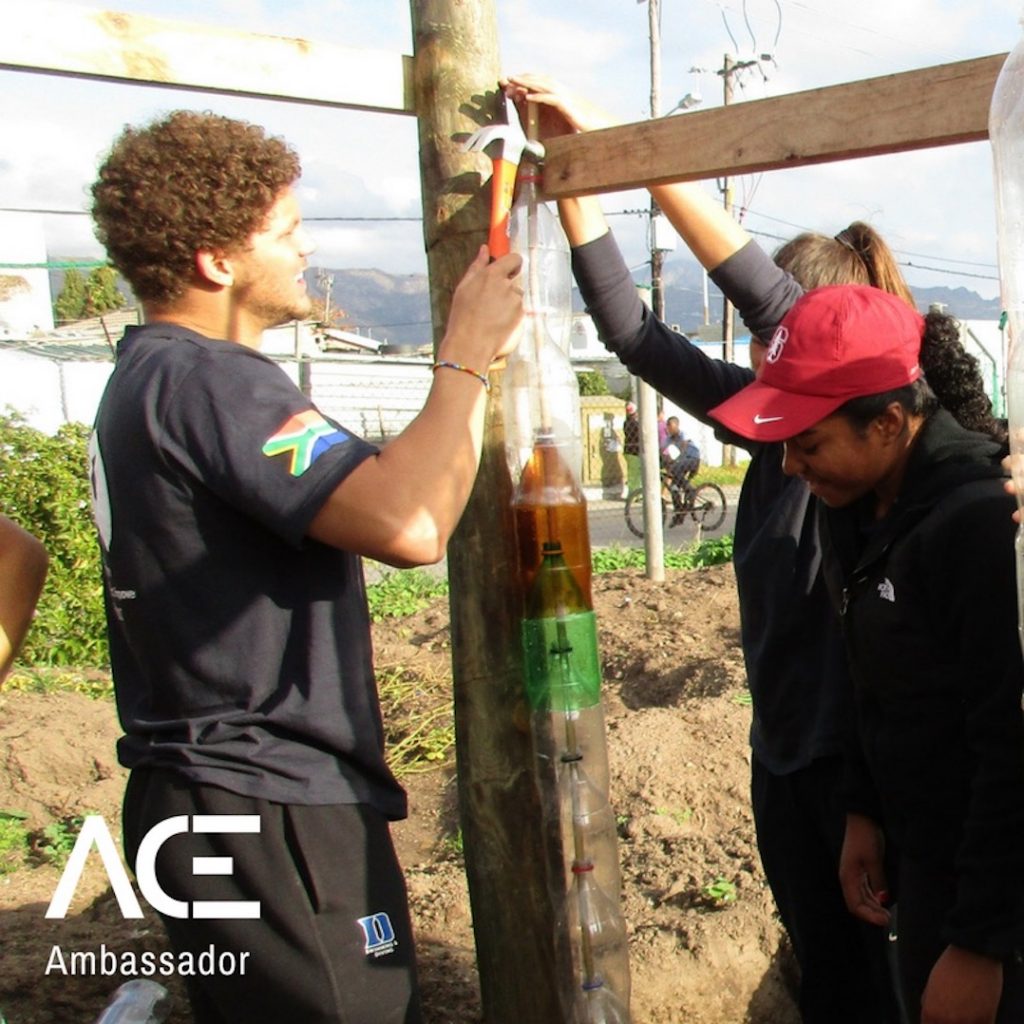 Sean is currently a senior on the Duke Swimming and Diving Team. He is a Cultural Anthropology major with a minor in Spanish. In the summer of 2017 , he participated in the ACE in South Africa program where he and his program teammates ran a sports camp with children in the Nomzamo township in Gordon's bay. As an anthropology major, Sean greatly enjoyed the abundance of cultural and historical information that South Africa had to offer and learned deeply about the Xhosa and Afrikaans culture, especially their emphasis on rugby. For Sean, the ACE in South Africa program was one of the greatest experiences in his life and definitely his college career and he want to continue building the ACE program as an ACE ambassador. Sean hopes to participate in more civic engagement opportunities in the future such as the PeaceCorps.
Want to hear more about Sean's ACE experience? Contact Sean.
Dear Future #ACEathletes,
Best advice for learning about ACE: I was fortunate to have a lot of teammates who participated in the program the Summer before I did, so most of the information I got was through them. I also attended all the info sessions. After that, I decided on South Africa because of the history of the country and general interest.
Best advice for applying for ACE: My advice would be to honestly go with your gut. Every program has something special about it and you're going to love every minute of the experience. In making sure I had a strong application, I participated in a number of activities/clubs/work outside of my sport to draw experience on and become a well-rounded applicant.
Best advice for getting started at your program: The first days went smoother than I thought they would. There were a few hiccups here and there but nothing too major. The worst it ever got was we ran out of ideas of games to play with the kids and even then we ended up playing soccer the rest of the day. Getting to know your teammates is going to be very easy. Living together and eating all your meals together assures this. We measured progress by discussing how we thought the day went at dinner every day and then brainstorming ideas for what we were going to do the next day.
Tips for getting to know your community: We built relationships with the community through the program and a number of activities we did with them, such as computer literacy courses. The experience changed how I live now in that I am now more conscious of how much of things I use, such as water, plastic, etc.
Tips for training: We were fortunate enough to have a gym membership that we used everyday. The gym was supplied with everything a college athlete would need and staying in shape was not an issue. Training with other student-athletes was fun, we exchanged exercises and stretches and learned a thing or two from each other in the weight room.
Tips for bringing ACE back to your team: I shared my ACE experience with my team in the Fall during a team meeting and explained what we did during the program and how we made a difference and how it will make a difference to them if they were to apply.
Reasons for staying involved in ACE: ACE was such an amazing experience, I didn't want to leave when the program was over. I want to play a roll in building and improving the program as long as I can. The program has impacted my perspective on the world immensely and I want to see it grow.