The ACE program is an opportunity to make a positive impact on the lives of people and communities across the world. At the same time, the ACE program grants me an opportunity to grow personally in a way that I otherwise wouldn't have as a student-athlete.
As part of the ACE in South Africa program, participants will assist with basic healthcare initiatives, activity-based education and teaching, light construction, and sports programs in the community of Nomzamo township near Cape Town.
Sean's past experiences with service include involvement in the small bible study group TimeOut; advocating for a more inclusive environment for LGBTQ student-athletes with Athlete Ally; and lifeguarding for Duke Recreation. With his team, he has instructed local youth in swimming through "Swimming with the Blue Devils," befriended a young boy with cancer named, Max, as part of Team Impact, and cooked meals in a local soup kitchen.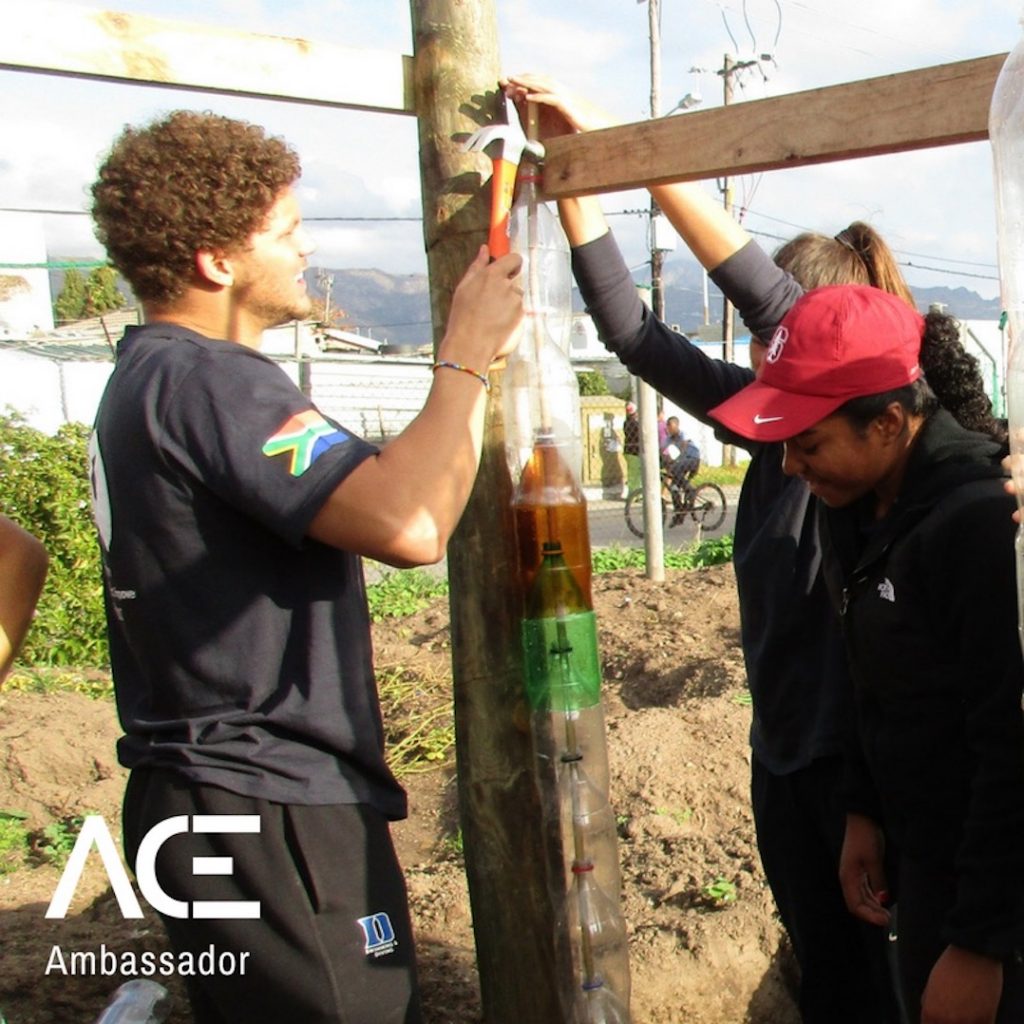 Sean is currently a junior on the Duke Swimming and Diving Team. He is a Cultural Anthropology major with a minor in Spanish. This past summer, he participated in the ACE in South Africa program where he and his program teammates ran a sports camp with children in the Nomzamo township in Gordon's bay. As an anthropology major, Sean greatly enjoyed the abundance of cultural and historical information that South Africa had to offer and learned deeply about the Xhosa and Afrikaans culture, especially their emphasis on rugby. For Sean, the ACE in South Africa program was one of the greatest experiences of life and definitely his college career and want to continue building the ACE program as an ACE ambassador. Sean hopes to participate in more service opportunities in the future such as DukeEngage and the Peace Corps.
Dear Future #ACEathletes,
Best advice for learning about ACE: Do some research, a quick Wikipedia search even would work. In the end, apply to the location you think you would fit in best. I attended info sessions and met with my coach to discuss participation.
Best advice for applying for ACE: My best advice for applying is to simply do it. There's nothing to lose from applying. I reflected on past service experiences and anything in life that potentially set me apart from others.
Best advice for getting started at your program: The first days went smoother than I expected and I quickly became friends with my ACE teammates. Every night we would meet and discuss how things went.
Tips for getting to know your community: Working with young kids was a great way to build relationships with the community. The number one thing I gained from the trip was perspective on how and why the people there lived their lives.
Tips for training: We were fortunate enough to go a very well stocked gym everyday for about two hours (they even had a pool!). It was also optional so if you were tired from the day, it was alright to not go.