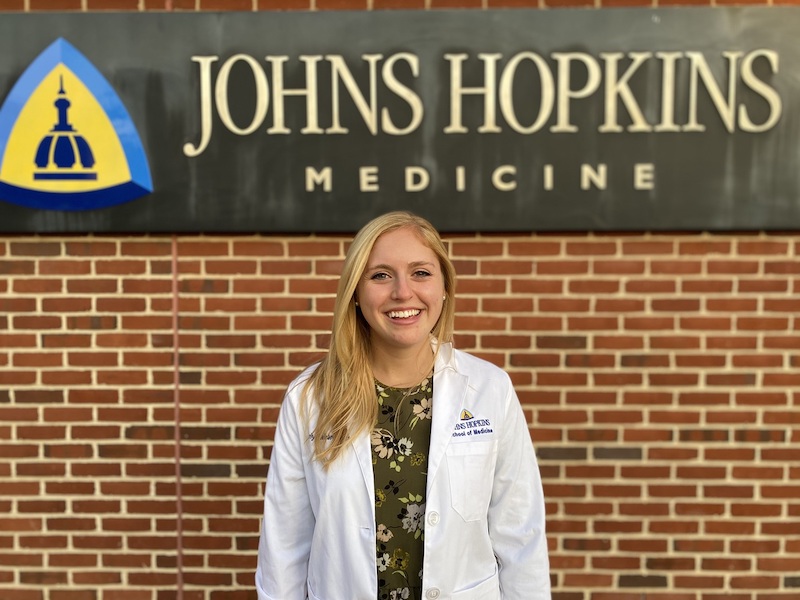 For 2019 Stanford Women's Fencing alum Carly Weber-Levine, ACE helped clarify her passions for medicine and teaching. Five years after participating in ACE in India 2017, Weber-Levine is halfway through medical school at Johns Hopkins School of Medicine and hopes to one day teach other medical students and residents.
What are you doing now? How did ACE influence your career?
I'm currently in my second year of medical school at the Johns Hopkins School of Medicine. The ACE program showed me how much I enjoy working with others and how I want to dedicate my career to that.
Professionally, seeing how much I enjoyed teaching showed me that I want to continue in the role as an educator and mentor throughout my life.

– Carly Weber-Levine, ACE in India 2017
The program also helped me realize how much I care about secondary education and working with students. I hope to stay involved in education in some way throughout my life. I currently serve as a tutor and mentor in the Baltimore Public School District with a focus on math and science. Later in my career, I envision teaching medical students and residents to serve in the educator role.
What was the most meaningful part of your ACE experience?
Professionally, ACE showed me how much I enjoy teaching and made me realize that I want to continue in the role of an educator and mentor throughout my life.
Share a lesson you learned from your ACE experience that still holds true today:
I found that there is always a way to connect with someone regardless of whether you speak their language or have something else in common. This most became apparent to me when we worked in the Abandoned Persons Home in Delhi. We were unable to communicate with most of the residents due to language barriers, so instead, we made bracelets for them that we could hand out and connect with them in that way.

Share a fun ACE memory:
The students had two favorite activities to do with us. The first one was racing us. The kids loved to see if they were faster than us. So if you caught us at lunchtime, you would see a line of thirty students with one ACE volunteer sprinting back and forth.
The second one was dance. If we weren't outside sprinting, we were probably learning one of their dances, which they found incredibly amusing.
Describe your ACE experience in as few words as possible:
My ACE experience really felt like a once-in-a-lifetime opportunity.
What's one thing you want people to know about ACE?
Definitely apply multiple times if the first time doesn't work out for you. I applied to one program my first year and was so sad to not be accepted. But I was successful the second time around, and am so grateful I took the chance to reapply.
What's your hope for the future of ACE? What advice do you have for future ACE participants?
Try everything during your ACE program! It will not always be clear-cut what to do, but think outside the box to make the most out of your time in the program.