This year marks five years of ACE programming. We're celebrating by looking back at our first year programs, reflecting with our first year participants on what ACE has meant to them, and learning what our ACE alums are up to now.
This week we interviewed Class of 2019 Stanford graduate, Women's Track and Field team member and ACE in Vietnam '16 alum, Rachel Reichenbach. She shares how ACE sparked her interest in the ethics of international service and connected her with lifelong friends .
What are you doing now? How did ACE influence your academic or career path?
After participating in ACE in Vietnam, I continued to help out with ACE directly and ACE in Vietnam's community partner, Coach for College (CFC).
While at Stanford, I served as an ACE Ambassador and as an ACE Student Assistant. I also served as a CFC American College Director in 2017 and continue to serve as a member of the CFC Alumni Advisory Board. 
Last year, I received a Fulbright Research Grant which granted me the opportunity to return to Vietnam and research the ethics of international service. 
I'm now preparing to begin medical school at the University of Arizona School of Medicine next year. Long term, I'm hoping to stay connected to work in Vietnam! My dream is to be back in the NGO/non-profit space working on medically focused ethics-improvement projects. 
How you have kept in contact with your program site (program partners) or other members of your Duke-Stanford ACE team?
I still keep in very close touch with several of the Vietnamese volunteers, as well as a few of the students we worked with from my ACE experience 5 years ago! It's hard to find the words to express the love each of them have shown me, or the impact they have each had on my life in different ways.
To say the least, there are some days I spend more time on Vietnamese messaging apps than my normal US texting, and I've probably never spent so much time laughing over video calls than when I'm talking with Huy and Nguyên. I've made friends for a lifetime, without a doubt.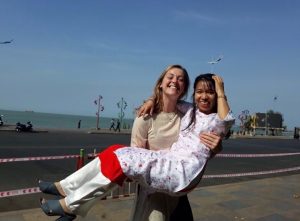 Share a specific lesson you learned from your ACE experience that still holds true today.
Despite the huge, positive impact ACE has had on my life, I recognize that service endeavors — international as well as in the US — will never be perfect. They will always raise moral and ethical questions, and this volunteer model will always be inherently problematic. This reality is something I certainly contributed to, and have continued to grapple with, throughout the five years since participating in ACE in Vietnam. Interestingly, despite how easy it is for us college students to point out the issues with the very programs we have personally benefited from, the short-term service model itself remains mostly unchanged.
ACE allowed me to recognize my role in perpetuating this dynamic. ACE also led me to spend much of the latter half of my undergrad years searching for ways to re-think the structure and trainings within these service programs in a way that would promote more ethical service, service that both prioritizes the autonomy of the host community and commits to respecting and listening to individuals within that community.
"I've made friends for a lifetime, without a doubt."
Mostly thanks to my friends and NGO colleagues in Vietnam, as well as the ACE program staff, we've seen some small positive changes in how service organizations operate. But out of the last five years I've spent re-thinking service through the lens of ethics, including two trips back to Vietnam thanks to research grants, the most important thing I've learned boils down all the ethics theories, volunteer trainings, and programmatic re-structuring into something far simpler and more actionable.
My biggest take-away is that re-shaping problematic short-term service endeavors begins with the realization that the term "humility" is a lot more complicated than it is often made out to be. When my old ACE teammates and I say "ACE taught us humility," what we really mean to say is that ACE taught us how much we still had to learn about what humility even meant.
We entered the experience thinking we all understood how to approach service with humility. Some of us had read texts on ethics or had taken design-thinking courses, others had been involved in service in the past. But when conflict and problems arose for our ACE group, we were all forced to reconsider what we thought we understood about humility.
If there is one take-away from ACE that I will carry with me for life, is it that humility is not something to be achieved, not a set goal, and not a threshold to reach. No single book, class, or experience can magically turn someone into a humble person. Humility is a dynamic, life-long process.
Humility is about looking ourselves in the mirror every single day and recognizing how our intentions to help might actually be part of the bigger problems we see in the world, discuss in classrooms, and contemplate around the dinner table. Humility does not just "happen" — we are each responsible for continually, intentionally re-evaluating our position in the world, and acknowledging and addressing our own role in the issues we seek to solve.
What's one thing you want people to know about ACE?
Don't underestimate the knowledge of lived experience when interacting with other people, in ACE and in the world at large. Despite what is often messaged to university students in the US, some of the most powerful knowledge is not academic in nature — it is experiential.
Anything I ever learned in the classroom pales in comparison to what I've learned from interactions with colleagues, co-workers, students, and friends in Vietnam over the last 5 years. This is not to say my college education was sub-par, but rather is to say that the perspective, humility, and kindness of the people I've had the privilege of working with in Vietnam is unparalleled.
"Humility is a dynamic, life-long process. Humility is about looking ourselves in the mirror every single day and recognizing how our intentions to help might actually be part of the bigger problems we see in the world."
What's your hope for the ACE program and advice for future participants as we look ahead to the next five years?
My hope for the future of the ACE program is that it never loses its fundamental commitment to ethics and respect. From conversations on the ethics of service in pre-departure training, to giving participants a chance to continue these conversations in discussions while working with community partners, I've watched ACE grow tremendously over the last five years into a program which centers not only questions of the "what" (specific projects) of service, but of the "how" (the ethics of how those projects are occur).
So many short term service programs in the US are designed with the primary goal of expanding the scope of education for American college students. Accordingly, benefit of the service on the host community is often secondary. What sets ACE apart, and Coach for College in Vietnam more specifically, is a commitment to understanding the mission and impact goal of their programs as inherently cooperative, and always led first by individuals from the host community.