Former Duke Cross Country and Track and Field team member Veronica Brtek recently graduated with a Masters in Global Health from Duke University. An ACE in China 2018 alum, Veronica shares how ACE influenced her decision to pursue a career in global health and prepared her for international work opportunities.
What are you doing now? How did ACE influence your academic or career path?
I graduated in the spring with a Master of Science in Global Health from Duke, and I am continuing to work on the research teams I was involved with throughout the program. One of these teams aims to address neurosurgical capacity in East Africa, and the other involves research on improving HIV outcomes in Tanzanian youth. The international exposure I gained through ACE largely influenced my decision to pursue a global health degree and put me in a position to be selected for subsequent international work opportunities.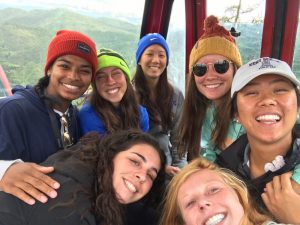 What is one lesson learned from your ACE experience that still holds true today?
My ACE experience showed me the depth to which cultural context needs to be considered when engaging in service-oriented work. Throughout this program, we learned a great deal about the local community and the history that created the current social and environmental circumstances. We were then able to use this knowledge to more ethically and effectively approach our work.
Describe your ACE experience in as few words as possible.
Community, thought-provoking, incredible.
What was the most meaningful part of your ACE experience?
The most meaningful part of this experience was having the opportunity to learn and explore with such an amazing group of people. We were able to build such deep and lasting relationships in only a few weeks while also learning from an incredible group of mentors