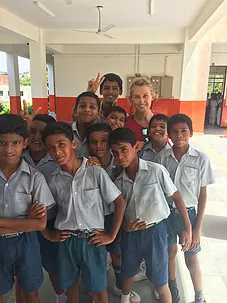 When India is brought to mind, I think of an exotic country. I think of spicy food, I think of an ancient history, and I think of an entirely different set of customs and traditions. I think of a world I have never encountered; I think of a world that could potentially change the way in which I view and live my life. Before this trip, when I thought of my near travel to India, I anticipated everything in the country to be very different. When we were preparing our lesson plans for our teaching sessions at Vidya, the school at which we instruct, I was expecting the children to be unlike American children.
What I quickly learned, after only a few days at Vidya, is that a child is a child, no matter where you find yourself in the world. The children at Vidya school love to play, they love to laugh, and they love to be engaged. They count down their time til they can hit the playground, and they adore class time that is morphed into learning games. They express happiness when they succeed, and they become upset when things don't go their way. Playing with the older kids (AKA the Ace Program) is both exhilarating and challenging. They welcome the change in scenery, as we the giants immerse ourselves in the activities of the school. If one was blind, they would be unable to tell the difference between a child of Vidya and a child from any school in the United States.
"Our countries sit on different sides of the world, yet we share common interests."
We are visitors from America, attempting to blend into the colorful society of India. Our countries sit on different sides of the world, yet we share common interests. In our home countries, we bear different struggles and hardships, yet we find bliss in the same joys. We are led to believe in a stark contrast in our lives, yet our journeys through the progression of age are mirrored. India, although so different from the country I was raised in, has proved itself to be a country of comfort and solidarity; a country that excites me to continue my three-week trip of service and exploration; a country that, although it may look incredibly different, feels surprisingly similar to that of home. Vidya has illustrated that despite our dissimilarities, our cultures are one and the same.