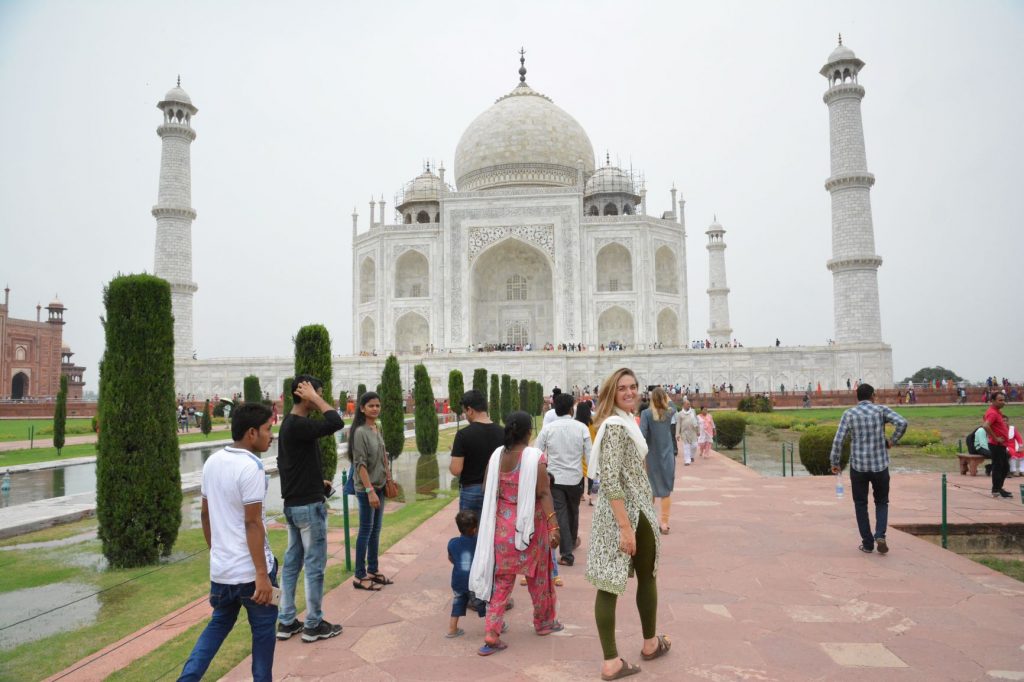 "Good Morning Ma'am" is a phrase I hear frequently. Whether it's in the vibrant halls of D.A.V., the local public school, or within the guarded walls of SPYM, a juvenile drug rehabilitation center, the children and elders always greet me with a "good morning ma'am." Whenever I hear the word "ma'am," I think of the polite American southern greeting for women, but in Delhi, "ma'am" is used frequently as a way of simply showing respect.
~ ~ ~
It took 16 hours in total to arrive in India. I had never been so far away from home.
But my reasons for wanting to travel to India are no different than the reasons I desire to go to most places: to experience something different, to open my mind, to see reality in person and to grow as a person. And India is certainly the place to do this. I've heard, seen, felt, tasted, and smelled things I've never experienced in my life before – both things that are perplexing and pleasing. ACE has graciously given me the opportunity to learn about Indian culture while being able to be actively involved with the community while I'm here.
At 7:30am sharp, our ACE team arrives at the local public school in Delhi. Twice a week, we follow the daily schedule of students from kindergarten to 12th -grade. We begin our mornings singing the Indian national anthem followed by playing various sports in the courtyard. As the day goes on, we make our way into the school for English, biology, economics, psychology, and dance classes. Dance has proven to be a very important part of Indian culture. As we enter the dance studio, we are greeted by a huge group of children who are excited to have us there. "Good morning ma'am" echoes across the classroom. To calm them down, the teacher turns on a traditional Hindi song. All of the children gather in a particular formation and perform each step to the dance with precision. Every one of children are eager to have us join. The teacher stands at the front of the room mimicking all the moves as the song plays. Quickly the beat picks up, and we can barely keep up. Twirls and jumps have all of us dripping in sweat. Song after song, there isn't a routine the children don't know. Once the class is close to finishing, the teacher allows the students some time to socialize. Since English is taught in school, it's very easy to communicate, and the students and I are able to learn about each other. Learning names is always a must. Pronouncing names, on the other hand, is a challenge, but the small smile you get when you finally get it right makes it all worth it.
The majority of the week, I volunteer at an amazing organization with two of my other ACE teammates, Cassidy and Nathaniel. SPYM is a non-profit organization that houses around 80 male children ages 7-18 with various forms of drug addiction through the juvenile detention center. When a boy is arrested in New Delhi, SPYM does extensive testing on a variety of things like literacy, mental health, and drug addiction. Those with street drug addictions usually get into the program over 'lesser' addictions like alcohol. The organization emphasizes education since many of these boys do not have basic reading and writing skills.
Before this trip, I had never been exposed to the juvenile detention system. I had very little knowledge on drug addiction but was eager to learn. One of the most important things that has stood out to me in this organization is that they treat the children like children. The facility is not intended to be a place of "punishment" but instead a place of help. Those on staff truly care about recovery and helping these boys to fight relapse. They offer guidance through individual, group, and family therapy. Family therapy is essential in this situation, since drug addiction in India, as well as many other places, is often considered a moral flaw instead of a disease.
When arriving on SPYM's campus, we receive a number of handshakes, waves, and of course, "Good Morning Ma'am." Only a couple of the boys speak English, so Cassidy, Nathaniel and I communicate through hand gestures while trying to learn basic Hindi words. My ACE teammates and I interact with the boys through various sport games and in the classrooms. We've found success in coming up with nonverbal games for them to play during their free time. Many of our games like musical chairs and freeze tag use music to help accompany the games, but the boys usually end up changing it into a dance contest. Like the D.A.V. students, the SPYM boys have a love for dance and practically require us to be on the stage with them. The boys at SPYM have taught me that just because you might have made mistakes or had difficulties in your past, that doesn't mean you're a bad person. These boys are some of the most energetic, generous, and friendly people I have ever met.