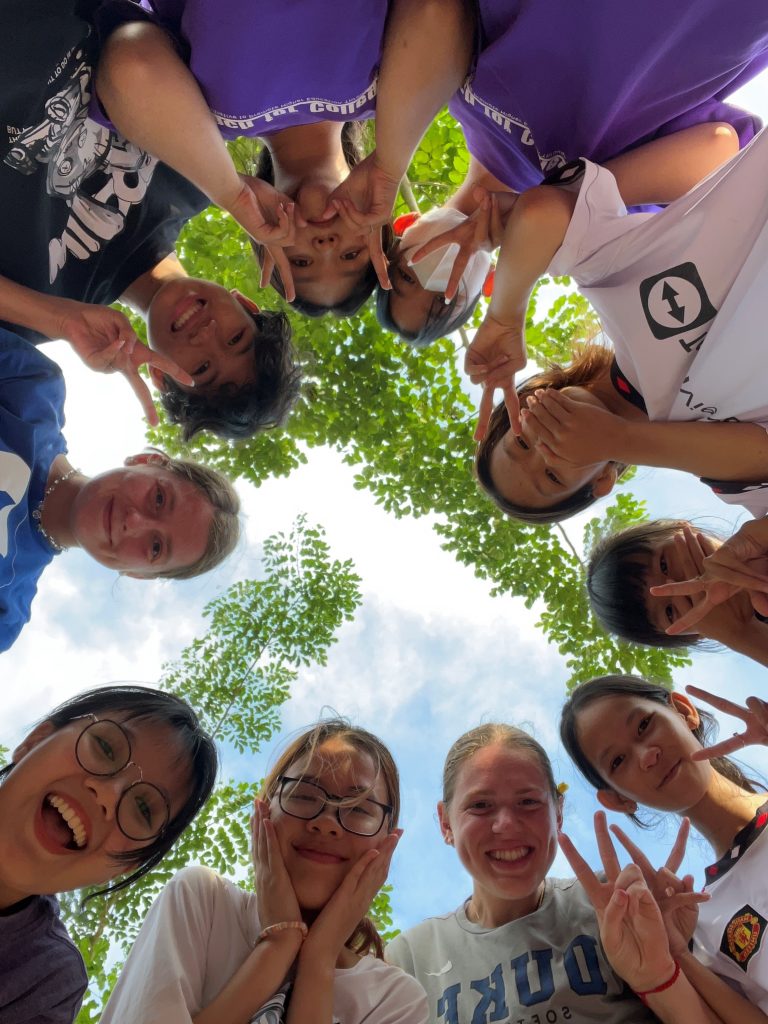 At the end of the three-week summer camp we shared a tearful goodbye with the 8th and 9th-grade Vietnamese kids on our "color team." We exchanged gifts and Google translated notes with each other. However, our tears were not because of the little snacks and souvenirs we exchanged with them. Our tears came from the much more valuable gifts we had shared over the three weeks without even realizing it. Through simply being themselves every day, the kids had given us more than they could imagine. Upon reflection, I found that the positivity and generosity the kids brought everyday was what stuck with me the most.
At the beginning of camp, both the kids and the coaches were wary and unsure of what to expect out of the next three weeks together. Despite the uncertainty I watched something remarkable happen on the very first day. As our bus pulled up to the school and we stepped off, the children were there to greet us with smiles and waves. We had not even met these kids yet and they were already waving at us and smiling with excitement. I quickly came to find out that these kids faced every challenge we gave them with a smile. The walk from the bus to the classroom became my favorite part of the day. No matter how exhausted I was, I knew that they would greet me with energy and a smile that made it impossible not to smile back. Their positivity in the face of uncertainty was incredible and is something that I hope to be able to emulate in my own life.
I will never underestimate the power of giving gifts to others.

– Julia Boyet, Duke Softball
The other part of camp that took me by surprise was the generosity the kids showed to us coaches. I simply can't imagine my 8th and 9th-grade self going to a summer camp where I had to take an hour long test every week and still wanting to give my teachers gifts. Yet that is what these kids did every day. They brought us all of their favorite snacks and waited eagerly to watch us try it. Because of the language barrier between us, exchanging gifts was the best way for each of us to express our love.
Following this experience, I hope to channel the kids' positivity and generosity in my life. I will approach new experiences and challenges with a smile and a wave. Perhaps by doing this, I can make others around me smile like each of the Vietnamese kids did for me. And I will never underestimate the power of giving gifts to others.