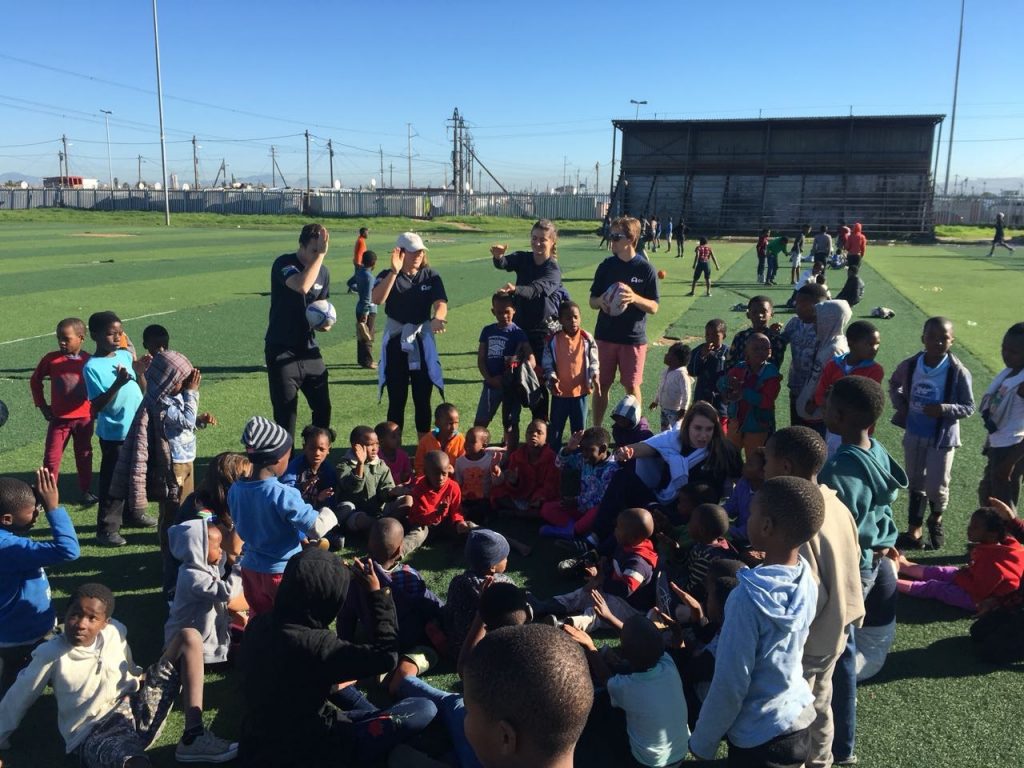 For the first blog I wrote a list of 9 things that I loved about my ACE in South Africa experience. Now I will make a list (this time with some pictures!) of some of the more notable things that happened during the program.
The first sign that we weren't in America was when we went to the grocery store, looked at the smoked meats, and found springbok carpaccio. The springbok is the national animal of South Africa and is a type of antelope. Tastes delicious!
We worked in the Nomzamo township teaching children sports for the first two weeks of the program. Initially the camp was supposed to be for fifth to seventh graders, but after the children realized that we wouldn't turn anyone away, the older kids started bringing their younger siblings. Kayla and Callie taught over thirty preschool-aged kids for a week teaching them songs, dances, and some sports drills (see picture below of us singing a fan favorite song, "The Baby Shark Song").
In a previous blog post I mentioned the amount of rain we had for the first week or two of the program. This is a picture of the Stanford group fully fitted in our rain gear. Thankfully, we were prepared for the weather, but it caused a lot of challenges scheduling-wise. Here, we couldn't go on our township tour because of the rain, so we were creative and had fun in the house ourselves.
To bring the kids together at the camp we would chant "let us make a circle," and the kids would respond "a big, big circle." This was a quick and easy way to get the children quiet and ready for the next activity.
Nomzamo: one of the things I loved about this place was how full of people and life the community was. I don't know if you can tell from this picture, but there are always people of all ages walking in the streets, with dogs running and overflowing shops set up on the side of the road. There was also always music playing, whether from a radio in the house or a car with the windows down blasting jams. Walking around Nomzamo surrounded with all of the people and noise made me feel joyful and alive.
One of the activities we did with the kids was a dance party. All of the children loved to dance and would break out dance moves during drills, so we decided to have a formal dance party and bring some music. This was one of my favorite memories of the entire trip as the children's creativity and innate talent outmatched all of us except for Roman, who had them all doing the "shoot."
Roman, Max, and I did yoga at the gym several days, and it was awesome. Having people to work-out with was an unanticipated benefit of traveling with other student-athletes and doing yoga with two boys almost made me feel good about my flexibility.
During the third and final week, we worked on a women's empowerment initiative at the local community center. The work consisted of teaching women (and a few men) varying computer skills, ranging from how to turn on a computer to how to use Excel. This was a picture of one of my favorite people to work with in Nomzamo. He started the week not knowing any Microsoft Word, and ended our last session with a special lesson because he had learned so quickly he had gone through all of our material. I ended up explaining a lot of high-level Excel things to him (with Max Feldman's help!). He also ended up learning fractions and how to work with currency, and we worked together to understand some of Excel's trickier graphical representations of data. Seeing how much he learned and the satisfaction he got from learning was a joy to watch.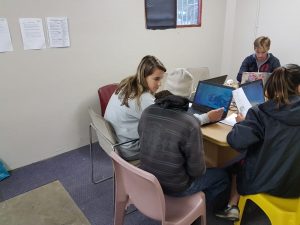 This is a picture of Andy (GVI staff member) and Callie with some of the playground equipment we made. It all came together in the end, even with problems like a broken sewer main (see the stuff that looks like mud? It isn't mud) and intense rain for part of the week. We were even sent pictures of the kids playing on it a week later!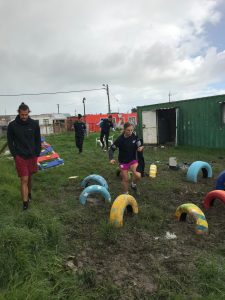 All in all, I'm just glad to have been able to experience this program, especially with these people. I have never met nine people that did anything and everything (from playing catchphrase spontaneously to teaching children rugby, a game we had just learned ourselves) with more heart, love and togetherness. Working in South Africa taught me a lot and was rewarding, but spending time with these people was what made it probably the best three weeks of my life. Thank you ACE, and thank you Kayla, Feldy, Amelia, Roman, Syd, Taylor, Callie, Max Evans, and Aleeza. I love ya'll!