"Studying International Comparative Studies at Duke, it was extremely important to participate in the ACE in Peru program for me because I want to gain awareness of social, economic, and political systems that differ from those that I live in. I want to take this opportunity to learn about cultural differences and how I can appropriately play a role in working with individuals in communities very different from my own."
Carly Perri's past experience with service includes volunteering as a One Love facilitator to advocate against abusive and unhealthy relationships, volunteering at the local animal shelter in Huntington Beach California, and teaching members of all ages within her community to learn how to swim and be water safe.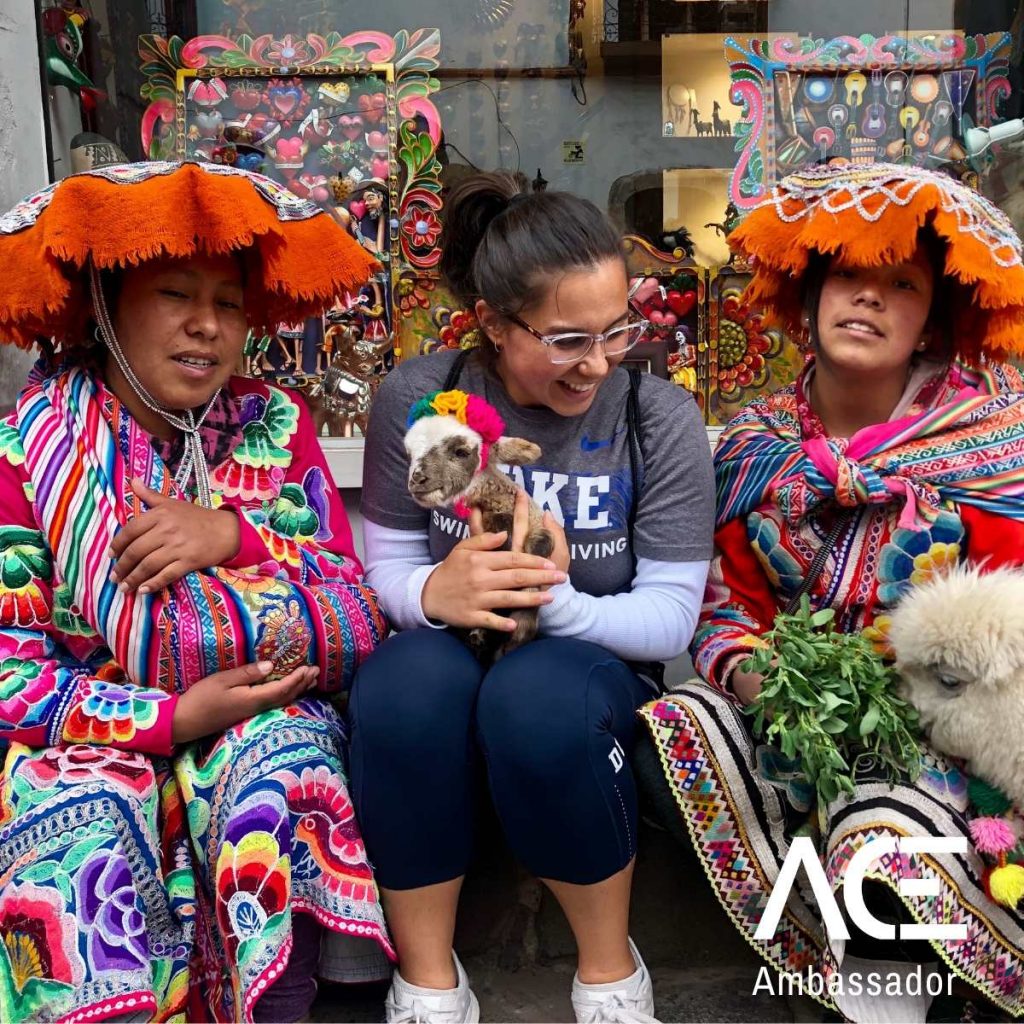 Carly is a junior on the Duke's Swimming and Diving Team and participated in the 2019 ACE in Peru program. Carly is pursuing a double major in Cultural Anthropology and International Comparative Studies (ICS) with a minor in Psychology. Within her ICS major, she is pursuing a regional focus in Latin America and the Caribbean and when the ACE in Peru program was offered for the first time, she knew she could not pass such an opportunity. The program allowed Carly to expand on her Spanish speaking skills while learning about ethical volunteering, responsible tourism, and cultural sensitivity, all important aspects that will apply to her own career in civic engagement one day. Carly is excited to apply the many things she learned in Peru to her future projects within her academic and career pathways while also encouraging future teammates and Duke student-athletes to have the amazing opportunity of experiencing ACE.
Want to hear more about Carly's ACE experience? Contact Carly.
Dear Future #ACEathletes,
Best advice for learning about ACE: I learned about each ACE program by communicating with teammates that had participated in the past. A main reason I decided to apply for Peru was because I have a large interest in speaking Spanish fluently and loved the ethical voluntourism aspects of the program.
Best advice for getting started at your program: Due to the elevation in Cusco, Peru, it is very advisable to take the first 3 days extremely slowly to let your body acclimate to the change. The first initial days are a perfect opportunity to get to know your ACE team and I recommend spending time together communicating about your personal and team goals for the trip.
Tips for getting to know your community: Get out of your comfort zone. Regardless of the language barrier, it makes the world of a difference to show community members that you want to be engaged in their projects. Don't be afraid of having new conversations even if they are difficult; it will be worth it in the end.
Tips for training: Use the provided facilities as best as you can but learn to be flexible with your workouts. If the gym is not open one day, prepare workouts that may be performed without equipment. I think it is also important to remind yourself of why you are there and do not allow working out to limit your experiences in exploring your new environment.
Tips for bringing ACE back to your team: Meeting athletes from multiple sports from both Duke and Stanford provided me with amazing perspectives on why we do our sport and reminded me of the love I have for mine. Their work ethic and creativity during the trip inspired me to bring back even more devotion to my sport both individually and for my teammates.
Reasons for staying involved in ACE: I want to stay involved with the program because ACE gave me my first chance to travel and work with a civic engagement project. I want to give back to the program that helped me hone in on possible future career pathways.