"For me, ACE in Vietnam represents an amazing opportunity to burst the "bubble" that I usually inhabit, allowing me to discover a new part of the world and interact with diverse individuals. Additionally, I value the chance to challenge myself, grow, and strive to positively impact the world around me."
Isabelle Pilson's past experience with service includes volunteering as a Unified partner for Special Olympics Delaware, a coach for TOPSoccer (The Outreach Program for Soccer), and a build member for Habitat for Humanity. Additionally, through Stanford, she has spent time working with the students at the Boys and Girls Club in Redwood City.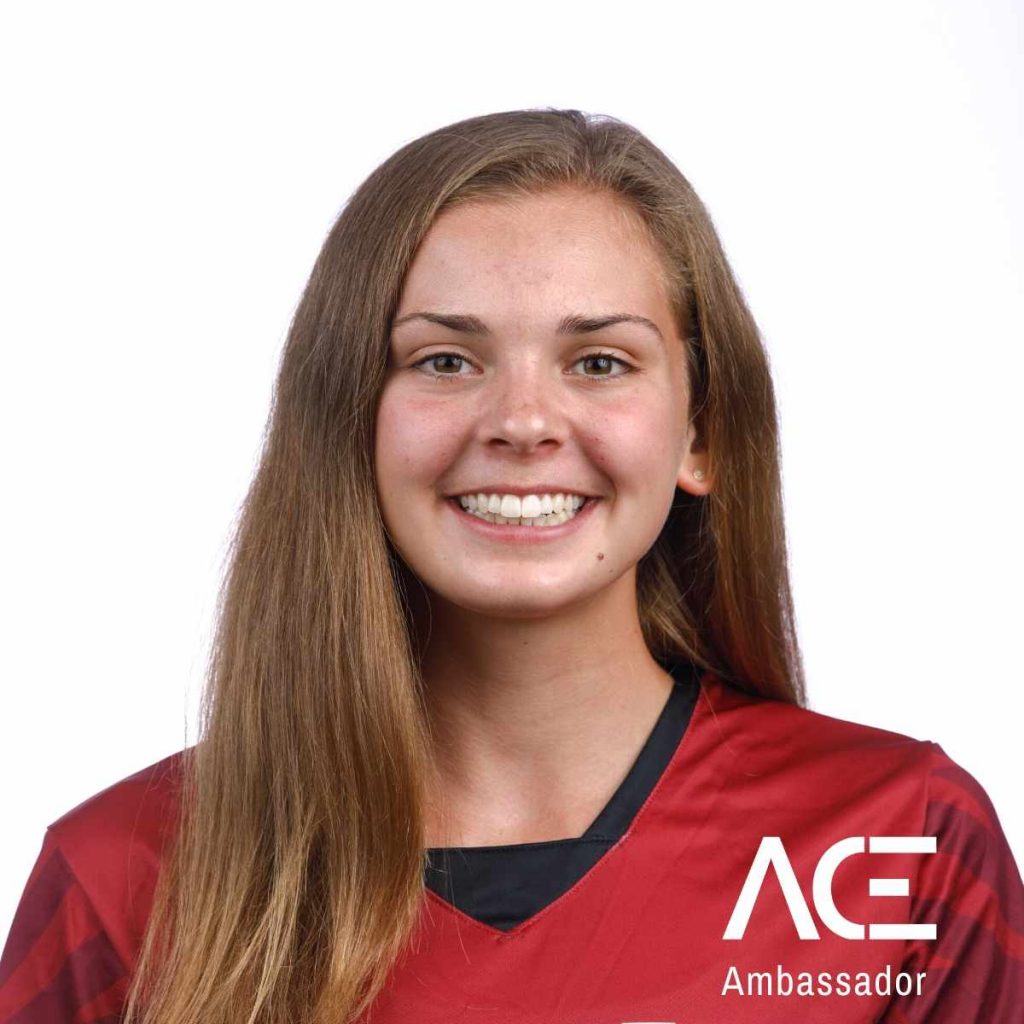 Isabelle is a sophomore at Stanford on the field hockey team. She was a member of the 2019 ACE Vietnam trip where she taught English, coached soccer, and helped lead the Blue Team. The experience blew her away, as she loved and learned lots from connecting with the children, spending time with the ACE group and Vietnamese college students, exploring the country, and promoting positive change. In Vietnam, Isabelle realized her passion for working in developing nations and, now, plans to major in Environmental Systems Engineering with a goal of initiating and developing sustainable practices all around the world.
Want to hear more about Isabelle's ACE experience? Contact Isabelle.
Dear Future #ACEathletes,
Best advice for learning about ACE: Go to the information session, talk to people, and be yourself! I attended the information sessions, used my teammate who had done ACE as a great resource, and, while applying, spent time to reflect on myself and why I wanted to participate in the program. I also started the application early to ensure that I could complete it to the best of my ability.
Best advice for getting started at your program: Ask questions, don't beat yourself up, have faith and an open mind, and enjoy it! The first few days are super exciting… a new country, new people, new roles, etc. I asked a lot of questions in order to get to know my ACE teammates, the directors, and the Vietnamese coaches and to resolve any confusion. I also viewed every moment, even the mistakes and the lows, as an adventure!
Tips for getting to know your community: Put yourself out there. In order to connect with the community, I recommend just going for it, trying out the language even if you fail, jumping into a soccer match with some locals, and being spontaneous in the moment. I came to realize the power of nonverbal communication (smiles, high-fives, etc.) and learned so much from the Vietnamese community – everything from how to properly peel a rambutan to how to be a selfless, caring person.
Tips for training: Do what works for you, collaborate with your ACE teammates, be flexible, and do not sacrifice the incredible experience! As someone who likes to get it done, I woke up early each day to train before heading to the school, which allowed me be fully present with the kids. Running with, going to the gym with, and even just seeing the other student-athletes before the sun rose inspired me and made it so much more fun. It was also very important to adapt to the circumstances, opting to run back from camp, being creative with the gym equipment, and altering my training schedule to be the best version of myself and maximize my limited time there.
Tips for bringing ACE back to your team: Share your experience, spread the word, and use what you learned. When my teammates or coaches ask about ACE, I love to tell them stories and how amazing it was. I definitely want some to participate in the future! I also try to use the leadership, communication, and life skills that I developed in Vietnam on and off the field. I plan to assist my teammate, another ACE alum, in heading our team's service.
Reasons for staying involved in ACE: The ACE program introduced me to incredible people, taught me about myself and the world, and was a blast! I want other student-athletes to experience and enjoy ACE like I did and give back to the program in any ways that I can.