"Participating in ACE this summer is worth it to me because it is a once-in-a-lifetime opportunity in which I can experience important life lessons that will aid me during the rest of my time at Duke and beyond. I am excited and grateful to be part of such a wonderful program."
Meible's past experiences with service include teaching tennis at a local elementary school and hosting free tennis clinics with her teammates. In addition to offering tennis lessons, Meible and some of her teammates have volunteered at multiple Duke bone marrow drives, informing potential donors about the benefits of donating and becoming a potential bone marrow donor candidate. Meible is also a member of Duke's Collegiate Athlete Pre-Medical Experience Program (CAPE).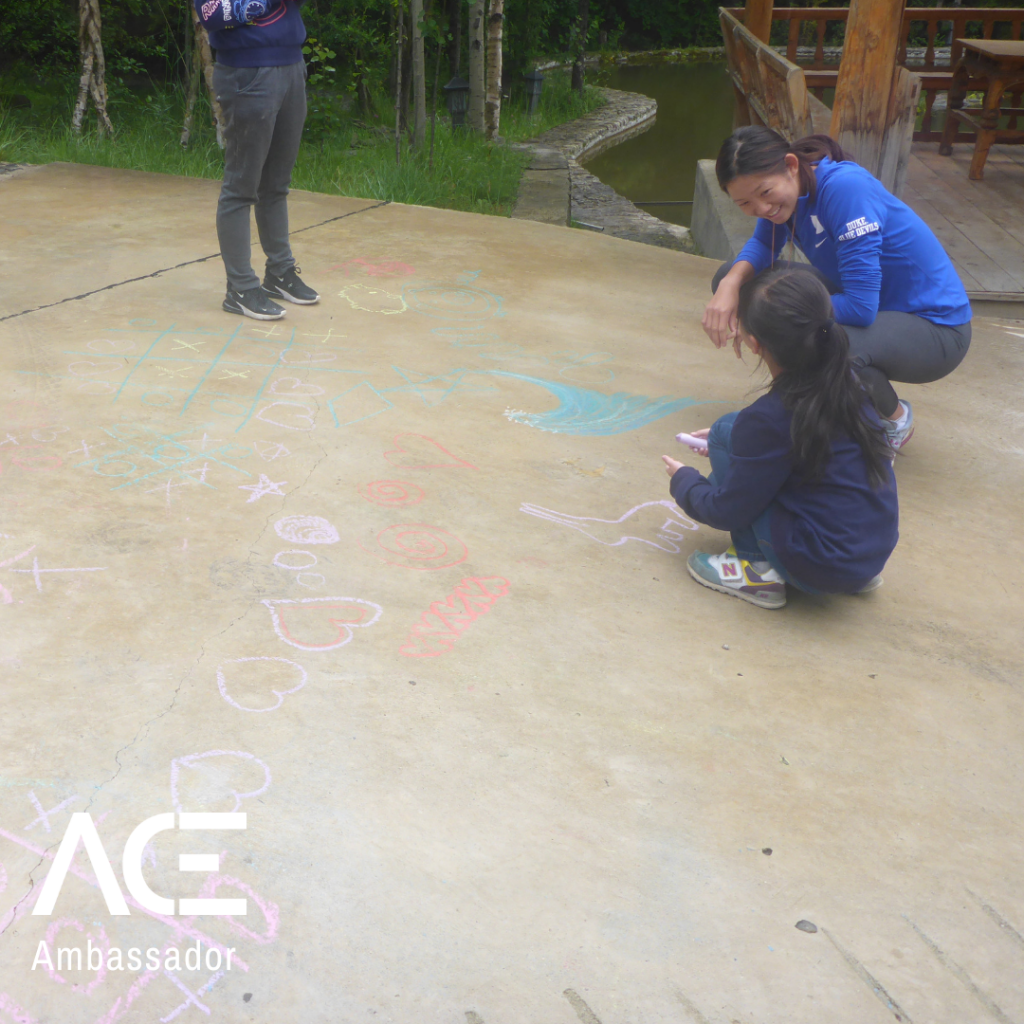 Meible is a junior on the women's tennis team at Duke. She is majoring in Evolutionary Anthropology, minoring in Biology and Chemistry, and is pursuing the pre-medicine track. Having grown up with a Chinese heritage, Meible felt that the ACE in China program was a wonderful opportunity to fully immerse herself into a culture that is part of her identity. The program allowed Meible to continue building her leadership, collaborative, and interpersonal skills. The friends, memories, and lessons that she has made throughout this program will continue to inspire her to seek other opportunities for civic engagement.
Want to hear more about Meible's ACE experience? Contact Meible.
Dear Future #ACEathletes,
Best advice for learning about ACE: Talk to teammates who have participated in an ACE program and go to the info sessions. I found that hearing about first-hand experiences truly showed just how much the program can impact participants.
Best advice for applying for ACE: During the application process, just be your true, honest self. Each ACE program is unique, so it helps to do some research and find out which one fits you best.
Best advice for getting started at your program: The first days were spent getting acclimated to the altitude and weather. It helps to get through the first couple of days alongside your fellow ACE teammates, so spend this time getting to know them!
Tips for getting to know your community: Don't be afraid to ask questions. Everyone I met was extremely friendly and wanted to help, so it doesn't hurt to step out of your comfort zone a little and strike up a simple conversation. Because of my experience, I personally feel that I have become a bit more comfortable with this, and have become more outgoing.
Tips for training: Draw inspiration and motivation from your ACE teammates. It's a great atmosphere when everyone is pushing each other to work hard. Exercise time can serve as a stress release because sometimes pushups are more familiar than the environment you're in.
Tips for bringing ACE back to your team: I shared my stories and photos with my team, hoping to inspire them to apply to ACE. This year, I hope to involve my team in service-based events in and around the Duke campus. These experiences could bring our team closer together, both on and off the court.
Reasons for staying involved in ACE: I decided to stay involved with the ACE program because I believe that it is the catalyst for any of my future volunteering efforts. I've always wanted to give back, and ACE has shown me ways to make it happen.