While I feel infinitely lucky to be part of such an outstanding academic and athletic institution here at Stanford, I've often just accepted—rather than acted upon—the amount of privilege I've been granted. I didn't enter the ACE program simply to "give" others some of the knowledge I've gained in the classroom or on the track. Rather, I hope to strive toward greater humility and learn to listen to voices different from my own.
As part of the ACE in Vietnam program, Rachel will teach academics, sports and life skills to students at under-resourced middle schools in the Mekong Delta with the aim of encouraging them to prepare for higher education.
Rachel's past experiences with service include many years of volunteering with Special Olympics, organizing a community-centered sports and service event, and volunteering in a hospital pathology clinic.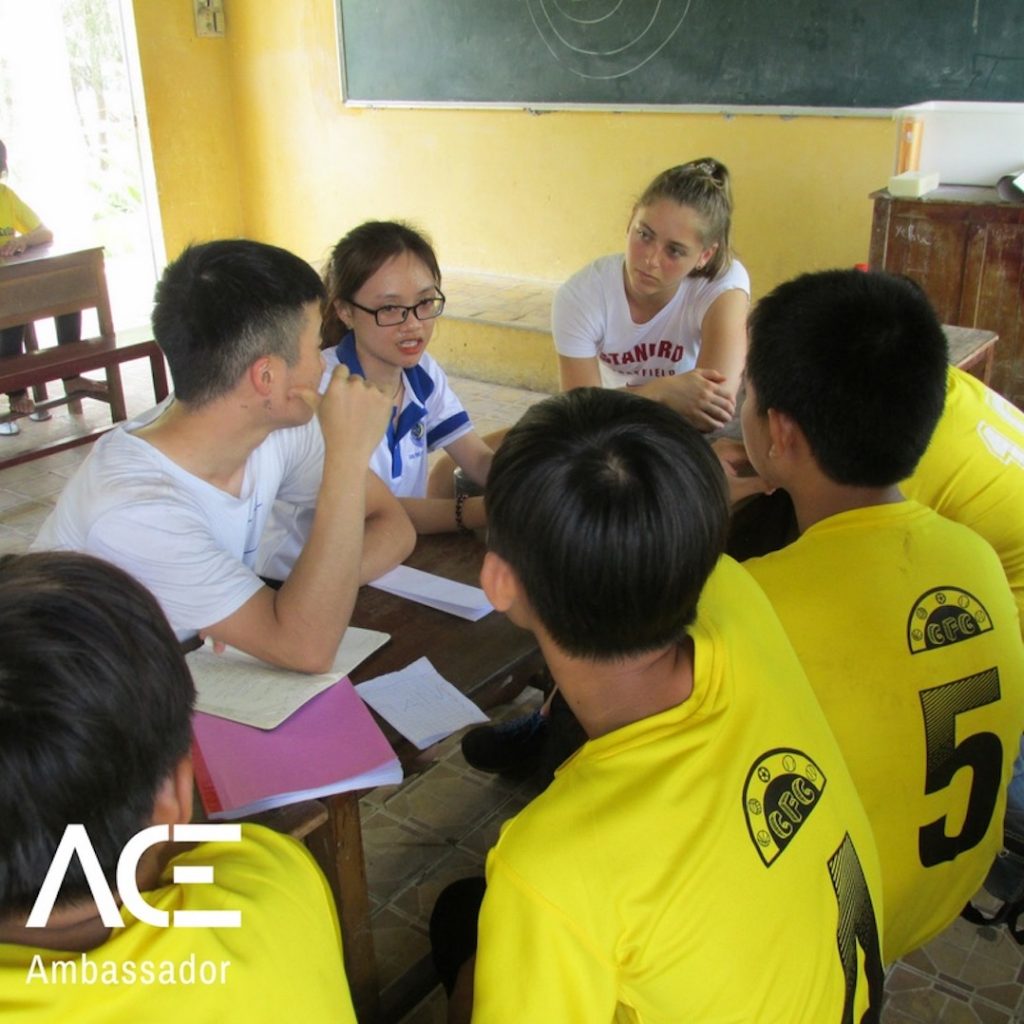 Rachel is currently a rising senior from Pleasanton, CA on Stanford's Track and Field team. She studies Comparative Literature and Human Biology, and is currently pursuing an honors thesis related to the ethics of short-term, international service trips. Last year she worked as an ACE Ambassador, and this summer she returned to Vietnam, working alongside the new ACE in Vietnam cohort as the American College Director for the camp run by Coach for College (CFC). In addition to taking a leadership role with CFC and the ACE group, she utilized her role to implement a variety of strategies aimed at improving the efficacy and ethics of service conducted–ultimately hoping positively impact both the ACE student-athletes and the host community.
Want to hear more about Rachel's ACE experience? Contact Rachel.
Dear Future #ACEathletes,
Best advice for bringing ACE back to campus: All of the above—really thought about the experience asking myself what I could have done better, how I could best help the incoming group, and what I could learn from being involved a second time around.
Best advice for bringing ACE back to your team: ACE definitely changed how I view my role as a student athlete / upperclassman on the team as a role model and ambassador of the ACE program.
Best advice for staying in touch: Put in some extra effort to Skype even when its hard with the crazy time change, different lives, etc.
Reasons for staying involved: This program means everything to me, and I mean that sincerely. It's taught me so much about myself and the world—from what it means to truly listen, to how one can harness privilege to do good, to how one can target areas for improvement and stick with it to enact long term change.
Tips for documenting your experience: Lots of journaling! And photo prints, but just for me in my room.