"When I learned about the option to participate in the ACE program this summer, I made ACE my first priority because I can't imagine that I will have another opportunity to do service work abroad alongside other student-athletes. In addition to this being a once in a lifetime experience, I am confident that it will equip me with skills that I will use for the rest of my life."
Timothy Sah's past experience with service includes serving as a member on the Student-Athlete Advisory Committee (SAAC) and as Philanthropy Chairman for his fraternity. He also volunteers with East Palo Alto Tennis and Tutoring (EPATT) to provide tutoring and tennis coaching services to local youth.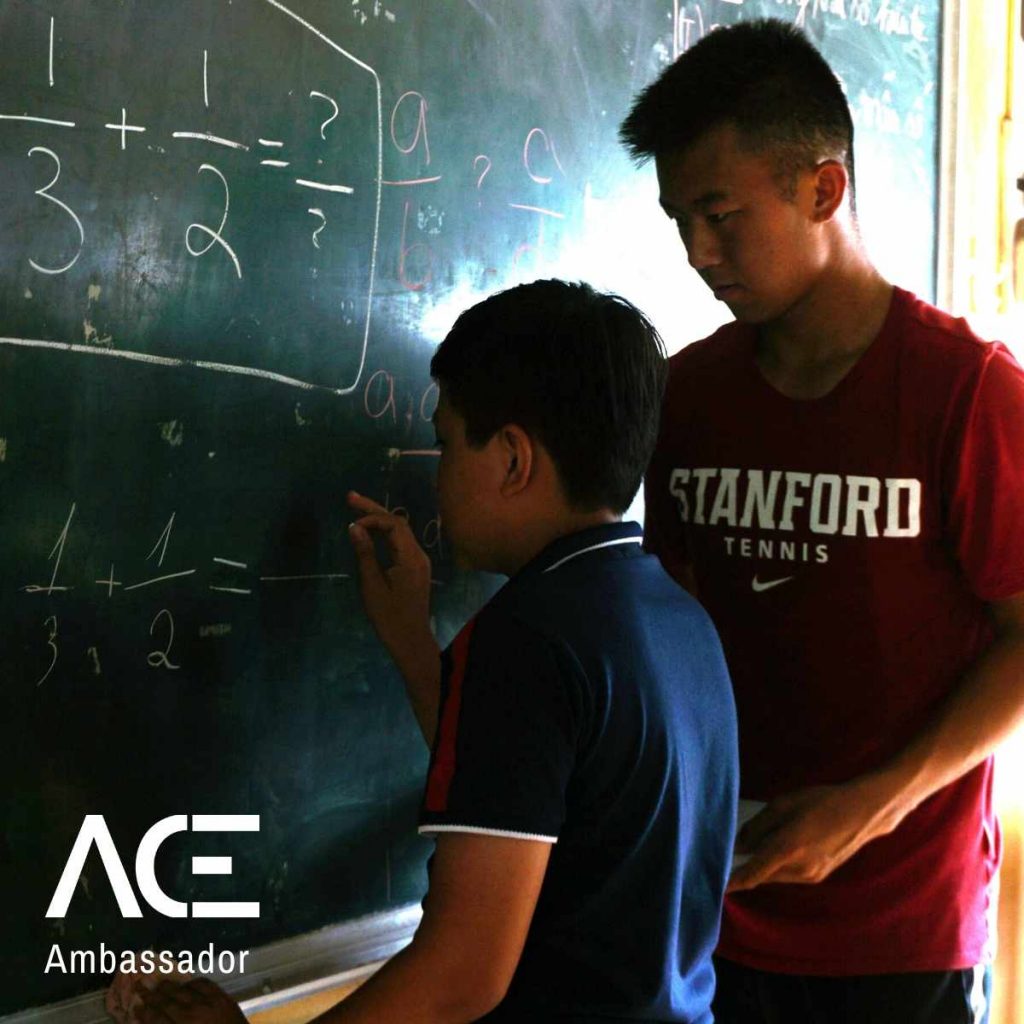 Timothy is a junior on the Stanford Men's Tennis team majoring in Computer Science. As a member of the 2019 ACE program in Vietnam, he taught math, life skills and baseball to 6th and 7th graders. To Timothy, every day was a highlight in and of itself, but his favorite part of the ACE experience was having the opportunity to broaden his worldview while building meaningful and impactful relationships with his fellow coaches and with the students. Back on campus, he co-leads the Social Events Team for the Stanford Student-Athlete Advisory Committee (SAAC).
Want to hear more about Timothy's ACE experience? Contact Timothy.
Dear Future #ACEathletes,
Best advice for learning about ACE: Watching the videos on the ACE website and speaking with ACE alumni from each program were the best choices I made during the application process because it really gave me a sense of which programs would be the best fit for me. Start your application early and allocate enough time to write and revise your essays.
Best advice for getting started at your program: The first few days are a whirlwind of excitement, adapting to a new setting, combatting initial challenges and settling into routines. Make an initiative early to open yourself up to your fellow American and Vietnamese coaches because as soon as the coaching team becomes a close-knit unit, everything falls into place and it creates an amazing atmosphere.
Tips for getting to know your community: Learn the names of your fellow Vietnamese coaches as soon as possible because they are an integral part of the experience, and developing close relationships with them opens up a whole new insight into their culture, which they are more than happy to share with you. Also, learn your students' names as soon as possible and don't underestimate the power of non-verbal communication (high-fives, thumbs ups, silly faces, etc…).
Tips for training: My workouts consisted of early morning runs/sprints and lifts at the local gym, as well as evening core circuits. Develop a routine and work out in groups to make it more enjoyable and to help hold each other accountable. However, listen to your body and take days off when necessary because it is important to have high-energy when working with the kids.
Tips for bringing ACE back to your team: My teammates and coaches were all curious to hear about it when I got back, and I was more than happy to tell them about it because I love talking about my ACE experience. I now have a greater sense of appreciation for the opportunity to play my sport and I hope to inspire my teammates to adopt the same mindset. I look forward to encouraging my teammates to apply for ACE next year.
Reasons for staying involved in ACE: Participating in the ACE program was an opportunity like no other, and I am so grateful to have these memories and experiences. Furthermore, I am confident that the friendships made during this program will last a lifetime. I want to stay involved with the ACE program so that I can help promote it and ensure that future ACE student-athletes get the most out of their ACE experience.