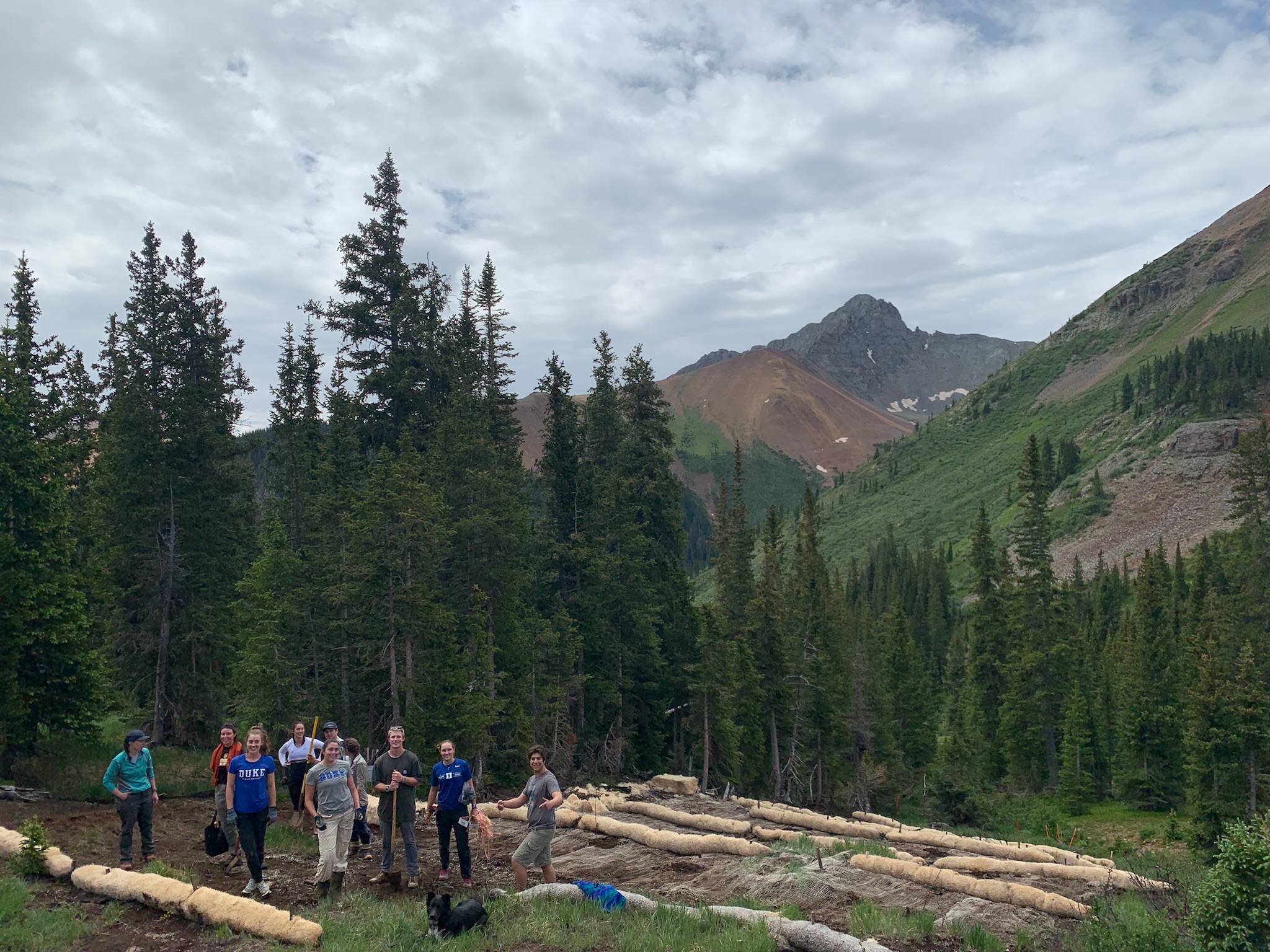 ACE in Colorado marks the first in-person ACE program since the summer of 2019. The global COVID-19 pandemic caused a two-year pause from in-person programming, making the "hands-on" aspect of ACE in Colorado even more special this summer.
Five Duke student-athletes participated in this new, U.S.-based program focused on conservation and sustainability. Working with several non-profits in the Western Colorado area, the student-athletes spent three weeks living together, building mountain biking trails and restoring marshland, and learning how to weed crops and regenerate native plants.
"Putting our bodies and minds to work together to give back to the environment was so empowering and getting to work and learn alongside my new friends was both motivating and inspiring in ways I will always cherish."

– Alayna Burns, Duke Field Hockey
Duke Men's Lacrosse member Connor Drake joked that he was "pleasantly surprised with the amount of dirt, sweat, and passion" that was needed during the program. As an avid mountain biker, the opportunity to help build a portion of the Horse Gulch Trail System in Durango stood out to Drake. He reflects, "I commonly use single-track trails similar to those we had the opportunity to build in Durango, so our experience trail building was not only an excellent way to learn how to make the things I love to ride on, but how to do so in a sustainable way that will preserve the surrounding nature."
Duke Field Hockey member Alayna Burns also appreciated the program's relatable and practical real-life applications. Burns, who is seeking a Certificate in Sustainability Engagement and a Minor in Environmental Sciences and Policy, explains how her studies "came to life at each new adventure in unique ways, creating a truly unique hands-on learning application." In a co-authored blog by the ACE in Colorado cohort, the team agreed that the program shaped them into more "sustainable citizens," helping them better understand the connection between themselves and the environment we all live in.
After meeting and interacting with many folks there, my hope has been renewed. While environmental issues do require urgency, they don't yet require full blown panic and doom.

– Ellie Coleman, Duke Women's Tennis
Part of becoming more sustainable citizens involves remaining both practical and hopeful. Duke Women's Tennis member Ellie Coleman admits that the messaging surrounding the climate crisis can often feel discouraging. However, the ACE in Colorado program offered a source of hope for her amidst the gloomy headlines. She reflects, "After meeting and interacting with many folks there, my hope has been renewed. While environmental issues do require urgency, they don't yet require full blown panic and doom."
Field and cultural experts such as Ute Mountain Tribal Park tour leader Rickey Hayes taught the ACE in Colorado team how to implement these hard choices, ranging from small scale changes like taking shorter showers to larger scale changes such as learning new regenerative agricultural techniques. Duke Women's Golf member Phoebe Brinker shares that the program has inspired her "to not take the easy way out, and instead make the hard choices each day to protect our planet."
Making those hard choices, Brinker offers, becomes more plausible once we realize that we have regeneration tools, we just need to use them. In short, the ACE in Colorado program gave the five student-athlete participants the tools they need to implement more sustainable practices in their lives and inspired them to do just that.