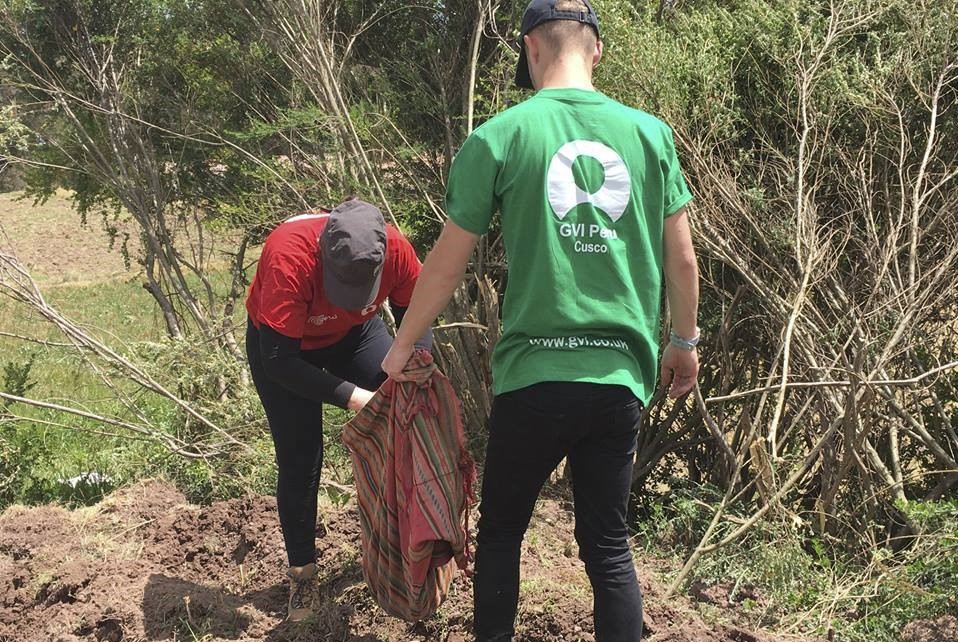 Program Overview | Service Opportunities | Program Requirements |
| Program Details
Program Overview
During their three weeks in Cusco, students will work closely with a number of local partners and will be involved in a variety of conservation, education, and community development activities. The first few days will involve orientation to the city and surrounding communities, as well as educating students about the local culture, including the socio-cultural, historical, economic and environmental factors affecting the region. Following orientation, students will participate in a variety of activities promoting responsible tourism and fair trade, including training by local communities in traditional arts such as weaving and dyeing. Students will also be trained to teach English as a second language, focusing on skills and vocabulary that helps local residents expand their economic opportunities.
A comprehensive orientation program, including health and safety training, occurs immediately upon arrival. To enable students to acclimate to the high altitude, less strenuous physical activities will be planned for the first three days. Students will begin Spanish language lessons during orientation, for example, and will continue to improve their Spanish skills via weekly lessons. They will participate in a city tour, visit the Sacsaywaman Archeological Site and local communities, and participate in a local yoga lesson. This cultural immersion will help students quickly adapt to their new surroundings and feel more confident about seeking opportunities to interact with local people. A highlight of the program will be a guided tour to Machu Picchu, Peru's most famous UNESCO World Heritage Site.

Service Opportunities
GVI is partnering with The Nature Conservancy and the Center for Andean Regional Studies Bartolomé de Las Casas (CBC), GVI programs in Peru immerse students in the local culture and educate them about the socio-cultural, historical, economic and environmental factors affecting the region. As a non-profit, civil association, CBC has been working on protecting and advocating for indigenous rights since 1974. Under the guidance of CBC and GVI staff, students will participate in constructing green infrastructure projects, promoting responsible tourism and fair trade, increasing participation by local communities in traditional arts such as weaving and dyeing, and helping residents of all ages to improve their English skills and expand their economic opportunities.
Students may also work on projects with another community partner, the Centro de Textiles Tradicionales del Cusco (CTTC). This organization partners with local communities to teach traditional weaving and dying. The resulting products are considered to be the highest level of weaving in Cusco and are quite expensive. Students may assist in expanding CTTC's outreach and marketing for these products or by upgrading CTTC's community weaving centers.
Students will work together throughout their time in Peru and will travel to project sites together with at least one GVI staff member present at all time.  Project work and locations are based on the needs and requests of long term local partners as described above and specific service projects will be available closer to the date of departure. In general, students will typically spend 6 hours at a project site during the week, with additional time spent preparing to deliver workshops, participating in guest lectures and reflection sessions, and practicing their Spanish (or Quechua) language skills.
Examples of service projects may include:
Creating irrigation ditches to prevent erosion and landslides, building fences to protect natural springs and cut off grazing areas, building or recovery of traditional terraces for agriculture;
Providing training and capacity building via workshops on water conservation, community tourism, and micro-enterprise resources;
Teaching English and delivering environmental education workshops for local schools and community groups;
Collecting data on the flora and fauna surrounding the watershed of Piuray-Ccorimarca. Lake Piuray supplies nearly 50% of the water for the inhabitants of Cusco;
Participating in weaving sessions and initiatives designed to promote traditional arts in communities and schools.
Refurbishing community sports and fitness facilities and/or conducting sports activities with school children.
Participants will generally work together as a group but for some projects they may be divided into two  smaller groups. The majority of the program involves working outdoors on a number of different initiatives. Students should be prepared to walk on a daily basis, and to experience some adjustment during their acclimation to the high altitude. Hours of service work vary depending on the activity, but students can expect to work up to 6 hours per day between the hours of 6am and 6pm with additional time spent planning for future work days.
Program Requirements
Language & Other Prerequisites
No previous experience or qualifications in the field of conservation, community development or education is required to join this program. An interest and understanding of issues threatening water supplies, promoting traditional arts and familiarity with responsible tourism and/or fair trade policies, is desirable. All students must have proficiency in the English language. A basic understanding of Spanish is helpful. All students will participate in an intensive Spanish workshop during orientation. Further Spanish training will be available and is highly encouraged. All students must be able to understand health and safety protocols as well as project specific training from our field staff. Students should be aware of the high altitude in Peru.
Other Skills
These projects do not require any technical skills but students who are flexible, adaptable, friendly, accustomed to working outdoors and students with an interest in the Spanish language are preferred. To ensure the safety of the children and communities with whom we work, all accepted participants will be required to submit a criminal background check no later than 2 weeks before their program start date. Should this document not be submitted before arrival in the field, the student/students will not be allowed to participate in community projects.
Personal Competencies
Ideal participants will be flexible, enthusiastic team players with the following competencies:
Empathy and cultural sensitivity:  effectively and respectfully communicates and interacts with people of different ages, races, religions, and cultures; demonstrates curiosity about the lives of others without judgment;
Social skills are important in Peru and students should expect to exchange greetings by shaking hands, receiving a kiss on the cheek, and using basic Spanish words to say "hello", "good morning", "please" and "thank you";
Ability to work productively on a supervised team: responds to feedback and critique from co-workers and supervisors with maturity and openness to improvement; listens actively and communicates courteously; responds with patience and perseverance to new or unanticipated situations and obstacles; accepts responsibility for their actions; balances their personal expectations of the volunteer experience with the realities of working on short-term projects in cultural settings that are new to them;
Self-reliance and self-confidence: understands and meets their own physical and emotional needs in new environments with an age-appropriate mixture of optimism and realism; must be flexible in response to the needs of the community.
Program Resources
The following links and documents are provided by program leadership to help students apply to and prepare for this program.