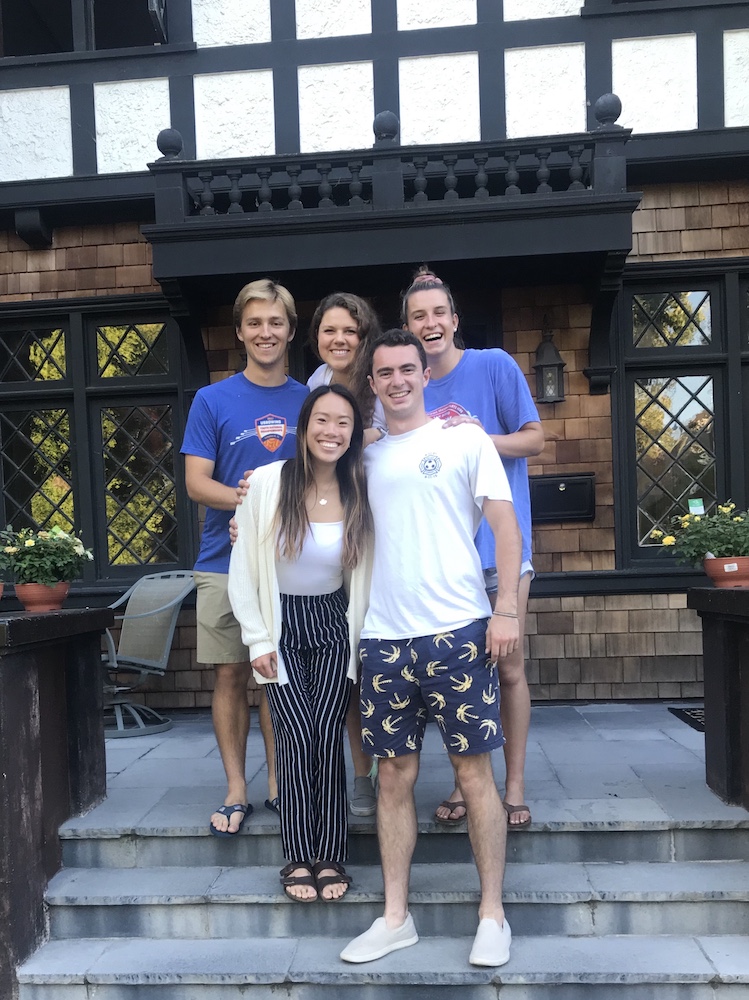 While working at eBay, Aleeza Yu also fosters dogs and tutors students from around the world in spoken English. Former Stanford Women's Gymnastics team member and ACE in South Africa 2018 alum Yu offers gratitude towards ACE for encouraging her to fully commit to these two volunteer opportunities and passions to teach and foster dogs.
What are you doing now? How did ACE influence your academic or career path?
I am now working at eBay after completing my Masters in Communications at Stanford. ACE left a big impact on my life as I started to think about how I could be more involved with my community while making it fun. After my ACE experience, I took a class called "Teaching Spoken English." It ignited a passion I never knew I had, and I started to think about different opportunities in education.
I signed up for an online tutoring platform and in no time, I started getting requests from students not only in the U.S., but from all around the world. I have now been an ESL tutor for over four years, talking with students from here in the U.S., China, South Korea, London, and many more countries. I've made friends and learned so many different things about all the students and have even gotten a chance to meet with a few of them in person! Without ACE, I would have never pursued a hobby in teaching, and I plan on teaching for as long as I can!
Another one of my passions is working with animals. Immediately after I graduated and moved into my own place, I started fostering dogs and volunteering with local rescues. This has been a great way for me to get involved in my community and help dogs find their forever home. Best of all, I got my own rescue dog and now she is the best foster sister to all our foster dogs!
What is one memorable story during your ACE experience that changed the way you now think about something?
I always think about this one experience any time I am going through something difficult. My ACE team helped build new playground equipment for a local preschool in South Africa. Before we built it, we had to carry all our supplies to the school. While it was only about a 10 minute walk, we were carrying 50 pound bags of sand, huge pieces of wood, and heavy metal equipment. We had to make a few trips back and forth, and all I can remember is how happy and enthusiastic we all were.
"Without ACE, I would have never pursued a hobby in teaching and I plan on teaching for as long as I can!"

– Aleeza Yu, ACE in South Africa 2018 Alum
Not one of us complained, and we were just so excited to get started on our project. Right when I came home, I was helping a friend move and working at the Stanford gymnastics camp. I noticed myself complaining about carrying all the heavy furniture and gym mats that week. I stepped back and thought to myself – what we were doing in South Africa was much more difficult and tiring, yet everyone, including myself, had such a positive attitude.
I realized that my attitude not only dictates how I view tasks, but also how others view and react to these same tasks. Now, when embarking on difficult tasks, no matter how small or trivial, I remember the attitude my team and I had during our time in South Africa and try to keep that same positive energy into everything I do.
Describe your ACE experience in as few words as possible.
Unforgettable, life-changing, diverse, and special.
What's one thing you want people to know about ACE?
One thing I want people to know about ACE is how impactful the program is, even years after the in-person experience is over. I think about my ACE experience often and how I can apply all the skills I learned into my every day life and hobbies. ACE taught me to never shy away from an opportunity and to always approach every situation with a positive mind