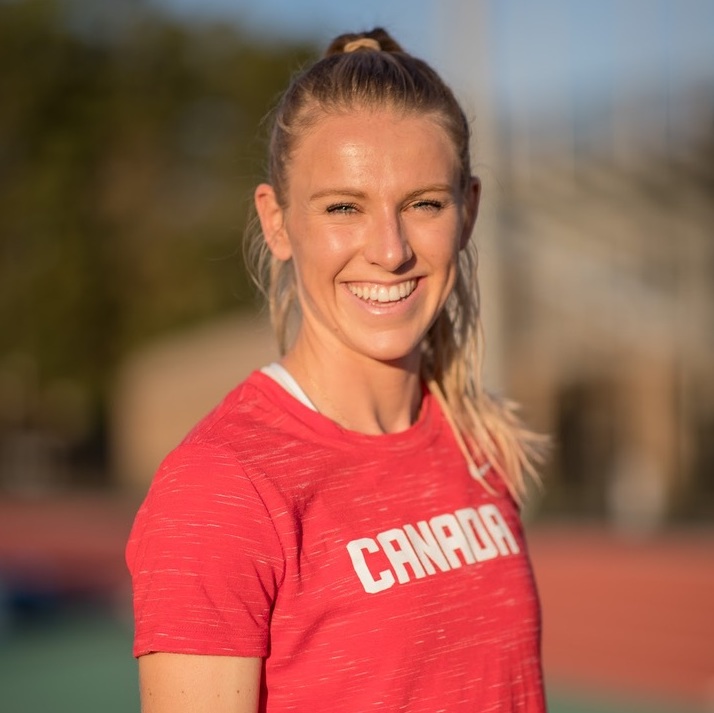 A former Duke Women's Track and Field alum, Maddy Price recently competed in the Women's Track and Field 4X100 relay as part of Team Canada at the 2021 Summer Olympics in Tokyo. Price graduated from Duke in 2018 and participated in ACE in Vietnam 2017. Five years later, Price shares how both the ACE program and the Olympics build global connections through sport. Price also reflects on lasting relationships with her community partner coaches and other ACE alumni.
What are you doing now? How did ACE influence your academic or career path?
I recently moved to Austin, TX after competing in the 2021 Tokyo Olympics where I was a member of Team Canada in the Women's Track and Field 4×100 relay.  We got 4th place! Competing in the Olympics was an amazing experience. In many ways, the lead up to getting to the Olympics was the best part.
What I learned in ACE – that the process of learning and connecting with people along the journey – was something that I honed in Vietnam and was able to apply to my experience qualifying and training for the Olympics. During my ACE in Vietnam experience, we grew very close with our fellow Vietnamese coaches and were very focused on creating the best curriculum we could and coaching sports – it was very process oriented. This skill along with the value of really engaging and investing in the people you are with helped me through Covid, a foot injury and all the other things that were challenging on the road to qualifying.
Now, I'm currently training with a new running group and planning to run through the 2024 Olympic games in Paris. Then, we'll see what's next!
Share a lesson from ACE that still holds true for you today:
After going to Vietnam, I've seen how my ACE experience increased my openness to learn and ask questions and be engaged with other cultures and people. Wherever I go when I travel for track, I've made it a point to study up and learn about where I am going. Through track I have been able to travel throughout the world to race, and I'm so grateful for a career that has allowed me to travel. I credit ACE for teaching me to be so much more open and engaged in the world around me, especially when I'm in a new place.
What was the most meaningful part of your ACE experience?
I loved shared meals with all our fellow Vietnamese coaches – we would mix and mingle over mealtimes and became such close friends.  The Vietnamese coaches were so gracious in showing us their homes and community and encouraging us to try new foods.  We chatted about everything and listened to music together. Since we were at the same middle school for the entire three weeks of the program, we created close relationships with the kids we taught.  We learned to trust each other, and we definitely learned as much from the kids as they learned from us.

What's a funny memory from your ACE experience?
One day we were caught in a huge downpour while we were at school – probably the biggest rainstorm I've ever seen in my life. I remember a couple of kids running out of the classroom to play in the rain. Soon, we all joined them dancing and kicking the soccer ball around.  It was a surreal moment as we all felt like we were brought back to a kid-like joy.  It was just joyous and freeing all dancing together in the rain. I think we are all looking for moments in life like that were you feel completely free and joyful.
Describe your ACE experience in as few words as possible:
Unity, joy, life-long, learning.
One of the ACE program values is connecting with communities through sports which is also very much in the spirit of the Olympics games. What parallels did you see between your ACE experience and your Olympic experience?
There was a huge language barrier for us in Vietnam, but through sports, we were able to build relationships and connect with our students. We laughed together as we learned and that was the first stepping stone to growing closer. Participating in the Olympics this year felt historic – it was the first major sports event after Coivd and we felt united and connected. It was really the first time the whole world had been together since the global pandemic began. With over 11,000 athletes representing their countries, the Olympics are a symbol of hope.
"I credit ACE for teaching me to be so much more open and engaged in the world around me, especially when I'm in a new place."

– Maddy Price, ACE in Vietnam 2017
Similar to my experience in Vietnam, there were many of us at the Olympics who didn't speak the same language, but yet none of that mattered. We were there to compete and enjoy the process.  We gained inspiration from other athletes who went through so much to get there.  Just like in ACE in Vietnam, everyone has a different story, and it's something to celebrate.
How have you stayed in touch with friends from your ACE experience?
I'm still connected with many of our fellow Vietnamese coaches via Instagram.  We often will shoot each other a DM and comment on each other's pictures.   In terms of Duke/Stanford student-athletes, I worked with Kevin Gehsmann (Duke Football), who also participated in ACE in Vietnam 2017, on his company, Protec3d, helping him with his website and doing interviews. We would often have our meetings over pho, one of our favorite meals from Vietnam.
Have you been able to continue engaging in service since graduation and with your busy training schedule? If so, what have you been involved with?
It's been really hard to engage consistently and build a relationship with one organization because of my travel and training schedule. This is something I wish I could do more of.
I have been mentoring younger female athletes through an organization called "Voice in Sport." Their mission is to connect female athletes with younger girls and increase visibility and support for female athletes. Girls drop out of sports at two times the rate of boys, so it's an important issue. It's been amazing to hear stories from younger female athletes and share guidance and wisdom. When I was a high school student, I wish I could have talked with an older female athlete for that wisdom and guidance.
What do you want others to know about ACE?
ACE gives you an opportunity to engage in something bigger than yourself and beyond yourself. In individual sports, like track and field, it's all about working toward your goals. ACE is a special opportunity to connect and engage with other students and people from around the world outside of your smaller bubble of Duke or Stanford, and to work toward a shared goal by providing insight, teaching and learning together.
What's your advice for future ACE participants as we look ahead to the next five years?
Go with an open heart and mind. And an open mouth – eat a lot!
Be curious, ask questions, be open to answering any questions. Don't be afraid to be vulnerable and break down the walls to engage with the others around you.