This year marks five years of ACE programming. We're celebrating by looking back at our first year programs, reflecting with our first year participants on what ACE has meant to them, and learning what our ACE alums are up to now.
This week we interviewed Class of 2017 Stanford graduate, Men's Cross Country and Track and Field team member and ACE in India '16 alum, Patrick Gibson. He reveals how ACE Program Director Emily Durham has become a source of encouragement and professional development as he pursues a career in higher education.
What are you doing now? How did ACE influence your academic or career path
Presently I work at Loyola Marymount University in Los Angeles. ACE was meaningful to me in that it re-affirmed my interest in education. Having the chance to better understand education on a global level and cultural forces on education was massively important to my understanding of the US education system.
How you have kept in contact with your program site (program partners) or other members of ACE?
I regularly keep in touch with the ACE Program Director, Emily Durham. Emily has been a major professional influence on me. She has encouraged me to pursue my interests in higher education and to not limit my opportunities. She has been a wonderful positive voice in my professional development.
"ACE Program Director Emily Durham has been a wonderful positive voice in my professional development."
Share a specific lesson you learned from your ACE experience that still holds true today.
A lesson that I learned in the ACE program is the importance of approaching new people with warmth and joviality. Meeting new people (in different cultural context or not) is nerve-racking, but to put fun and care at the center of those new interactions can take the edge off. This approach also increases the chance that said new group of people will be welcoming of you.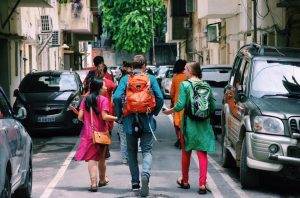 Describe your ACE experience in as few words as possible.
An opportunity to learn about the world and myself
What's one thing you want people to know about ACE?
ACE presents an absolutely unique opportunity – one that you may never have again in your life.
What's your hope for the ACE program and advice for future participants as we look ahead to the next five years?
My hope is that the program continues to find productive ways to engage with new communities, and that participants strive to understand how they can carry that engagement into their personal lives.