Arden:
I have been a camp counselor for many kids' camps during my lifetime but the camp this past week in a village just outside of Shangri La is something I have never experienced before. The camp produced feelings of joy as well as times of challenge along the way due to the fact that we could not communicate with the kids using the typical spoken language. Ultimately, the smiles on the kids faces made it all worth it.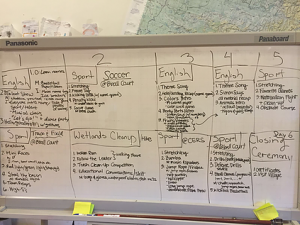 When planning for a five day sports and English skills camp we started off with a pretty ambitious lesson plan. After meeting the kids we refocused our ambitious lesson plan to emphasize having fun over becoming fluent in English or mastering a sport. We made sure to start every session with our catchy theme song to get the kids up and dancing to ensure they were excited about what was to come that day.
One of our big emphases of the camp was to engrain the numbers 1-5 in the kids. We made use of hand signals, repetition, and games to help the kids learn the numbers. One of their favorite games was a white board race. We divided the kids up into two teams and would call out a number 1 through 5. The first kid to write the correct number on the board earned a point for their team. Throughout the camp we gave out small prizes to reward the kids for working hard on their English skills.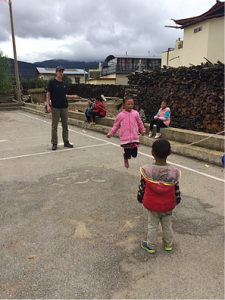 During our sports sessions we played a variety of games from tigers and yaks (our Shangri La version of shark and minnows) to soccer. We would end every sports session with some free time for the kids to play whatever game they wanted. This is a picture of Gina dominating the jump rope during a free time session. Although we couldn't speak their language we were able to connect with the kids through sports and have a great time.
In addition to English lessons and sports sessions we also wanted to educate the kids on environmental conversation in their local area. One afternoon we went to the local Napahai Wetlands where we lead the kids in a trash pick up. They absolutely loved it. Later in the week we also helped them clean up their local basketball court, which is the main play area for the kids in the village.
On the last day of camp we ended with a talent show and "graduation" ceremony where each kid received a unique award. This is a picture of Gina doing a local dance taught in the schools. The talents were very impressive and ranged from dance, song, cartwheels, and even an attempted comedy skit. It was very refreshing to see kids proud to show off their culture.
It was difficult to say goodbye to the kids but it was all smiles as we concluded our graduation ceremony by visiting some of the kids' houses in the village. They were so excited to show us their homes and a share part of their life with us. Every afternoon some of the girls in the camp would pick flower bouquets for the counselors. The warm and caring hearts of the kids will stick with me forever. Although I was technically the one teaching them English and sports, these kids taught me more than I could have ever imagined. It is an experience I will never forget.
Tanner:
Nobody really knew what to expect for camp. The goals were pretty simple: get local kids excited about playing sports, protecting their environment, and learning English. In the back of my mind, I anticipated maybe 10-15 kids showing up, some of whom would take away a positive experience from a week with a few foreign "big kids" who struggle to understand their language. What I didn't expect was this: thirty kids showing up an hour early every day to hang out with the ACE team and each other, constant enthusiasm about learning different colors and numbers, a contagious and competitive spirit that transcended communication barriers, and a whole lot of sad faces on the last day.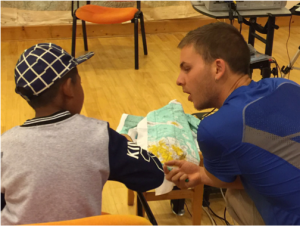 On day one, we gave all the kids English names. They were stoked. Paul and I sat together for a while working on new pronunciations. I'm sure we both looked pretty funny exaggerating sounds and mouth movements. While I helped Paul with English sounds, he reciprocated by helping me (not without my struggle) pronounce common Chinese phrases like, "nĭ hăo" and "wŏ jiāo Tanner."
Leah and Lily were inseparable. Each time I saw one of them, sure enough, the other was standing close by. After we all got to know one another fairly well via sharks and minnows and intense whiteboard races, they gave me my Tibetan name, Zha Shé Nong Bú. It translates to "auspicious treasure." It's ironic though, since those girls were the real treasures of my week.
Learning colors was an absolute hit, so near the end of camp, we decided to have some coloring free time. Here, Troy is drawing the two of us playing basketball and soccer at the village basketball court. We're planning on hanging the kids' artwork in a new museum at CERS, highlighting the ACE in China team's experience in Zhongdian.
Mike has the kindest heart. He's always the first to help one of his fellow campers when they struggle learning a new word or fall down playing soccer. He was very excited about receiving the "Best Male Jump Roper" award at our talent show/closing ceremonies. He's a fantastic singer, too.
Goodbyes are hard. Before I got here, I couldn't have imagined a group of munchkins in Yunnan, China stealing my heart over the course of a week. But it happened. Before we parted ways, they gave us a tour of their village, and some of them even invited us into their homes. If they left with a fraction of the impact they had on me, I'd consider camp a success.