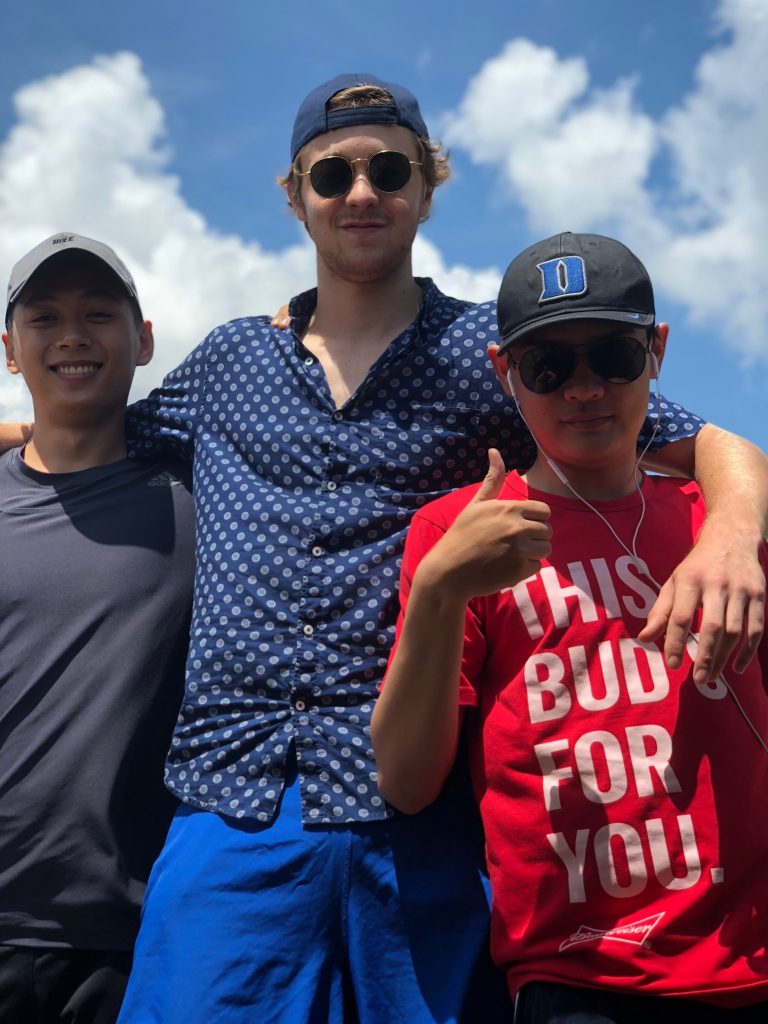 On Sunday afternoon we hopped on the bus and embarked on our first of many 7-minute drives to the school where we would coach and teach for the next three weeks. My heart still races every time our bus driver, Dat, weaves in and out of our lane, maneuvering around motorcyclists and pedestrians as he drives down the back roads of Long Mỹ.
As I stepped down the stairs of the bus I admired the outside of the school. A big yellow building with a courtyard in front, the simplicity struck me. The classrooms had desks and a chalk board with a balcony which connected them to the second story of the building. Immediately I noticed that the classes were decorated with pictures of Ho Chi Minh and short phrases printed in white on a blue background posted around the classroom. Later I asked my two Vietnamese roommates to explain the significance of the phrases. Minh and Duy explained to me the phrases are the five teachings of Ho Chi Minh.
The first teaching is "Love your country, love your countrymen" Minh told me. Earlier that day Minh had turned to me to show me a picture. "I still get goosebumps when I look at this picture," he said. The photograph captured a massive crowd of Vietnamese people celebrating in the streets, waving Vietnamese flags, jumping in the air, and smiling uncontrollably.
Minh explained that the photo was taken two years prior when the Vietnamese team had taken second place in the Asian soccer championship. "We did not win, but we went further than anyone ever imagined we would." Minh continued to show me photographs as he grinned, and I had never seen a second-place finish celebrated with such enthusiasm. I could feel the passion in Minh's voice as he reflected on the parade and celebration. "One of the best days of my life," he said.
Minh was the first Vietnamese person that I spoke with and got to know extensively, and immediately I could sense his love for his country. Minh is a camp director, as this year he returned for a second summer as an academic coordinator after coaching alongside two of my Duke fencing teammates last summer. His mission is to make the lessons as impactful and beneficial for the children as he can. He stays up later than I do revising and reading over his quiz questions and lesson plans, constantly seeking advice on how he can improve or revise.
During camp, he takes a break from making the exams that we administer every Friday to sit in on 10-15 minutes of a class, and he smiles as we enthusiastically teach the children through games and group activities. Every once in a while, we squeeze in a quick 2 v. 2 basketball game during the 5-minute transition period between activities and academics, and I must admit he beat me the last time we played. It will not happen again. Minh loves Vietnam, he loves the children, and he inspires us all to work harder every day.
"Love your country, love your countrymen," Minh told me.
Minh is not alone. Every Vietnamese coach and administrator I have worked with embody his sentiment. Some are quiet, some are loud, some are inquisitive, and others are observant, but every individual reflects Ho Chi Minh's first teaching in one way or another. In just a week, I have acquired a great amount of admiration and love for this country and its citizens.
Minh continued, "The second teaching is 'Study well, work hard.'" Flash forward to our third day of camp; I was teaching English to the orange team. "Ph" "Ph" "Ph" I repeated to the class. The "f" sound was incredibly difficult for the Vietnamese students, and "from" was coming out more like "rom." After about five minutes most of the students got it and successfully said "from" with an "f" sound.
One student was struggling a little more than the others, but he would not give up. His grammar was ahead of the rest of the class, but he struggled a little more with pronunciation. He could tell that he did not have the sound quite right. While the rest of the class moved on me and Thanh continued to work on the "ph" sound. I thought about how I made the "ph" sound and discovered that biting his bottom lip with his upper teeth might help him make the sound.
Minh continued, "The second teaching is 'Study well, work hard.'"
It worked! Thanh was successfully making the "f" sound. I have never seen a child get so excited over something so small. He was glowing with excitement and joy. Thanh thanked me profusely, and the smile remained on his face for the remainder of class. He was determined, and even the smallest success was a step in the right direction and he recognized that.
Never in my life have I met 13-year-old kids with such incredible work ethic and determination. They strive to learn, they go out of their way to communicate and ask questions, and in doing so they have taught me a great amount. The positivity and focus radiated by the children inspires me and fills me with a special feeling. The best feeling in the world. I hope to continue to help them push themselves so that they can inch closer towards achieving their goals; little do they know they are pushing me closer towards recognizing and achieving mine.