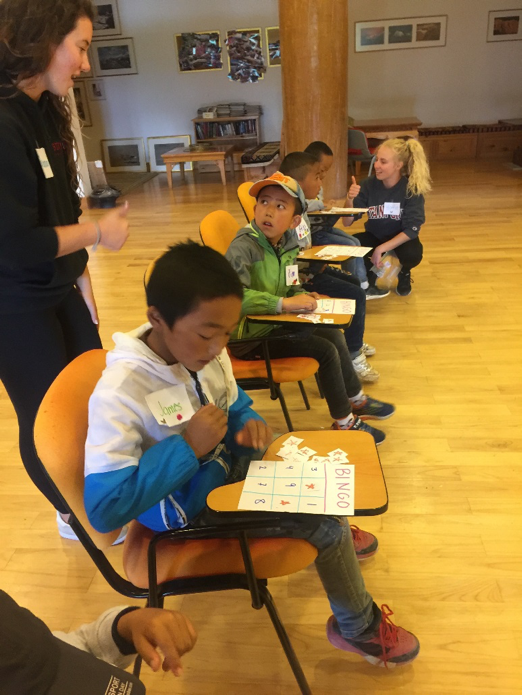 Lying in my bed on Thursday night, July 20th, I longed for my first day of camp – I restlessly awaited the next morning just like when I was a kid. I'm nervous, yet excited to see who shows up and who I'll befriend. Only now, I'm not the camper.
As my fellow ACE participants and I planned out our first session, we considered what we wanted to teach the kids, how we would communicate through the language barrier via gestures and demonstrations, and what games or activities we would play to reinforce the concepts we taught in the classroom. After hours of brainstorming and practicing, I couldn't wait to see the smiling faces of the village children walk up the hill to CERS.
The format of the first day went as follows: we gave each kid a nametag with their English name, introduced ourselves with our respective sports, danced to "Wake Me Up Before You Go-Go" by Wham! with the kids (the video of which our ACE team/staff have been laughing at non-stop), divided the campers based on age, and taught numbers and greetings to our respective groups. Amanda, Erika, Hailee, Max, and I first taught the younger kids how to count to ten. We played four corners and bingo to reinforce thinking with English numbers.
The kids' improvement in their counting abilities became apparent while playing bingo because after a few rounds, everyone was finding the numbers to cover more quickly and with less help from the teachers. I was encouraged to see their development in such a short span of time and now look forward to witnessing their growth in the following camp sessions.
After teaching and practicing numbers, we moved on to greetings, where we had some difficulty conveying that "Hi, how are you?" was a question and "good" or "bad" was the appropriate answer. They would often just repeat after us without truly understanding why we said those greetings. This repeat after me style of learning was a bit frustrating for me because I wanted them to understand the meaning behind the vocabulary. However, after discussing these challenges with my teaching team that night and planning out new methods, I anticipated employing our new tactics the following day.
Before we sent the campers home for the day, we merged both groups together outside, where we danced, played knockout, did a group relay, and finally, made a human tunnel for all of them to run through before they reached the gate.
With our first day of camp in the books, we met that night to prepare material for each morning and afternoon session for the upcoming week of camp. We planned day two as follows: in the morning, we would teach about weather, nature, and recycling, and in the afternoon, we would go on a litter clean up near the Napa wetlands (about a 10-minute walk from the camp site). Day one of camp was such a success – I couldn't wait for day two!
After our routine 8am breakfast, I went upstairs to photocopy the handout I made for the kids to match different animals and nature drawings with the English words. As our team made the final preparations before 9am, when the camp was scheduled to start, we slowly realized that there were no kids waiting outside. Typically, the campers arrived at least 30 minutes early. This was odd. Sadly, at 9am, not one kid was present. We looked outside, confused, to see, to our dismay, no smiling campers.
Initially, it was easy for us to assume maybe the kids didn't enjoy the first day (although this was disheartening). Though eventually, Tsering Drolma, the deputy director and education coordinator of CERS, informed us that the village chief believed the camp to be a waste of time for their kids. Although I do not understand the chief's verdict or reasoning, the parents told their kids not to attend our camp. We were told that the chief's decision may be involved with village politics, so all we could do at the time was wait and hope for the best the following day.
Thankfully, some of the CERS staffs' children along with a couple of village kids eventually did trickle in throughout day two, so we modified our teaching plan to accommodate the small group. It was challenging to play games with so few people, but my fellow ACE participants did an amazing job thinking on their feet.
Although the kids seemed to still have fun on day two, I couldn't help but be disappointed that fewer kids showed up on day two than day one. Nobody could predict what would happen the next day or for the remainder of our stay in Zhongdian.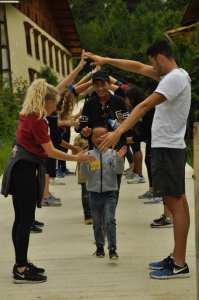 That evening, we watched a documentary and discussed the consequences the film had on the community. Even though the producer may have had good intentions, the lack of communication with the people he filmed led to negative consequences. We discussed the nature of issues like the one present in the production, which gave me the perfect opportunity to reflect upon the theme's relationship to our experience with camp earlier that day. Despite our best intentions for the kids, our plans for them may not align with the desires of the village chief or the children's parents.
Although the chief's decision to discourage kids from attending camp was a slight setback, I still strongly believe that the camp will provide the kids with a safe learning environment where they can practice their English, make mistakes freely, and develop relationships with native English speakers. I can only hope that the parents and chief will have a change of heart, but I know that, ultimately, nobody can force a curriculum or belief upon a community.
"I'm learning through experience that I can't just expect to come in and help someone the way I want to. This is an invaluable lesson for me because I know now more than ever that in order to achieve my dreams of helping others receive equal healthcare, I need to ask people how I can help rather than imposing what I feel is best upon them."
The concept of helping only after clear communication and understanding of how to help hit home at the end of our second camp day and group discussion of the documentary. Thus, I'm learning through experience that I can't just expect to come in and help someone the way I want to. This is an invaluable lesson for me because I know now more than ever that in order to achieve my dreams of helping others receive equal healthcare, I need to ask people how I can help rather than imposing what I feel is best upon them.
Today, July 23rd, we had more kids show up than the first day, which was uplifting to say the least. I believe that despite what we experienced on day two, we can still provide the kids with invaluable lessons in the upcoming days. Additionally, I have already learned so much from and been inspired by the children I have interacted with. Yesterday, I learned how to say flower, house, rainbow, and cloud in Chinese from two students who were drawing with me. I definitely could not pronounce any of these words correctly, but we all got a good laugh together because of my mistakes.
I still long for camp, but it's different now. I'm not the camper and there are no guarantees for who shows up. All we can do now is try our best with what we are given.