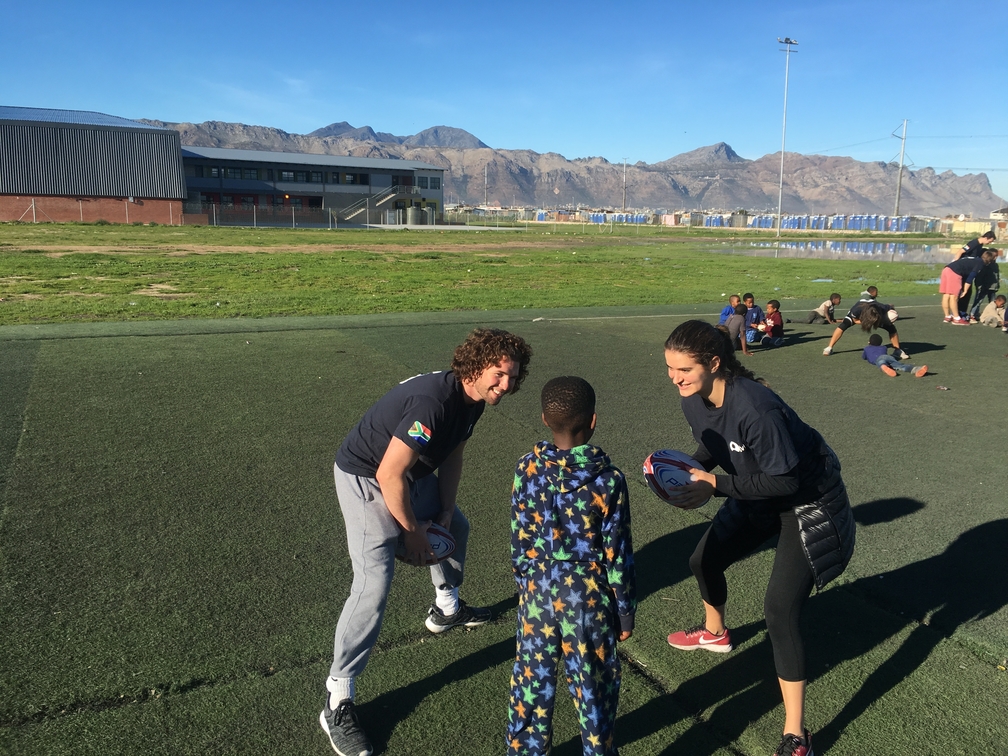 In our pre-departure meetings for the ACE program, I recall Emily Durham, our dedicated program director, telling us that "ACE is not just a three week endeavor," but rather a lifelong experience. In that moment, it was difficult to fully comprehend how our relatively short few weeks could permanently impact me. Now that I've been home for nearly a week, it is far from difficult. As I reflect on our time in South Africa, I can say with conviction that I will carry my experiences working in the Nomzamo township with me for life.
Years from now I want to remember…
Stepping out of the bus on our first day in Nomzamo and making our way to the public field, greeted by a handful of little kids chanting "teacher, teacher, teacher" as we walked down the street.
Distinctly feeling our foreign status in the township by the stares of passersby, yet simultaneously receiving warm welcomes from all of the members of the community with whom we interacted.
The boy whose eyes glistened with pride as he showed me his completed food pyramid, demonstrating that he had retained the information from our healthy eating lesson.
How the kids excitedly started teaching us Xhosa, then burst into laughter each time we bungled a word. Once they'd gotten over the humor in our inability to pronounce the word, they would say it again, more slowly, until we finally got it right. Then they would move on to another phrase laughing through the trial and error process all over again.
The thirteen year old boy who quietly processed all of my English directions and subsequently explained them to the rest of the group in Xhosa if they did not understand. It was the same boy who encouraged younger kids to move in front of him in the lunch line, ensuring that they would be fed before him.
Finding creative ways to keep the students at the holiday sports program engaged on the days that we had no access to the school nor to any of our equipment that was locked inside the school. Sitting on the couch at night planning the next day's lessons and camp structure while knowing that all of our plans would probably have to be reworked in the moment.
Having a Braai in Cape Town with Blacks and Space and listening to them discuss personal stories and their business, Estratweni Mobile Foods. They emphasized the importance of the flow of ideas and exchange of understanding as mechanisms of empowerment.
When one of our students saw us walking down the street in Nomzamo from the community center to the creche and sprinted out of her house to say hello to us.
The passionate words of a female African National Congress party representative who spoke to us in our final week. In response to our question about combating the severe income inequality in South Africa she said, "We need interaction between different people. Can you imagine white people in the Langa township? Laws are open, but racism is still a problem." The shadow of apartheid persists.
Giving women their first computer lessons and seeing the looks of anxious anticipation and perplexity on their faces change to expressions of delight as they started picking up skills.
Having kids that we had worked with at the ACJ holiday program line the fences outside the preschool playground where we were working on a construction project in the third week and shout to us, "GVI, come back. We miss you."
The group of children who eagerly jogged alongside our bus as we left Nomzamo for the final time.
Our Stanford-Duke family. Ndiyakuthanda phakade. I love you forever.
No amount of 'thank yous' could possibly capture the gratitude I feel for the opportunity to participate in ACE in South Africa. I will be taking all of these, and many, many more memories of our time in the Western Cape with me moving forward.