Molweni!
The first week of ACE in South Africa has been amazing and we've already learned so much in such a short time. The first day of sport camp was a bit hectic and definitely a work in progress, but we got the ball rolling come day two. The kids have been great; they are really attentive and inclusive to everyone. We had Friday, Saturday, and Sunday to explore and get to see more of Gordon's Bay and Cape Town.
With our first day off from sport camp on Friday, we went for a walk to overlook Gordon's Bay. The mountains are rocky and beautiful and the contrast between the flat wide ocean and the steep cliffs is stunning. In the afternoon, we toured Langa, which is the oldest township in Cape Town area. We learned about their community centers, the history of the township, and its culture. The tour was eye opening and being able to walk through with a local helped to give a different perspective on things. In the evening, we went to the winter wonderland in downtown Gordon's Bay where there were amusement rides and various food stands. Everyone had their fill and we went to bed early because we had an early start the next morning for our weekend in Cape Town.
On Saturday, we walked along a trail near Table Mountain, but it was extremely foggy and windy so we had limited views of the Cape Town below us. On a positive note, we at least got some exercise in before heading to the food market. The food market had a little of everything from smoothies to Thai to Tunisian, and my personal favorite: pastry stands. We tasted a little of everything and immediately fell in love with the market. The day cleared up and so I got to enjoy my coffee and croissant outside in the sun. We visited the rugby museum by the waterfront and learned about the Springboks and the history behind rugby in South Africa.
"I loved gaining an understanding of the importance and presence that rugby had in the South African culture."
The impacts of the political divide and segregation that occurred and affected day to day life during the apartheid could also be seen in rugby. Teams were segregated and visiting teams and players from other countries were affected by South Africa's political policies, which was something that I had not considered. The impacts of apartheid were widespread and a ubiquitous part of all of South Africa, including their favorite sport. We attended a rugby game that night and were in full support of the hometown team, DHL Stormers. Our van driver, Marius, attended the game as well and provided his knowledge of the rules throughout the game. I loved gaining an understanding of the importance and presence that rugby had in the South African culture. We spent the night at a hostel, which was my first time staying in one. It was a fun experience sharing space with each other and a few strangers, but we were at ease because everyone we've met have been warm and inviting.
Sunday was an early morning for everyone as we were supposed to take the ferry over to Robben Island to visit and learn about Nelson Mandela's time in prison. Unfortunately, the weather in the morning wasn't cooperating and the ferries weren't operating. We were all upset that we couldn't visit, but we're looking into rescheduling because Nelson Mandela and his time in prison had such a profound and substantial impact on South African history. It would be a large oversight to not make an attempt to learn as much as possible about such a crucial point in history. Instead of the tour in the morning, we all enjoyed some coffee and breakfast at a coffee shop and explored different parts of Cape Town. We visited a market, bargained for the best deals, and then headed back to the waterfront market for the second day in a row because it was truly worth a second go around.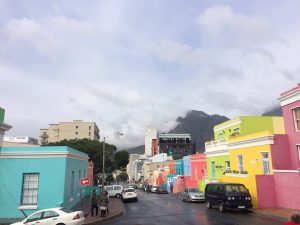 We were all bummed that we couldn't take the cable cars to the top of Table Mountain and that our tour of Robben Island was cancelled, but this didn't stop us form enjoying our weekend in Cape Town. The interactions with the local people, learning more about Cape Town and its history, and visiting the waterfront were incredibly enjoyable and we all had a great weekend. South Africa truly is a melting pot with an extensive history of different peoples and cultures. I'm really looking forward to learning more about this beautiful place.
As for now, it's time to catch up on some rest after the weekend, restock on groceries for the week, and start planning for this week's sport camp. After a fun weekend exploring Gordon's Bay and Cape Town, I can't wait to get back out to the school fields to continue with camp and enjoy another week with the school kids!