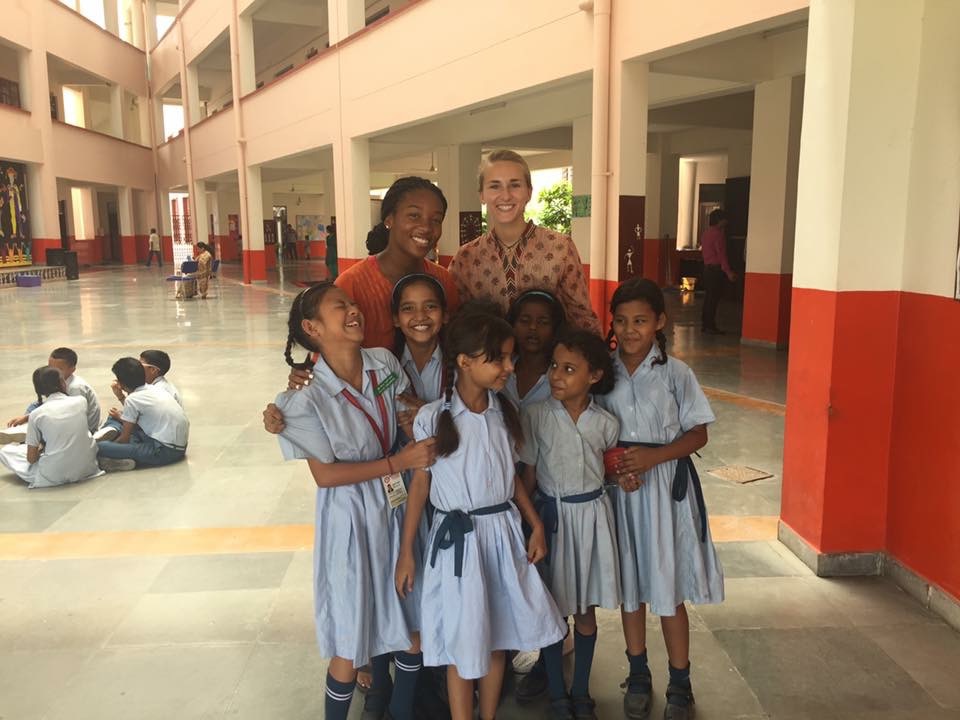 As our last day at the Vidya School came to a close, I distinctly remember fighting back tears. As we drove away, I tried to clear my head, but each moment of each day replayed in my mind over and over again – each English lesson I taught, each laughter-riddled Hindi lesson I stumbled through in the school yard, each round of Kubaddi or Kho Kho or Cricket we played. In light of the fact that we were leaving so soon, the memory of it all overwhelmed my heart.
I did not anticipate the depth of the connection that would be cultivated. How could I? It was only three weeks, and I figured that I might get close to a student or two, but I never expected for the kids to become a part of my heart. Yet here we are. I found it encouraging that the kids clearly remembered and had an affection for the ACE group that taught at Vidya last year.
"A good character is the best tombstone. Those who loved you and were helped by you will remember you when forget-me-nots have withered. Carve your name on hearts, not on marble."

– Charles Spurgeon
The fact that the students asked for several of the team members from last summer by name shows the fact that this quote by Charles Spurgeon rings true, and I am honored to have been given the opportunity to continue the legacy that they started at the Vidya School. It is so evident that service is bigger than just us. It is bigger than any recognition we could ever receive or any picture we could ever post on Facebook. It is important to overcome the fears of the unknown that may hold us back from contributing all we can. It is about those whom we are serving. It is about stepping outside of ourselves and having the best interest of others at heart and acting upon those interests to the best of our abilities. It is worth it. What would come of the world if we did not love our neighbors?
Prior to arriving in India, I had no expectations concerning what my experience would be. Something about growing up in America kept me locked in on all things American.
I was so consumed with my reality and the realities of those within my reach that I never really stopped to consider those who are living a life so different, yet so similar to my own.
On one hand, I believe this perspective positively impacted my trip because I was able to take things as they were and not for what they were relative to my experiences in America. It allowed me to step outside of myself and consider things from another perspective, and with the guidance of our amazing in-country staff, I came to the realization that if things are different, that does not make them illegitimate. It just makes them different, and there is beauty in our differences, just as there is beauty in our common humanity. However, the fact that I had no expectations concerning what my experience would be during my time in India also speaks to how narrow my perspectives were prior to this experience.
Working and learning and serving with the administration, faculty, and staff at the Vidya School who are striving to give children the opportunity to change their lives through education, which offers hope, has led me to the humbling realization that we are not so different after all. Reading about people and hearing about their lives is so different from being with them and listening to their stories everyday. It is different from working with them in the areas where they need help and helping them maintain and build in the areas where they are strong. It is different from looking them in the eyes, learning their names one by one, and spending time with them. I realize that three weeks is a very short period of time, but there are no time constraints on impact, and they have impacted me and the way that I view the world in a way that I will forever be grateful for.
Before I came on this trip, I remember writing that one of my goals was to continue in the habit of service as a lifestyle. I believe that I have truly gotten closer to this goal because of the way that the community of people in Delhi carry themselves.
Serving not only other people, but also animals, is truly a lifestyle in this community and an aspect of the way that they live that I hope to emulate every day of my life.
Adjusting to life in Delhi was quite difficult for me, though. There were struggles over the course of the three weeks, but my team was amazing, and by the grace of God, we worked through each and every one of those struggles together. People are resilient and courageous and strong. All people. We all must simply be committed to equipping one another and encouraging one another in moments of weakness. This experience has made me a better daughter, sister, friend, teammate, and woman. My passion for people has been both renewed and redefined as a result of having been given the opportunity to go through life for a short while with people who are both different and the same as myself.
I am beyond grateful for this amazing opportunity to learn and serve in a community where I may not have otherwise had the opportunity to do so. I am also grateful for the relationships that I made as a result of this program. This is an experience that I will never forget because of the strength, diversity, generosity, and sense of belonging that this community cultivates within its members. New Delhi, India is an amazing place, and I am so blessed to have been given the opportunity to learn, to serve, and to grow within this body of people.