The ACE program allows student-athletes the opportunity to expand their world perceptions and embed themselves in different cultural settings. This is a once-in-a-lifetime opportunity that will allow me the chance to forge new relationships, develop the capacity to better serve others, and learn more about myself as I prepare for life beyond Duke.
As part of the ACE in South Africa program, participants will assist with basic healthcare initiatives, activity-based education and teaching, light construction, and sports programs in the community of Nomzamo township near Cape Town.
Mickayla's past experiences with service include membership in the CAPE program for female student-athletes interested in medicine; membership in the Athletes in Action bible study group, selection to attend the LEAD retreat for student-athlete leadership development, and involvement on the planning committee for the Duke Athletics End-of-Year award ceremony. With her team, she has befriended Max, a young boy in remission from cancer, and his little sister, Mia. Max is now officially an honorary Duke swimmer, as his name appears on the roster. Mickayla has also cooked meals at the soup kitchen in downtown Durham and at the Ronald McDonald House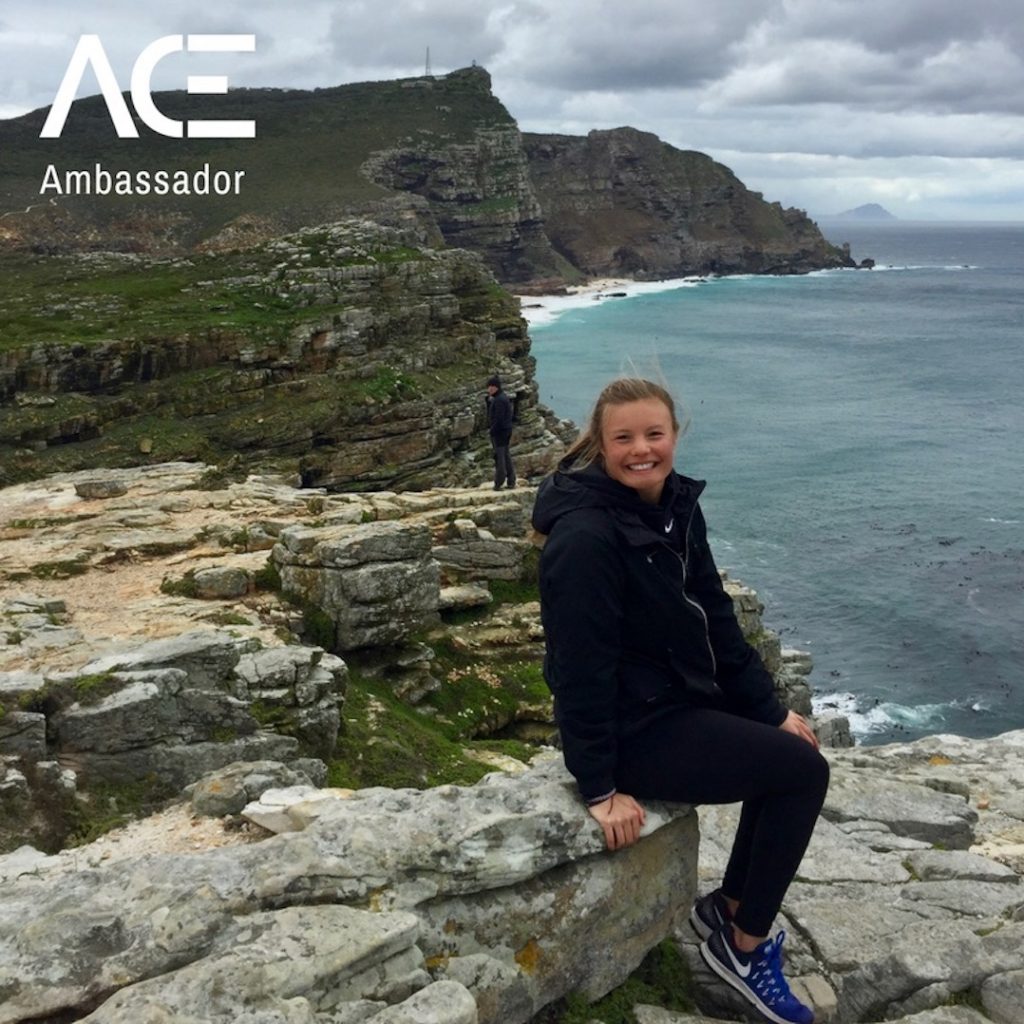 Mickayla is a senior at Duke University from Minnesota finishing up her degree in Biology with a concentration in Anatomy, Physiology, and Biomechanics in pursuit of a career in the medical field. She is a member of the Duke Swimming and Diving team and competes in the backstroke events. Mickayla is involved in the Collegiate Athlete Premedical Experience program, is a mentor for freshmen student-athletes at Duke through ACTION, and runs and Athlete Mindfulness Group for other varsity athletes at Duke. She is very grateful to have participated in the ACE program in South Africa. The experience has helped solidified her career aspirations to be a primary caregiver and has allowed her to engage with people from different cultures. She found that the ACE program was remarkable in many aspects, from working as a team member to coaching children in sports and pushing herself outside of her comfort zone. She will never forget the memories she created during this trip, the smiles and laughs from the children, and the relationships she has developed with the ladies in the township in South Africa. Overall, this experience has given her a great opportunity to develop as a person while giving back to others.
Want to hear more about Mickayla's ACE experience? Contact Mickayla.
Dear Future #ACEathletes,
Best advice for learning about ACE: Prior to picking a program, I talked with a few of my teammates who had participated in ACE previously. They shared their amazing experiences with me, which ultimately convinced me that I wanted to participate in the program. I found that ACE offered a unique experience that most student-athletes around the country do not get to be a part of. I decided to get more information by attending the information sessions to determine which program would be the best fit for me.
Best advice for applying for ACE: I would suggest that before applying you do a self-evaluation to understand if you truly have a passion to volunteer while working in a group setting. It's important to have good communication skills to work with all the people you will encounter on your trip. Additionally, you should be flexible and adaptive, since unknown situations may present themselves.
Best advice for getting started at your program: My first few days in South Africa included lots bonding and team building activities with my peers and program leaders to help understand our mission and objectives for the trip. This set the stage to allow us to be effective over the course of the three weeks.
Tips for getting to know your community: A key component to develop of a relationship is to listen and observe especially when they could be a language barrier. This leads to trust and respect, which ultimately fosters the relationship to develop. This has taught me the importance of patience and observation when I am in a different environment.
Tips for training: The ACE program allowed me to stick to my routine training regimen. It also gave me an appreciation of how other athletes train. I was fortunate enough to participate in a few group workouts, which comprised of exercises I had not been exposed to previously. It was motivating and humbling to be surrounded by other accomplished collegiate athletes.
Tips for bringing ACE back to your team: Before school starts, our coach always hosts a team BBQ at his house and all members who have participated in ACE share our experiences with the whole team. Since many of us have been to different ACE programs we do our best to get the underclassmen involved and open to the idea of travel and learning about different cultures.
Reasons for staying involved in ACE: The ACE program has honestly changed my outlook on many situations and has allowed me to learn about myself as a person. I support what this program stands for and would like to give back and get others involved.