In this interview, former Duke Men's Soccer team member and ACE in South Africa 2018 alum, Max Feldman, shares how lessons from ACE shaped both his academic, professional, and personal goals. Working with the Duke and Stanford student-athletes on his ACE program helped Feldman see the value in intentionally connecting with colleagues to work better as a team and learn from each other.
What are you doing now? How has ACE influenced your career path?
I am currently working in consulting in New York City. ACE has influenced my academic and my career path. First at Duke, after coming back from ACE, I was inspired to continue learning about other cultures and areas of the world and decided to study international comparative studies. Through this major I was able to learn about different cultures, ideas, and people from all over the world.
"I want to keep trying to find new people, perspectives, and experiences to help me grow, just like ACE did."

– Max Feldman, ACE in South Africa 2018
This has then bled into influencing my professional career. It has not materialized yet, but through my current company I am hoping to leverage a program that would let me work abroad for 6 month stints in different countries. I want to keep trying to find new people, perspectives, and experiences to help me grow, just like ACE did.
What is one lesson from your ACE experience that still holds true today?
People make the experience.
Reflecting back on my ACE experience with the perspective of all that has happened since then, ACE really taught me that connecting with people that are different than you helps everyone grow. Creating the personal connections I did with my other ACE participants and with the campers and members of the community really helped me learn and grow.
Finding small ways to connect with people who on the surface it seems like you have nothing in common with really helps to build a strong foundation to build or accomplish anything. This is a lesson I have taken with me in my professional life today. Connecting with my colleagues that I seemingly don't have much in common with really helps to build a team capable of achieving amazing things.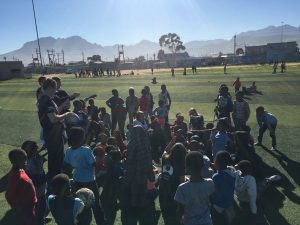 Describe your ACE experience in as few words as possible:
Impactful, Energizing, and Fun.
What was the most meaningful part of your ACE experience?
I think the most meaningful part of my ACE experience was personal. When we were conducting the women's empowerment workshop our last week it a humbling and amazing experience. It was first humbling to see others learning things that I took for granted, like learning how to turn on a computer or send an email.
Then I was amazed by the determination and hard work of these amazing women. I remember one women came in at the beginning of the week and had no idea how to turn on the computer. She came in everyday and worked so hard to finish her requirements so she could get a new and better job. It was inspiring to see her hard work and determination and I was so happy when a week or two after we got back we found out she got a new job!