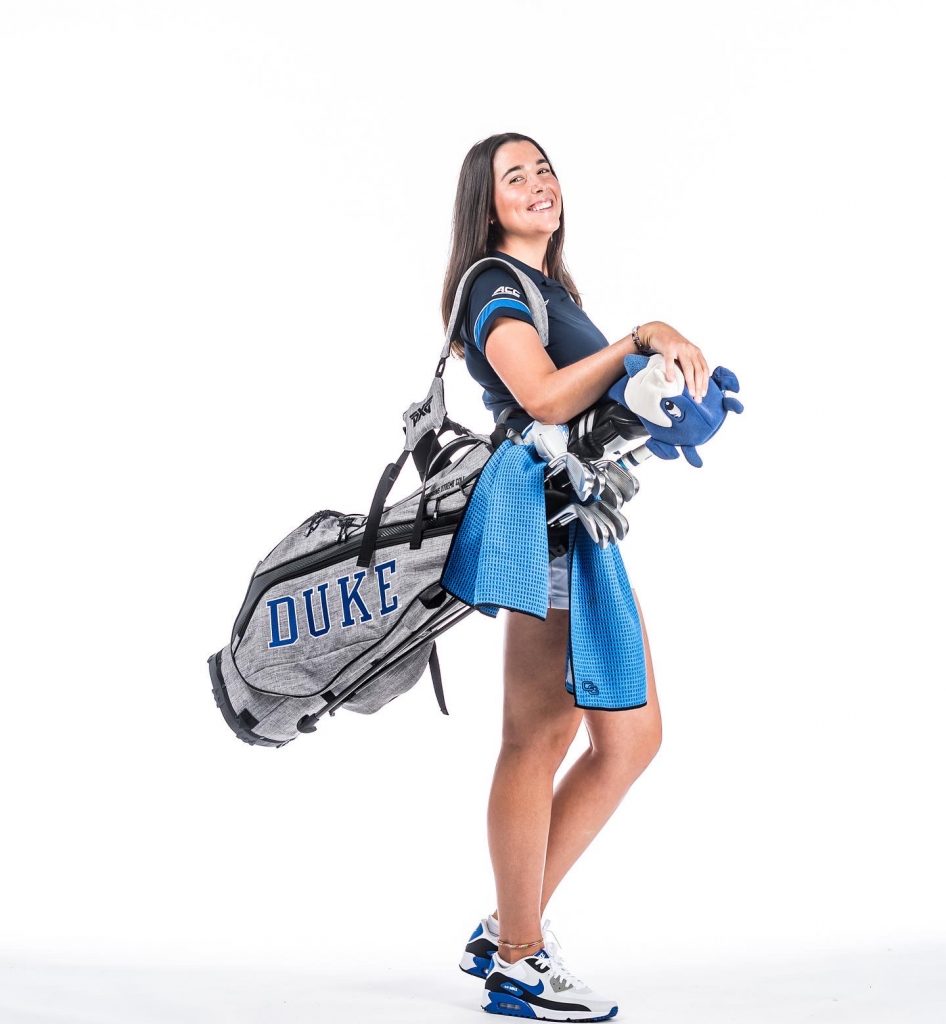 This is part of a series highlighting recent ACE participants who are finding meaningful ways to connect and build on their ACE experience beyond their three-week ACE summer program. After student-athlete participants complete their ACE summer, they are encouraged to think about a specific goal that connects their ACE experience to their life in a meaningful way. ACE staff support this process through the development of a personal ACE Action Plan and 1-1 coaching, group meetings, and check-ins throughout the year. Learn more about the ACE Plan Process and other ways ACE student-athletes are supported post-experience.
Phoebe Brinker, a junior on the Duke Women's Golf Team and alum of ACE in Colorado 2022, found a way to take the service projects the ACE in Colorado team experienced back to her own life on Duke's campus.
"It started out as me wanting to get more involved with community service," says Brinker.
Although a broad start, Brinker took actionable steps towards creating meaningful service at Duke just like she had experienced in Colorado. She recalls one of her favorite days in Colorado was working on a regenerative farming project at Mountain Roots in Gunnison, Colorado.
"Just being outside and learning so much with agriculture made the day. We worked together to plant peas, trellis tomatoes, and hill potatoes. It was an incredible learning experience."
Exchanging her golf glove for gardening gloves led Brinker to consider how to continue making this dedication to service a possibility back in Durham. When Brinker got back to school, she realized that she could incorporate her passion of sustainability into her course work. Since then, Brinker has declared a sustainability certificate which has now formed into part of her ACE Action plan.
"It started out as me wanting to get more involved with community service,"

– Phoebe Brinker, ACE in Colorado 2022
She is currently enrolled in two classes, "Intro to Sustainability" and "Econ and the Environment." These courses provide not only a broad overview about the different areas of sustainability but also create actionable work. Her classes have partnered with Sustainable Duke and other areas around Duke's campus to create projects focused on reducing waste and making Duke events more sustainable.
On top of her service-led coursework, Brinker has also teamed up with other ACE alums to create change. Alongside fellow ACE in Colorado teammate, Alayna Burns, and others, Brinker and Burns started a sustainability group for student-athletes. This new group is in its inception phase but has already planned out events and ways for Duke and Stanford student-athletes to "go for the good," together. Brinker also helped Seamus Harding, an ACE in Place Vietnam 2022 alum and Duke Men's Diver, realize his ACTION plan by helping publish his piece on mental health in Duke UNCUT, a student-athlete online platform.
Brinker's experience with ACE in Colorado may have only been three-weeks, but it has impacted her much longer. Through focusing on her sustainability passion in her course load while also assisting other ACE Alums envision their ACE Action plans, we can surely say that Brinker's shot at change is perfectly on the fairway and helping us all see how to go for the good, together.