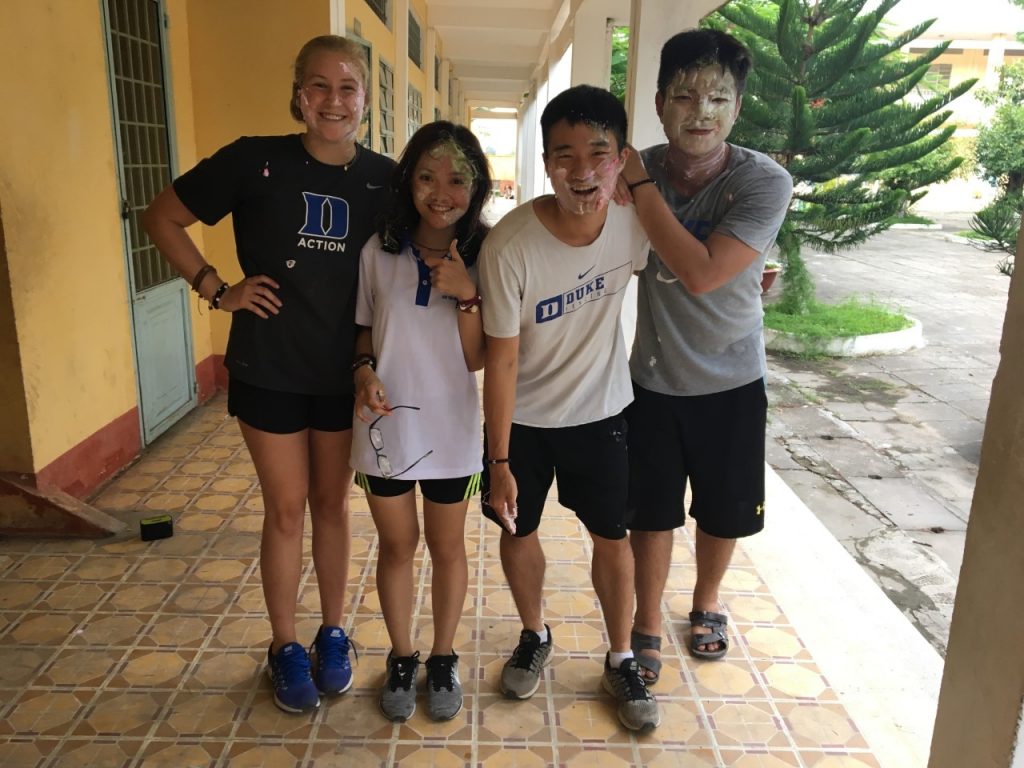 "Where are you from?"
Haley and I asked this age-old question to both our 8th and 9th graders during one of our last English lessons. After the usual responses – "I am from Vietnam" and the less grammatically correct "I am from in Vietnam" – I was surprised to hear one of the 8th grade red team boys clearly ask me, "Where are YOU from, Alan?" Pleasantly surprised by his audacity, I replied "From the U.S.A, like the rest of the American coaches of course!"
The boy responded with a puzzled look on his face, and began to question one of our native Vietnamese coaches, Hoai, in his mother tongue. Hoai then proceeded to explain to me that the boy thought it strange that I considered myself to be from America when clearly to him I had all the physical characteristics of an East Asian male: short stature, black hair, olive-toned skin, and almond shaped eyes. I suppose had it not been for my foreign mouth – spewing an alienating Western language out like a red herring – I could even pass for Vietnamese in the local marketplace in town or the corner coffee shop right next to our school.
Surprisingly, I was not really that taken aback by the boy's response to my national origin. It's a question that I've had to answer growing 'up with the usual "No, I was born in America" or perhaps if I was feeling a little bit more brazen: "I am as American as apple pie on the fourth of July." Most Vietnamese probably would not consider me the archetypical American student athlete at first glance simply by virtue of my non-Western appearance. Without a broader window to the outside world, I suppose, most people would probably assume the same.
"It's hard to say goodbye to Vietnam and all the kids we've come to befriend during our three weeks with ACE."
During one of our reflection sessions, Rachel, one of our CFC camp directors and an ACE in Vietnam alum, once explained to us that a key role of  the American coaches is to give the kids we serve a window to the outside world beyond just the rice paddies of the Mekong delta. Less than 48 hours after the official end to our ACE in Vietnam program, I still wonder exactly what kinds of windows my fellow ACE participants and I provided to our students. On a personal level, I hope that I showed the kids that one does not have to be big and white to be athletic; a 5'6, 140 lb. Asian boy can just as easily be an American college student athlete as a 6 foot, 220 lb. linebacker. On a group level, I hope that my ACE cohort showed our kids how diverse, multi-faceted, and fun we American student athletes could be beyond just popular media stereotypes. At the end of our ACE program, we wish for many things, including some kind of permanent lesson or image we would want our kids to remember us by.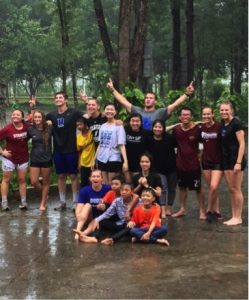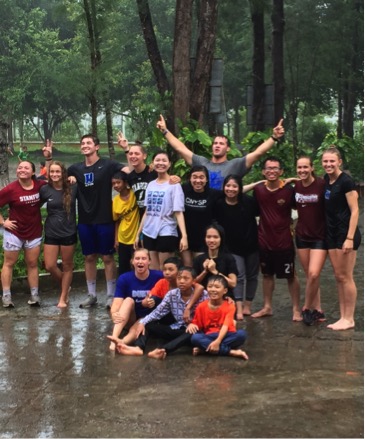 It's hard to say goodbye to Vietnam and all the kids we've come to befriend during our three weeks with ACE. Only time will tell if the images and lessons we've provided the kids, stain-glassed into the windows we left behind in Vietnam, will fog up and become forgotten as life goes on for each of us in our separate countries. Yet, hopefully, more than the actual journals, t-shirts and pens we gifted at the end of camp, the memory of our windows to the kids – whether it be dancing the Cupid Shuffle together in the school courtyard, or mud-wrestling with each other in the torrential rain – will last a great deal longer.