"There are some things you can't discover without getting lost first.
Don't be afraid of getting lost." -How Man Wong
This advice was given to us by acclaimed National Geographic journalist and China Explorers founder, How Man Wong, during a Thursday night lecture about various wildlife in the Napahai Wetlands. Little did I know that these two sentences would change my outlook for this ACE trip as well as my perspective on day-to-day life.
It's hard to sum up everything I learned during these past three weeks in one short 400-word blog post, but I think this quotation does a pretty good job of it.
From waking up at 5:30 am to hike around the Napahai wetlands to late night trips to the Shangri La Old Town square, the curiosity to explore this new culture never stopped during this trip.
While trying to not being afraid of getting lost these past three weeks, two things really resonated with me:
The people you meet along your journey have more impact than any book you could read or movie you could watch.
During the first two weeks of the program, we were working with CERS (China Exploration Research Center) to better understand the rapidly changing Tibetan culture as well as interacting with the village children. Although my main form of communication with the kids during our sports camp came through body language and acting out actions, I learned more from them than I could have ever imagined. In addition to the kids, the CERS staff went above and beyond to show us different parts of Tibetan life as well as eating meals with us to further discuss their culture.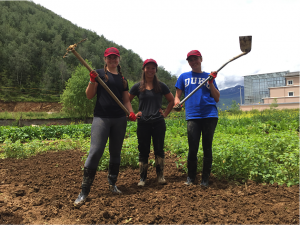 Don't make life more complicated than it needs to be. Live for different experiences and try to soak up as much as you can.
During the last week of the program we worked on the Compass farm in Old Town Shangri La. It is a farm that helps provide produce for the Compass Café (a restaurant we frequently ate at in Old Town). On the farm we helped the staff harvest, plant, and take care of their fields. Although I had no prior experience with farming, I took the three hours we spent on the farm each morning to slow down and appreciate those around me as well as the hard work we were putting in to help the café grow their food.
The immersive experience I had on this trip as well as the amazing people I met along the way is something I will never forget. Although my time in China in now over, my adventures of "getting lost" are just beginning.