While walking through the local village on our second day in Zhongdian and talking about some of our interests, we discovered that we studied the same foreign language – Japanese. This was the first major similarity found between us, but we soon realized that we had much more in common. As we spent more time together, we bonded over stories of our worst injuries, our high school experiences, and our lives as student-athletes at our respective universities.
The first time our group went to the gym, we even realized that we hang cleaned the same weight! Just kidding – even though we will hang clean or dead lift together, Max lifts more weight. Plus, both of us eat almost anything at the dinner table (even an occasional fish eye or chicken foot).
One day, while visiting Old Town, we ended up walking ahead of the main group because we weren't as interested in shopping as our peers – yet another similarity. We shortly arrived at The Compass Café, the place where our group planned to eat dinner that night. While waiting for everyone else to catch up, we sat and talked over coffee. As we got to know each other more, we soon discovered our shared passion for cooking. Although we didn't have many opportunities to cook during the school year, we both enjoyed preparing meals for our families over breaks. In the midst of our discussion, we became so excited about our favorite meals that we exchanged some recipes via text for future reference.
After all of this talk about food, we decided that we should order a bunch of meals and share them in order to taste as many dishes as possible. Four entrees and a slice of cheesecake later, we came to the consensus that the pork dish with egg and rice (the chef's recommendation) was the most appetizing.
Before we left the café, we brainstormed what we could prepare for the CERS kitchen staff since they cook three meals for us each day. We wanted to make something western, but we had to take the limited ingredients and kitchen supplies available to us into consideration. Plus, neither of us had ever cooked for 25 people before. In the end, we agreed we should cook pasta with a spicy Bolognese-like sauce (we have made eating peppers a habit at each meal thanks to Kalli). We also planned to prepare sautéed veggies and garlic bread as sides.
The day before we hit the kitchen, we went to the "wet market" to buy all of the ingredients we needed.
We started preparing around 4pm, and the dishes made it out to the tables two hours later. First, we diced the tomatoes and zucchini, chopped the onions and bell peppers, and minced the garlic. We started making the meat sauce first, where we cooked the garlic and onions in oil before adding the bell peppers and tomatoes. Since we made the sauce in two pans, we were able to add fresh, local peppers to one of the two, so half of the batch would have a nice kick for those who enjoyed spicy food. The pork was cooked on the side, and once ready, we mixed it in with the sauce.
Next, we sautéed some bock choy with bell peppers, zucchini, and mushrooms. Meanwhile, Kat cooked the penne pasta, Lyneé fried onions and zucchini, and Brandon made garlic bread. It was amazing how smoothly things went considering the quantity of food we prepared – there was no yelling or stress whatsoever in the kitchen.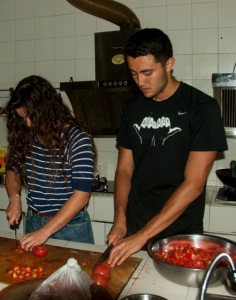 The meal turned out to be a huge success! The spicy meat sauce tasted amazing, and it seemed like the whole staff enjoyed what we prepared. We even had scrumptious chocolate chip cookies made fresh by Amanda and Kaitlyn to top the night off with a sweet treat.
Now we know that we can work well together in the kitchen, which wasn't much of a surprise considering our teaching dynamic in the classroom. Since we are in charge of the same group of about twelve kids (ages 7-11), we organize and execute each camp day together.
We have agreed that Shannon's strength lies in her planning out the activities and Max's in elaborating on her ideas. Furthermore, Shannon keeps the kids focused and engaged, while Max improvises well when things don't go according to plan. Because the kids have so much energy, it is impossible to strictly follow our lesson plan; therefore, flexibility and collaboration was key. We were able to figure out nearly any challenge on the spot without becoming angry at each other or the kids – a testament to our teamwork.
Plus, we are there for each other whenever negative or positive situations occur. For example, when we play "duck, duck, goose", sometimes kids will smack their "goose" of choice on the head too aggressively. At that point, we look at each other and cringe. Or, if the kids behave well and enjoy an activity, we make eye contact accompanied with a smile or a sigh of relief.
Given our similar personalities, one might think that we would clash while working together, but it turned out that our teaching styles work cohesively. During these past two weeks in Zhongdian, we have found that no matter how well or poorly a camp day goes, we are always there to smile and support each other. At the end of each day, we are able to laugh about our hardships and celebrate our successes.